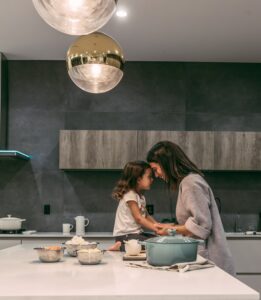 Your children can be an important part of your kitchen remodel, for more than just taking their color suggestions into account. It may be a good idea to design your kitchen to make it a bit safer for your kids, and easier to clean up after them.
Spills and Splatters
Kids are messy. They will drop, splatter, splash, spill and smush pretty much anything; and they might not tell you about it either. Choosing countertop options that can take more than a fair share of spills is a good idea. Quartz and Corian are great choices for the countertops, as they are strong, easy to clean, and maintain.
Rounded Edges
Rounded countertop edges are often an important part of a kitchen design with kids in mind. These edges are a lot more forgiving than sharper sides, so there is less of a risk if your child bumps into them. There are a number of different styles that feature rounded edges.
Lowered Countertops
Some homeowners will lower a section of the countertop to provide a space for their kids to help out in the kitchen. This is a great way to get your children involved in meal preparation, and passing on the traditions of cooking with your kids.
Hands-Free Faucets
Reaching faucets can be a challenge for young kids. They may forget to turn the water off, or set the temperature to scalding. Hands-free faucets reduce the risk of your child burning themselves, and can help limit the water usage in your home.
Kid-Friendly Storage
Dedicate one low to the ground cabinet to plates, bowls, cups, and utensils that are child-friendly. This way your child has everything they need without having to climb up. Consider adding refrigerator drawers to your under-countertop storage, for easy-access snack storage.
Capped Electrical Outlets
You can add covers to your existing outlets in the kitchen, to prevent kids from playing with them. Children are prone to letting their curiosity get the better of them, and outlets can be dangerous.
To discuss bathroom or kitchen remodeling options that would be best for your home please contact us at (718) 273-6233 or visit our showroom at 711 Port Richmond Ave., Staten Island, NY 10302.