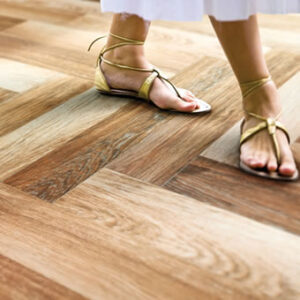 In your next kitchen or bathroom remodel, get the warmth and beauty of wood with the resilience of tile. Many people love the look of wood floors in a kitchen or bathroom, but do not want to risk the water damage. With tile, there is no risk of warping, water or termite damage; and tile works more efficiently with radiant heat floors than wood.
Many zen bathroom designs utilize wood backsplashes or floors to add to the natural feel of the room. While the imitation wood is not as natural as wood, it holds up to the moisture of a bathroom much better than actual wood. Tiles will not warp from the amount of water in a bathroom.
Modern kitchen designs often go with dark colored woods to make the kitchen feel less hot. The coolness of tile, along with a dark wood design can add to that effect and play into the decor of the room seamlessly.
Tiles can cost few more dollars per square foot, once grout and installation costs are factored in. However, certain wood floors can cost more based on the wood type. Smaller grout lines help the "wood" tiles look more authentic. Just like with regular wood, the tile finishes will usually have variations, so that they do not look uniformly perfect. This enhances the natural beauty of the wood design by keeping it as close to how real wood looks.
To discuss bathroom or kitchen remodeling options that would be best for your home please contact us at (718) 273-6233 or visit our showroom at 711 Port Richmond Ave., Staten Island, NY 10302.
These days there are numerous options when choosing a new bathroom floor. Whether your decision is based on consistency, functionality, the temperature of the floor or overall ambiance, the answer is within the range of flooring materials from tile and vinyl to stone and glass.
If striving for consistency, your best option is tile. The plethora of size, color and design of tiles enables usage in flooring and walling without appearing homogeneous. The functionality of tilework allows the appearance of luxurious marble, contemporary stained concrete, or the more traditional ceramic. Importantly, it should be noted that many bathroom tiles are topped with a texture to prevent slipping.
Vinyl is a common option due to its low cost and practicality. Additionally vinyl offers safety, comfort and ease of maintenance. With vinyl available in a variety of looks it is easy to find the style suitable for your bathroom. A separate flooring which contains many qualities of vinyl is laminate. While hard-wearing and easy to clean, laminate is not as moisture-resistant.
Another popular choice is natural stone. Many times the decision of stone, whether marble granite, limestone, or slate, depends on cost. Natural stone is available in numerous colors and textures including cleft, tumbled, sandblasted, etched and flamed variations. An exotic marble flooring is able to reflect natural light as well as the light of soft, internal bulbs.
Prior to deciding on a specific flooring you want to consider the size of your bathroom. While all flooring can be trimmed and cut, smaller mosaic and pebble stone tiles are suitable for bathrooms with minimal dimensions. Mosaic tiles, available in materials such as aluminum, and mixtures of metal-glass and stone-glass, provide a modern and contemporary appearance while a slip-resistant pebble mesh tile enhances a rustic, alfresco ambiance.
If you would like to discuss the bathroom flooring best for your circumstance please contact us at (718) 273-6233 or visit our showroom at 711 Port Richmond Ave., Staten Island, NY 10302.
On Super Bowl Sunday people will raid the kitchens of relatives and friends for the second biggest day of food consumption in the United States after Thanksgiving. In addition to the 1.25 billion chicken wings and 48 million take out pizzas that will be consumed, the internet is full of recipes for Super Bowl party foods. Considering the amount of food and people a multi-functional and aesthetically pleasing island turns your kitchen into a social centerpiece. An island allows face to face interaction while cooking or preparing food and not staring at a wall.
Previously believed to be a fad a central placed island continues to be a desired and popular addition for kitchens. The size of your kitchen will determine the best and most effective island design plan. With a larger kitchen plan the island can include stove and range fixtures. This enables a person to cook a meal with access to view the room 365 degrees. Also available at this size is an island for use as a breakfast bar, which is convenient for a quick meal and is easy to clean. Additional options include a second sink, oven or dishwasher.
For a smaller kitchen an island provides a great area for extra storage. The use of open and closed storage provides shelves for cookbooks, pots and pans, and drawers for utensils, lids, silverware and dish towels. Even without changing the location of a major appliance, a small kitchen can be used for food preparation or as a breakfast bar.
A kitchen island ensures that a host can cook and clean while socializing with party guests and family. It also allows a family to watch their young children while preparing a meal. The ability to relocate an integral part of the kitchen to an island increases personal interaction between family and friends.
To discuss the island design plan that best suits your kitchen stop by our showroom at 711 Port Richmond Ave or contact us 718-273-6233.
While weighing your options of the best floor type for your kitchen you need to be sure the flooring is durable, easy to clean, and aesthetically pleasing. With many options to consider your selection should adhere to the style of the kitchen furniture and the ambiance of your house. It should be noted that each floor contains pros and cons.
Ceramic tile is extremely durable and available in assorted color and styles to fit all budgets. If dirtied of water, soda, sauce or mud, the low maintenance of tile allows a damp mop. Ceramic tile are available glazed or unglazed. Unlike glazed tiles, the most often used residential flooring, unglazed tiles need to be sealed annually and as often as 3 months in high-traffic areas. The hardened density of tile results in the shattering of glasses and dishes. Additionally, moisture increases the chance of slipping and the temperature of tile tends to remain colder.
Laminate is designed to imitate the look of wood or tile. It is hard-wearing and resists scratching, denting, fading. The durability and polyurethane padding make laminate a great choice for a house with small children or pets. Unfortunately laminate cannot be refinished and needs to be replaced when it begins to age.
Wood is versatile enough to be used in a contemporary or traditional setting. Many people believe wood, natural by existence, creates a warmth to their house. The ability to alter the tone and color of the wood to fit the appearance of the kitchen provides customers the opportunity to feel actively involved. At a time when style changes every other year, wood never goes out of style. Should a drink spill, the flooring needs to be wiped immediately as liquid can damage wood. While not as hard as a concrete or ceramic tile floor, it's not as resilient as vinyl. laminate or cork.
Vinyl's main advantage used to be price. However, these days the range of designs and finishes, from the mimicking of stone, wood and ceramic tile, provides a pricey material look at a fraction of the cost. Vinyl resilient flooring is comfortable on the feet and easy to keep clean. The biggest complaint from customers is vinyl's susceptibility to scratches from dirt and grit as well as tears from sharp objects. Further concerns are the form of bubbles, curls, or dents and color fade from direct sunlight.
If you would like to discuss the kitchen flooring best for your circumstance please contact us at (718) 273-6233 or visit our showroom at 711 Port Richmond Ave., Staten Island, NY 10302.