Many homeowners looking to trim the budget on their bathroom remodel might consider leaving the pre-existing tile floor, but this may be more trouble than it's worth. Today we will explore the problems that often arise when homeowners try to stick with their older tile flooring when they update the rest of the bathroom.
Old Grout
Grout can be a big issue, especially in older bathrooms. Dirt and grime can cling to grout, and it can slowly break down and loosen the tiles. By skipping out on a flooring update, you might have to redo the floor down the line, when the old grout becomes more of a problem.
Weakened Mortar
Much like grout, the mortar holding the tiles to the floor can deteriorate over time. Whereas grout can be cleaned or even replaced, the mortar under a tile cannot be reached without taking the tiles off. As time goes on tiles can loosen, and even come off completely. Water can get under these tiles, and can cause further damage to the floor below.
No Clashing
Many homeowners try to really update and change the look of the bathroom when they remodel it. By sticking with your old tile flooring, you limit the possibilities of your new design to fit the previous color scheme. One of the major reasons homeowners remodel a bathroom is because they are bored with it. By limiting your choices on the renovation, you are more likely to tire of the new design, in less time.
To discuss bathroom or kitchen remodeling options that would be best for your home please contact us at (718) 273-6233 or visit our showroom at 711 Port Richmond Ave., Staten Island, NY 10302.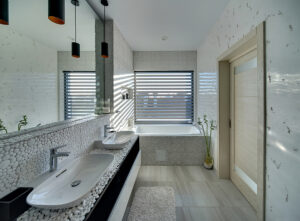 Ever stand on a riverbank, felling the smooth pebbles beneath your feet, as the water flowed by? What if you could capture that feeling in your home? Pebble tiles give you a chance to capture the beauty and peace of the river's edge in your home. These unique tiles create a blend of tranquility and style for any bathroom.
What are Pebble Tiles?
Pebble tiles are crafted ceramic or porcelain tiles, shaped to look and feel like river pebbles. They are grouted in place, just like any tile. But they create a mosaic of natural shapes and curves throughout the floor. The smooth, raised bumps of the stones create a spa-like feel on your feet. The subtle curves of the pebbles create a shiatsu experience for your bare feet. Pebble tiles often come in either solid colors or a blend. "Sliced" pebble tiles are a style of these tiles, where the tops of the stones are cut to be flat. While this takes away some of the appeal of these tiles, some homeowners prefer this to the slightly raised bumps of the stones. Sliced stones are also popular for walling.
Where are They Used?
While a whole bathroom space can be outfitted with pebble tiling, it is very common for homeowners to use the pebbles in the shower specifically. Pebble tiles can also be used along the walls, and are often employed to create beautiful, multicolored patterns on the walls of the shower. Pebble tiles can also be implemented into the vanity, or as a backsplash. Sliced pebble tiles are more popular for vanities than the rounded options.
Pebble tiles are great for "borderless" bathrooms that do not separate the shower from the rest of the room. Glazed ceramic pebble tiles have a naturally wet look, so the style can carry throughout the room seamlessly.
Drawback of Pebble Tiles
Although pebble tiles can help you create the perfect spa-style bathroom, they do have one drawback. As with most tiles, the grout will require cleaning just as often as a normal tile. But due to the smaller nature of the tiles, there will be more area for the grout overall. Maintaining a clean grout will help keep your bathroom looking incredible.
To discuss bathroom or kitchen remodeling options that would be best for your home please contact us at (718) 273-6233 or visit our showroom at 711 Port Richmond Ave., Staten Island, NY 10302.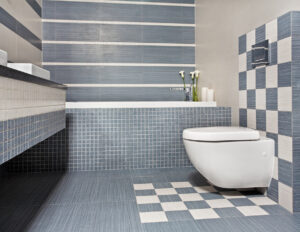 When remodeling a bathroom, it's important that you don't neglect your floors tiling. Tiles can easily make or break a bathroom, so make sure you're choosing the best ones for your space. Here are some ideas that will be sure to liven up your bathroom.
Statement flooring- It is more common to make a bold choice of bathroom flooring than it is for walls, considering flooring is a smaller area to fill, which makes it less expensive. Two types of flooring that have been particularly popular lately are geometric shapes and bold colors.
Diagonal Tiling- This is a common trend for smaller bathrooms, because the diagonal lines create the illusion that the room is larger than it actually is. This a great way to enlarge a smaller bathroom, while still looking great.
Light Colored Tiles- A basic rule to remember when renovating any surface is that lighter colors open up a room, while darker colors are more likely to box it in. White is a high maintenance color, considering how often it must be cleaned. We suggest an off white, light beige, or light gray.
Checkered Tiles- Black and white checkered tiles have been a tile classic for decades. Still a popular bathroom trend, these tiles have been proven timeless.
Choose from any of these luxurious tiles at Dream Kitchen & Bath. To discuss bathroom or kitchen remodeling options that would be best for your home, please contact us at (718) 273-6233 or visit our showroom at 711 Port Richmond Ave., Staten Island, NY 10302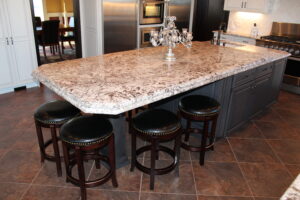 Just like anything else, kitchen trends will come and go. The only difference is that it's not particularly as easy to switch a trend after an entire kitchen has been renovated. Continuing reading for a few popular kitchen trends that aren't leaving anytime soon.
Glass front cabinets have been a staple in traditional and modern kitchens. Not only are these cabinets great for adding depth to your kitchen, making it seem larger, but they are an elegant touch to any room. Since the doors are transparent, the cabinet shelves are great to use for storing decoration, or fancier china.
Marble and marble-like countertops have been used as decor for centuries. These counters are heat resistant, which makes them popular amongst chefs and bakers. Depending on the type of marble, it can be cost-effective. Carrara marble, a gray color with softer veins, is usually the cheapest alternative. If you're opting for a more luxurious stone, Calacatta marble offers more dramatic veining with a whiter surface.
Kitchen islands have also been trending for quite some time. Especially with an open layout design, counter- height islands are more inviting and practical. It creates more of an open space within the kitchen, which encourages interaction. The extra counter space is great for hosting and entertaining.
Choose from any of these luxurious designs at Dream Kitchen & Bath. To discuss bathroom or kitchen remodeling options that would be best for your home please contact us at (718) 273-6233 or visit our showroom at 711 Port Richmond Ave., Staten Island, NY 10302.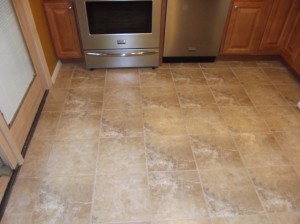 Choosing the best flooring for your kitchen can be an overwhelming task. It's a major part of your room, and it affects every other part of your designing plan. The materials and textures of the room will work coherently to tie the room together.
Tile is typically the best option for families with young children or pets. Tile can withstand spills, and doesn't absorb odors or bacteria that would arise in your kitchen. With tile's durability, it could be uncomfortable to stand on for extended periods of time, and any dropped glassware would most likely break on impact.
Wood is a common choice for kitchens for various reasons. It's comfortable to walk on, and will match with almost any kitchen design. The wood is durable, resulting in a longer lasting floor.
Pergo Laminate is well known for its elegant style, and multiple layers. These layers fuse to mimic wood flooring. The cost is much cheaper than hardwood, and has the same durability and resistance.
Cork is also a great option, as it's softness and springiness makes standing for extended periods of times a bit easier on your feet and back.
Bamboo is an up-and-coming floor trend, as it is ecologically friendly and shares a lot of the same qualities with wood flooring. This material is slightly more resistant to stains and damage than hardwood.
Choose from any of our luxurious floor designs at Dream Kitchen & Bath. To discuss bathroom or kitchen remodeling options that would be best for your home please contact us at (718) 273-6233 or visit our showroom at 711 Port Richmond Ave., Staten Island, NY 10302.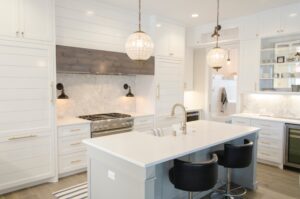 Selecting the perfect color scheme for your kitchen can be quite difficult, especially without a certain theme in mind. With a variety of materials to choose from, it may seem overwhelming.
Decide on a color scheme– Use color charts to determine which colors compliment each other, and which clash. Pick two dominant colors, and one accent color. The dominant colors should be simple and compliment each other. The purpose of the accent color is to tie the three together.
Start with the countertops- It is highly recommended that you choose your countertops first, as this is typically the focal point and base scheme of your kitchen. It tends to be easier to match cabinets and floors to counters, as opposed to the other way around. Review samples to coordinate the finishes with floors, so the textures are unified.
Accessorize and accent- Chrome, brass knobs, and metallics are a great way to highlight and brighten any kitchen. Accessories and decor are the best way to tie up a visually appealing space. If you're ready to nail down on your choices, contact Dream Kitchen and Bath, and we'll help you transform your kitchen into a luxurious, beautiful space.
To discuss bathroom or kitchen remodeling options that would be best for your home please contact us at (718) 273-6233 or visit our showroom at 711 Port Richmond Ave., Staten Island, NY 10302.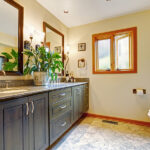 Bathroom remodeling is no small task. Before you start to tear up your bathroom, get the best advice from professionals who specialize in remodeling. Dream Kitchen and Bath has come up with a list of important tips for getting every detail right for your bathroom.
Tile Floors: If you want easy maintenance flooring, try going for porcelain or glazed tiles and avoid porous natural stone tiles like limestone. If the tiles aren't sealed properly, they'll absorb drips and spills and become discolored over time. If you are looking for a non-slip floor, pick tiles with textured surfaces, matte finishes, or sand-containing glazes. Small tiles with grout lines are another non-slip option, which give better "grip" than large tiles.
Top-Tier Toilets: Maximum Performance testing (MaP) gauges a toilet's capability to get the job completed with just one push of the handle. Search for a loo with a MaP score of 500 or higher which includes many WaterSense-rated toilets, high proficiency models that use as small as half of the 1.6-gallon-per-flush legal limit.
Sinks: Every sink style has its benefits. Select the one that best suits your needs and wants. There are three selections to choose from including a pedestal, vanity and vessel sink. The pedestal sink has a slender silhouette and is a favorite in small powder rooms and half baths, but offers no storage and small deck space. The vessel sink bowl is placed above the counter, so you'll have more space for drawers and storage below it. Nevertheless, the work surface has a smaller amount of available space and it's harder to keep clean. A vanity with a sink takes up the most room, but it offers the most value. An average 30-inch vanity has approximately 15 cubic feet of storage and around 10 inches of countertop on each side.
Countertop Choices: Three of the most popular options include natural stone, resin-based, and laminate. Natural stone is best for high-end baths that are cared for by attentive homeowners. There is natural beauty in every block, and polished granite is highly stain and scratch resistant. However, natural stone must be sealed frequently. Absorbent types such as marble and limestone, will stain and become discolored. Resin-based is best for countertops with odd shapes or sizes. These can be molded as a single, seamless piece, and they come in a wide variety of colors. Resin-based countertops do not need sealing. Laminate is the best choice for baths on a strict budget. Laminate is affordable and available in prefab slabs at home centers. It's stain and scratch resistant, and comes in a wide variety of colors, finishes, and textures.
Hot Water: If you're adding a soaker tub or a multi-head shower you might need a larger water heater. Tank-style heaters are labeled with a first hour rating (FHR), an amount of how much hot water it makes in an hour.
Proper Ventilation: A fan is a must for your bathroom. For a master bath purchase a quiet unit that won't wake up your partner during night trips. Be sure it has enough power for back-to-back showers, and place it on timer to let it run for 20 minutes to banish steam after you're done. For a family or guest bath choose a model with medium noise level and power which will save you a few bucks every month.
Dream Kitchen and Baths specializes in bathroom and kitchen remodeling. If you're looking to remodel contact us now at 718-273-6233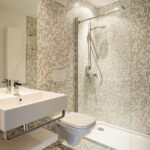 Keep up with the times and spruce up your ordinary bathroom this season. The smallest renovation can transform the space and add value to your home. Let the professionals at Dream Kitchen and Bath help you redesign and update your bathroom to create the space you've always wanted.
There are so many different style and function options to choose from for your bathroom renovation. Start with a color scheme. Once you have determined what kinds of colors you want in your space, it'll narrow down the various choices for counters, counter tops, and flooring. You can choose from several types of tile, natural wood, or even wood-look tiles. You may consider a small area rug, to add warmth to the room.
Instead of wallpaper, a fresh coat of paint can liven up the space. You could even add some design tiles along the walls, or as a backsplash for a modern feel. These trendy tiles look great and are easy to clean.
You may want to consider porcelain fixtures for your renovation. This type of fixture in your bathroom will add a striking element to the overall decor of the space. Stainless steel fixtures are another option can bring a modern and neat look to the atmosphere. These fixtures are also easy to maintain.
The professionals at Dream Kitchen and Bath will work closely with you to turn your thoughts into total visions when redesigning and styling your bathroom. We will work diligently to ensure the end result is to your liking. For more information on any of our services, feel free to give us a call at (718) 273-6233.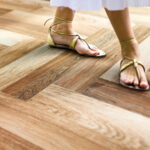 For your next kitchen or bath renovation, experience the warmth and beauty of wood with the resilience of tile. With wood-look tiles, you can achieve the look you want with no risk of the water damage can come with wood floors. The tiles won't warp, and there's no risk of water or termite damage. With tiles, you can also get heated floors.
Zen bathrooms are in style, and these designs feature warm, natural wood, whether it be flooring or backsplashes. Although the tiles are imitation wood, it tolerates the moisture of a bathroom while looking like natural wood. With natural wood, there is a chance that it will warp from the moisture.
Tiles can cost a few more dollars per square foot, once grout and installation costs are factored in. However, certain wood floors can cost more, based on the wood type. Smaller grout lines help the wood-look tiles look more like natural wood. Just like with regular wood, the tile finishes will usually have variations, so that they do not look uniformly perfect. This enhances the look of the wood design by keeping it close to the look of real wood
To discuss bathroom or kitchen remodeling options that would be best for your home please contact us at (718) 273-6233 or visit our showroom at 711 Port Richmond Ave., Staten Island, NY 10302.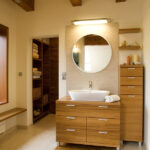 Your bathroom should be a luxurious getaway; it can be a place that promotes relaxation. Dream Kitchen and Bath can transform your bathroom into a spa-like oasis. Here are some easy-to-follow trends that can get your ideas for your new bathroom flowing.

Transforming your bathroom into a spa can be easily achieved with a hint of nature. Natural woods, small pops of earth tones, and plants can easily get you the zen look you've been wanting for your bathroom. You can incorporate natural wood into your design by installing a honey oak built in for storage, for example. You could also use natural wood to replace your existing cabinets, if you're not looking to add a built in.

Lots of natural light in your bathroom will brighten up the space, and make it feel bigger. Adding bright light fixtures around mirrored areas of the bathroom will make the space brighter, as well. This also helps with daily activities such as shaving and applying makeup. The more light, the better. You may also consider using candles in your bathroom; natural light is the best light.

Lastly, installing a vanity in your bathroom can benefit you in many ways. If you're renovating to sell, a built in bathroom vanity can add value to your home. If you're renovating to stay, vanities can create a luxury feel. Lit vanities can also add to the room's lighting, and give you a designated place to get ready in the morning.

For more information about transforming your bathroom, contact Dream Kitchen and Bath at 718-273-6233.