While not always common, it isn't unheard of that a kitchen remodel will go over budget. There are a number of reasons why a kitchen redesign goes over the expected budget. The best way to avoid going over is to is to see it as a cap, rather than a goal. Here, we will break down the 5 most common reasons a homeowner goes over budget, and how to avoid that mistake.
Splurging on Your Kitchen
The main reason why a person might go over budget is because they opt for appliances or amenities that are over their reach. Figure out how much you plan on spending for the flooring, sink, refrigerator, etc. When shopping for each aspect of the kitchen, keep the overall budget in mind; as well as the price you expect to pay. Ty to choose something you like within that limit. It can be easy to go for the fancy, internet linked fridge, but there are many fantastic models without such functions at a better price.
Unexpected Prices
Sometimes, even with the proper planning, costs can spring up on you. Shipping costs, sales tax, and more can be an unexpected surprise. Shooting under your budget can help give you a safety net to help you stay within your budget.
Changing Direction
Another reason a renovation may go over the budget is altering the original design plan. Some people may decide in the middle of a renovation to change the color scheme, cabinet style, or replace parts of the kitchen that they were originally keeping. This can put a damper on a budget. The best way to avoid this is to do research and look out for the design that you know you'll love for years. Being set on how your kitchen should be after the remodel will help you keep from straying from the original plan; which will no doubt cost more.
Unexpected Construction Issues
Construction issues can be a big burden on a kitchen remodel. Water damage, termites, or simply working around load-bearing beams lead to added costs or remodelling time. It is important to allocate some of your budget to be ready for some of these issues. Additionally, you should be prepared for additional remodelling time if complications are found during the remodelling process. Building codes and HOA rules may also affect remodels. Be sure to check with your HOA to see if there may be any issues with performing a remodel. Your remodelling service provider should help you with building codes and any associated paperwork.
Poor Service
Remodels can go over budget if the remodel goes over the anticipated time, or if your contractor's service is not efficient. It is a good idea to communicate with the managing contractor, to make sure that you are on schedule. You should hire a licenced contractor that you can trust.
To discuss bathroom or kitchen remodeling options that would be best for your home please contact us at (718)-273-6233 or visit our showroom at 711 Port Richmond Ave., Staten Island, NY 10302.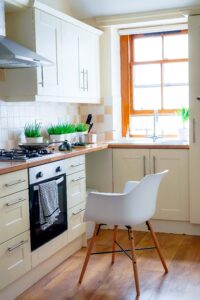 Not all homeowners have new cabinets designed for every kitchen renovation. There are a number of ways to upgrade your already existing cabinets. Upgrading cabinets in this manner can save you money for the renovation. Cutting costs this way can allow you to use those funds for the rest of your remodel.
Paint
Paint colors can revitalize your old cabinets and can drastically change the way the room looks without breaking the bank.
Remove the Doors
Taking off the doors from your cabinets can add depth to the space. When the doors are removed, cabinets can look surprisingly different.
Changing the Doors
If you are not changing the cabinets, you may want to consider creating or buying new doors for the cabinets. Altering just the doors can cost a lot less than reconstructing the entire cabinetry.
Add Molding
Consider adding molding to where your cabinets reach the ceiling. This can bring strong visual elements to your kitchen space, without adding much to the final costs. Alternatively, if there are no doors on the cabinets, consider adding a molding to the inside of the cabinet. This will add a strong visual break while keeping the same level of depth to the cabinets.
Add Undermount Lights
Lights built into the cabinetry can be a great help in the kitchen. By adding them to your pre-existing cabinets, they will seem less refurbished, and more modern. Undermount lighting for cabinets can be inexpensive and incredibly helpful while cooking or doing prep work.
To discuss bathroom or kitchen remodeling options that would be best for your home please contact us at (718) 273-6233 or visit our showroom at 711 Port Richmond Ave., Staten Island, NY 10302.