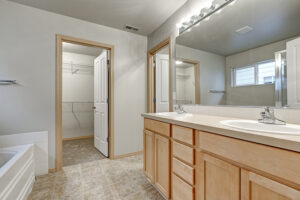 Many homeowners are opting to add some closet space while upgrading their master bathroom. Creating a walk-in closet while at the same time upgrading your bathroom helps you get the most out of one remodel, without having to worry about changing things around later. Whether you take space away from the bathroom, the bedroom, or a bit of both to set up the closet, upgrading your master suite with a walk-in closet is something you won't regret.
When preparing to upgrade your bathroom, you are already in the renovation mindset. You want change, and you are ready for a change in the space. You are already planning for the new bathroom. It is easier to do both in a single renovation; saving you time and money.
Long-term, adding a walk-in closet not only adds to your convenience in the space, but can add to the overall property value of your home. While this increase may only be a few thousand dollars, in the grand scheme of things, it can be a plus if you decide to move.
Dream Kitchens and Baths prides itself on quick and hassle-free renovations. Our team will get your new bathroom and closet together in a few days; a small price to pay for a lifetime of added storage and convenience.
To discuss bathroom or kitchen remodeling options that would be best for your home please contact us at (718) 273-6233 or visit our showroom at 711 Port Richmond Ave., Staten Island, NY 10302.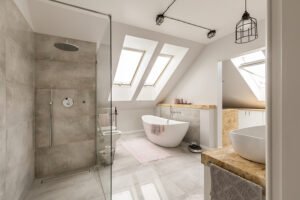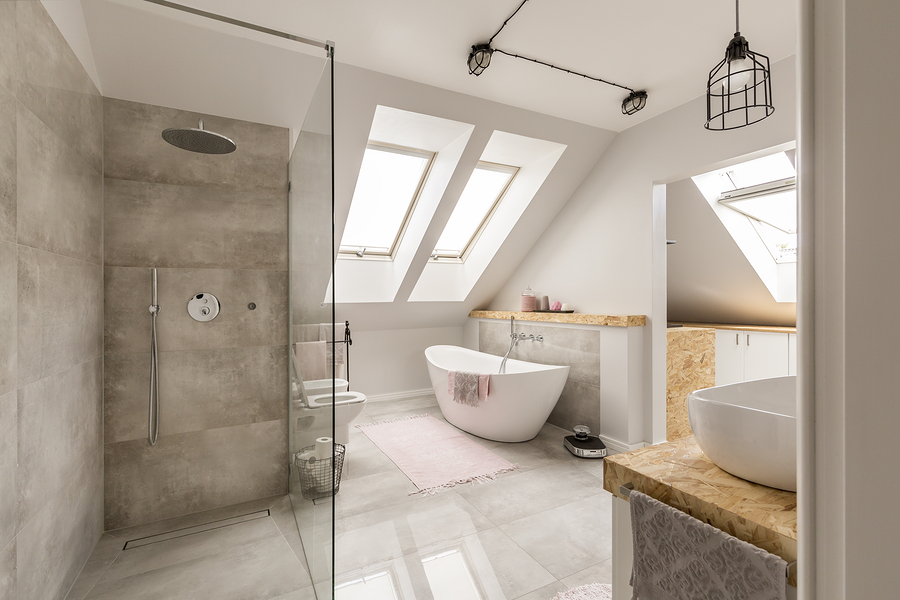 When renovating a bathroom, many homeowners consider adding a no-threshold shower (also called a curbless shower). A no-threshold Shower reduces the risk of tripping when getting in and out of the shower because it doesn't have a lip. For stand alone showers, going curbless can be a good option for any bathroom, but it can also raise the value of the home. The design is great for a home with elderly or the disabled. The universal design function for safety of a curbless shower is very appealing for potential buyers. It is also a great upgrade if you live on staying in the home for a long time. Glass walls and the lack of a curb on this type of shower will help make the bathroom seem larger, because there is a less of a divide in the room separating the shower.
To discuss bathroom or kitchen remodeling options that would be best for your home please contact us at (718) 273-6233 or visit our showroom at 711 Port Richmond Ave., Staten Island, NY 10302.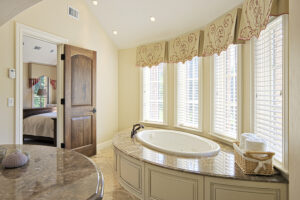 Upgrading your bathroom can be a good way to increase the value of your home for selling it in the future. Upgrading an existing bathroom, or building on an additional one can be a great boost to the total home value. In some cases, adding an additional bathroom to a home could raise the total value more than just upgrading the one(s) you have. If you are thinking about building on an extra bathroom or powder room, be sure that you have the proper space available. When you are planning the redesign for your bathroom, consider these options as they will help in raising the value of your home more than most of the other choices you need to make in the room.
Granite is the name of the game. Nothing says luxury in a bathroom than granite or marble countertops. The appeal for these types of countertops are high, and they will cost less than if you were doing your kitchen counters with them. It is a good way to balance cost with overall value in the end. Marble and granite are available in a variety of colors, cuts, and styles.
When it comes to the sink; they don't have to be huge, but they definitely need to be something that the eye is drawn to. Undermount sinks are very popular now for bathrooms. Drop in sinks are not in high demand. With an undermount sink, the faucet becomes an important visual element of the vanity space, as it breaks from the flat counter. Chrome, pewter, and bronze faucets can be striking against a granite countertop, and are all high demand materials for faucets. Gold finishes are also highly sought after.
Wood panelling on walls is a great way to increase the value of a bathroom space without going to deep into your budget. Water resistant wood-panelling is a fantastic way to create a spa-like feeling in a bathroom. If you decide to go with tiling instead, be sure to decide what type of grout you want. Epoxy grout will stain less and is more water resistant, but can look like a plastic material to some potential buyers. Cement grout, the more classic option, stains more easily and is less durable. It will need more cleaning and maintenance. Inside a shower, stone tiles are very attractive and are much better suited for the direct contact of water than the wood.
Radiant floor heating is a very attractive addition. This upgrade utilizes the hot water going through the pipes to the shower and sink to warm the floor. This is especially helpful for bathrooms with tile flooring.
Overhead lighting isn't as sought after as wall mounts. They add warmth to the look of the room. Be sure to put even lighting around the vanity mirrors. Wall mounts will reduce side shadows, which is great for when you are shaving or doing makeup at the counter.
To discuss bathroom or kitchen remodeling options that would be best for your home please contact us at (718) 273-6233 or visit our showroom at 711 Port Richmond Ave., Staten Island, NY 10302.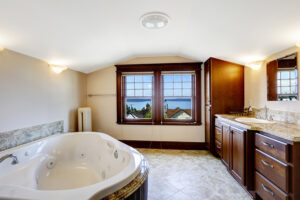 When renovating your bathroom, many homeowners opt to change out their simple standing tub for a jetted model. Whirlpool tubs can be a great and relaxing upgrade to a bathroom, and can be a great way to soak away the troubles of the day. There are three types of jetted models; water jets, air jets, and combination jets.
Water Jets
Water jet models use a water pump to propel water out of the jets. These models have the least number of jets but the highest amount of pressure in each one. The water jet system makes this system more costly than air jet models. With a water jet system, you should not use soaps, aromatherapy oils, or bath salts. These can cause build-ups in the system that can be difficult to remove. Water jet tubs require more cleaning than an air jet model. Water jet models have a lot less jets than the other models, usually sporting about 12 or less big jets.
Air Jets
Air jetted models utilize an air compressor to create the pressure. While there isn't as much power in these jets as with the water-propelling models, there tends to be more jets per tub. Air jetted tubs are the least expensive of the three. There isn't a contamination problem with soaps and oils in this type of tub, like there is with a water jet model; so you can use all sorts of products to enhance your relaxation time. This type of tub should be cleaned as often as a regular stand-still model. The number of jets on these models can vary, but there are plenty of models that sport over 100.
Combination Models
This type of tub uses both air and water jets. Because it requires both types of systems, this style has the highest price point. The water pressure created in this tub is great because you get the low number of strong, powerful water jets combined with a large quantity of lower powered air jets. You will need to avoid using soaps and oils in this type of tub. They need to be cleaned just as often as water jet models.
Upgrades
There are a variety of upgrades you can make to your jetted tub to make it even better. If you like to relax in the tub for a long time, consider adding an inline heater. Inline tub heaters can keep the water warm long after you fill the tub. Self cleaning models are a great upgrade, especially for the water jetted tubs. Timers are a common addition to Whirlpool tubs; they help prevent you from wasting too much energy, and can be beneficial if you don't want to be in for too long. Foot stops can be built into the tub or added on. Foot stops are special raised parts to the tub that provide comfort by cushioning and supporting the thighs or feet.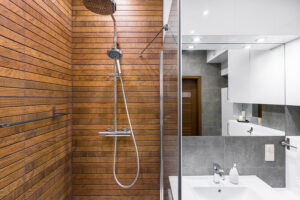 While more traditional bathroom design tries to stay away from wood; modern design can make excellent use of it. Innovations in wood treatment give homeowners a lot of options in designing with water-resistant wood for bathrooms. Now more than ever, using wood elements in your bathroom design can be simple and create a spa-like feeling in the room. There are a number of uses for wood in the design that will bring a more natural quality to the room.
For the walls of your bathroom, wood panelling can be utilized in many different design styles. Darker wood creates a warmer and classier feel; while lighter wood can evoke that of a spa. Natural looking wood, with knots and creases, will make the bathroom look rustic. Wood panels put in horizontally make the room feel bigger, and more natural. Vertical panels create a more uplifting feeling, and make the ceiling seem higher. Diagonal or zigzag lines can create an energetic feel, but can be overbearing at times if overused.
Wooden floors don't get as cold as tiles, and can make a great floor for a bathroom, especially with radiant floor heating. Wood also makes a great material for your vanity, adding textural elements and a sturdy design.
For the shower and bath area, using wood can provide excellent spa-like elements and a natural, earthy feel. Duckboards in the shower are a non-slip surface that allow for water to drain through. They are generally more hygienic than shower mats. Duckboards hide away the drain, making a more seamless and aesthetically pleasing shower floor. For bathtubs, drop-in models set in wood can be beautiful. A natural wood element for the tub skirt brings the spa to your home.
To discuss bathroom or kitchen remodeling options that would be best for your home please contact us at (718) 273-6233 or visit our showroom at 711 Port Richmond Ave., Staten Island, NY 10302.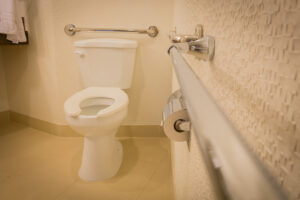 Bathroom design for the elderly or disabled is all about ease of access and safety. Often called "Universal Design," the trend of redoing your bathroom or other parts of the house with safety features for the elderly or disabled can be a major benefit. Other than the safety it provides you, universal design bathrooms can raise the value of your home.
Grab bars and rails are a great asset to any bathroom. Available in a variety of colors, styles, and materials; these bars are a fantastic safety plus that help you get in and out of the shower with ease. The shower can be slippery. A bar gives you extra insurance against a slip and fall. Grab bars are helpful for standing in the tub, getting off the toilet, and safely getting in and out of the shower. Adding a few bars to your bathroom can go a long way in terms of safety.
Ease of access in the shower can be important. Shower seats can be great for reducing falls. Adjustable or hand-held showerheads provide functionality to the space. Curbless showers are a great step towards safety and smooth design. Curbless showers reduce the chance of tripping while getting in or out of them. But from a design perspective, a curbless shower can make the room seem bigger and more spacious. With a curb, that bump in the tile can visually separate the shower from the rest of the room; making the room seem more cramped.
For sinks, counters, and vanities, these minor details can make a bathroom a lot safer. Avoid sharp edges. Curved or rounded corners can reduce the risk of bruises or injury. Hanging sinks with panels covering the pipes can make it easier to bring a wheelchair under it.
To discuss bathroom or kitchen remodeling options that would be best for your home please contact us at (718) 273-6233 or visit our showroom at 711 Port Richmond Ave., Staten Island, NY 10302.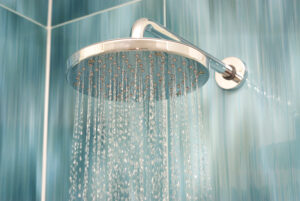 Your shower should be a place to escape. Whether you are washing away the troubles from the day, or getting ready to go out; you need a shower that does the job right. These upgrades to your standard shower set up will make your shower more enjoyable, morning or night.
Rain shower heads are wide and provide a downpour effect. This is supposed to be calming and create a more spa-like feel. They are usually mounted on the ceiling. More water is used with most rain showers, because the heads are wider and have more spouts.
Shower panels are powerful and jacuzzi-like set up. Multiple shower heads that can be opened or closed provide multiple centers of water pressure for a good clean feel. While there are pre-built panels available; custom ones can be made with multiple heads. As long as your pipes and water heater can handle the multiple heads; the water pressure on these styles can be incredible.
Aerating shower heads provide great pressure with less water. By mixing air with water, this shower head pushes out water with more pressure and less water. They generally cost more in installation, but you save more over time by saving water.
Many people have smart TVs, but smart shower heads? Bluetooth and Wi-Fi connected shower heads can connect to your cell phone. Play music, track water usage, and control LED lights to light up your shower. Smart shower heads can be a great upgrade. Some of these smart shower heads actually power the lights and speakers with turbines as the water shoots through.
To discuss bathroom or kitchen remodeling options that would be best for your home please contact us at (718) 273-6233 or visit our showroom at 711 Port Richmond Ave., Staten Island, NY 10302.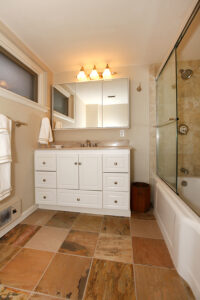 Everyone loves to have a finished basement. A bathroom is the finishing touch that every basement needs, from a basement office, man-cave, den, family room, or even a rented-out apartment. For a renting space, a full bathroom is just one of many prerequisites. Having the extra shower or bathtub is great for a house with plenty of kids and/or busy mornings. When creating a new bathroom space in the basement, these are important things to consider.
Space is the first thing to consider. Before anything else, do you have the space for it? A small half-bath can be about as small as 18 square feet, but you can go a bit smaller. You don't want the room to be too cramped. The minimum size for a full bath, for both comfort and zoning, is usually about 36 to 40 square feet. Many people create half baths under the staircase if the space is wide and tall enough.
Codes and regulations can make or break the new bathroom installation. After considering the space, it is important to see if creating a new basement bathroom is legal for your area or property. Some zoning laws restrict the number of bathrooms on a property, or if you can have a bathroom below ground.
Drainage is important for any bathroom. Aboveground bathrooms are assisted by gravity in order to keep the pipes clear. In a basement bathroom, you or may not have enough of a drop for it to be powerful enough. Pressure-assisted toilets or upflushing systems are just two options to remedy this. If you want to create a full bathroom, drainage for the tub or shower is important.
Lighting in a basement space can make the room feel more inviting. If you are planning on putting it on an exterior wall; consider installing a window if possible. A frosted glass window will help ensure privacy while adding natural light. Mirrors can help extend the reach of light in the room and make the room feel bigger in general.
To discuss bathroom or kitchen remodeling options that would be best for your home please contact us at (718) 273-6233 or visit our showroom at 711 Port Richmond Ave., Staten Island, NY 10302.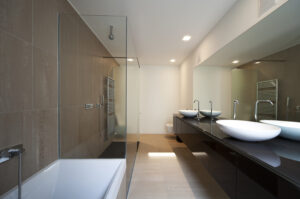 A modern bathroom is more than just style. Openness, safety, efficiency, and geometric shapes define the new style of modern bathroom fixtures and design. Open design makes the space feel bigger and more spacious. Safety features, especially near the the shower, are becoming more popular. Energy and water efficient fixtures in the bathroom is becoming more prominent as going green is becoming more important. Geometric shapes provide a more contemporary feel and help define spaces.
Openness:
Homeowners are embracing open styles in bathrooms more and more. This open design comes in a few different ways. The simplest and easiest way to implement this into your bathroom is the use of open shelving. This adds color easily via the various items on the shelves; while the lack of cabinetry reduces the space taken up on the walls. Even vanities are moving towards a more open design with shelving.
Glass doors on showers create more depth in a bathroom. Curtains close off an entire section of the room. Freestanding tubs are becoming more prominent. A freestanding tub offers a variety of options for installment, whether in the center of the room, near a wall, or angular. Many homeowners are looking to add natural light to a bathroom with skylights. Between the natural light and the view out of the window, a skylight offers a great open feeling, which helps even a smaller bathroom feel more spacious.
A foggy mirror often makes a bathroom feel smaller after a hot shower. Anti-fog mirrors are a convenient way to remedy this. They make getting ready to go out simpler.
Safety:
Safety in a bathroom is not only good for you, but it is stylish as well. Added safety fixtures in a bathroom make life easier for you and your family while adding more to the look of the room and raising the value of the home. Universal design styles, meant to make life easier for the elderly and disabled, are becoming more prominent in homes. They benefit everyone living there, while raising the overall value of the home.
The main area of focus for bathroom safety is the shower. A curbless shower reduces the risk of tripping when entering or exiting the shower. This also takes away a look of division between the shower and the rest of the room. Shower seats are a great way of making a shower more enjoyable, and safer. A built in shower seat works as shelving in the shower, while giving you a place to sit and relax. It makes cleaning your feet, shaving, and other tasks much easier. Grab bars for the shower are helpful for reducing slips in the shower, and can provide an adequate spot for hanging your washcloth to dry. Lights in the shower are becoming trendier. Shower lights have been out of main bathroom design for a few years, but have been on the rise lately.
Efficiency and Smart Technology:
In a bathroom, efficiency can save you a lot of money in the long run. While there are simple things, like low-flush toilets, there are plenty of other options that not only save money, but to make your bathroom space more enjoyable.
Smart showerheads are a great innovation for more than just simply saving water. Bluetooth-enabled showerheads can keep track of how much water you are using, or even play music straight from your phone or tablet.
Bathroom floors are often cold, especially during the mornings. By running the water pipes under the tiles, you can reduce the amount of energy needed to heat the floors by using the hot water going to your showers.
Efficient bathroom faucets reduce the use of water at the sink. The two main types of these faucets are no-touch and metered. No-touch faucets are the motion-sensored fixtures that go on when your hands are under the water, and off as you pull away. A metered faucet is pressed for the water flow, and pours as the faucet slowly retracts to its original position. A metered faucet is a good installation for children's bathrooms, as it reduces the length of time that the water is running.
Geometric Shapes:
A design for a modern bathroom in the last few years has been all about curved edges and square tiles. As we continue onward, the square tiles are still prominent among bathrooms for powerful backsplashes and wall coverings. But the curved edges of your tub or vanity are being replaced with more angular fixtures. Angular design is showing up more and more not just in home decor, but in car design, the fashion industry, and more.
Square and rectangular shapes in bathroom design often come from the tub. Freestanding or even built in tubs are often ovular; but lately, more rectangular models have been in newer remodels. Square showerheads are also becoming popular. Faucets with angular shapes are a popular nw trend for modern bathroom design. Square decor items in bathrooms are also being bought more frequently, from soap dishes to towel racks.

To discuss bathroom or kitchen remodeling options that would be best for your home please contact us at (718) 273-6233 or visit our showroom at 711 Port Richmond Ave., Staten Island, NY 10302.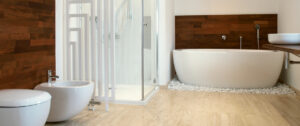 The bathroom is a place of quiet peace and tranquility. Natural materials used in bathroom design create a feeling of being within nature. When remodelling your bathroom, consider using natural stone or wood in your design. Enjoy the tranquility of nature while unwinding from your day.
Woodwork in a bathroom space is quite beautiful. Newer timber made for moist or wet areas of the home prevent the wood from warping and water damage. The natural flow of the grains and knots in the wood mimic the ebb and flow of water in a river. Wood in a bathroom often makes great wall panelling outside of the shower area, to create a beautiful room that feels modern; yet hints at subtle rustic quality.
Duckboarding is an excellent use of wood in your shower. Duckboards are wooden planks laid like a deck with small spaces in between. Sometimes used in this way in spas and saunas, the wood conceals the drain as water falls below. Duckboards feel softer and more natural to the feet and are more slip-resistant than tile or other common materials for tubs or showers.
Natural stone or river rock materials make excellent pieces for a bathroom. Stone adds a more neutral and earthy feeling to the room. Natural stone is good for bathroom countertops, sinks, and backsplashes. Mineral veins and sediment lines in the stone create a beautiful and unique focal point to the room.
To discuss bathroom or kitchen remodeling options that would be best for your home please contact us at (718) 273-6233 or visit our showroom at 711 Port Richmond Ave., Staten Island, NY 10302.