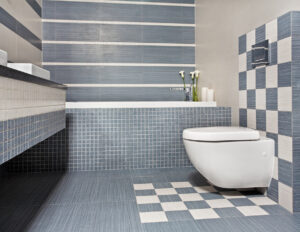 Technology is always advancing, to make our lives easier both inside and away from home. One of the last places we look for new technologies is the bathroom. A toilet is just a toilet, right? What innovations can truly be found in the shower? It turns out, there are a lot of new and unique changes in our bathroom that can make your bathroom remodel into a true upgrade.
Sinks
Sink innovations look to reduce the spread of germs and reduce water waste. The most common example of this is the touchless sink. Motion sensor sinks reduce the likelihood of germ transmission, while only running the water while your hands are near the sensor. Unlike the models seen in public places, home motion sensor sinks often have temperature controls as well as a standard control for the water.
Toilets
High tech toilets are in a league of their own. While some of the higher end models have a wide variety of features and functions, we will explore some of the most common examples of these innovations.
Heated toilet seats are the most common upgrade to the home toilet. It makes it more comfortable on cold mornings or in the winter to sit on the toilet. This is also common because the upgrade is often on of the least expensive choices.
Bidets have been popular in Asia and, more recently, Europe because it is more hygenic, and more eco-friendly. There is no need to worry about toilet paper with a bidet. Bidets are also better for septic tanks, which can otherwise have a build up of paper in them.
Touchless toilets are great for reducing germ build up on the flushing valve or button. A relatively inexpensive upgrade, this is a good option for children or the elderly, who may forget to flush otherwise. Additionally, there are motion sensor upgrades for toilets that can raise/lower the seat, or even close the lid.
Some toilets have self cleaning options. While the technology is not perfect, a self cleaning toilet will be much cleaner than a standard model.
Spa Upgrades
A bathroom should be a place of relaxation. These upgrades can help provide a spa-like atmosphere and enhance your experience in the bathroom.
Rainfall shower heads are often noted as the most relaxing shower-style. Rainfall shower heads require less water pressure, letting gravity do all the work.
Aromatherapy is becoming more popular in the US, and especially in the bathroom. A relaxing and stimulating aromatherapy scent can be the perfect upgrade to your bathroom space. Many shower heads and toilets on the market now have diffusers built in.
Refrigeration in the bathroom may sound odd, but adding a drawer or cabinet with it can be a huge upgrade to keep your wine cool for your evening soak in the tub. Along the same lines, many homeowners are opting to install bathroom TVs, waterproof models that are meant to withstand the steam of the shower or the occasional splash.
To discuss bathroom or kitchen remodeling options that would be best for your home please contact us at (718) 273-6233 or visit our showroom at 711 Port Richmond Ave., Staten Island, NY 10302.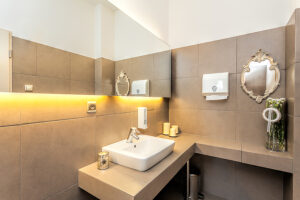 The Mediterranean region inspires much of our modern culture. From ancient Greek civilization, to a wide variety of cuisines. When you think Mediterranean-style decor, many people think of the sun, the sand, the sparkling sea, and the colorful culture. But what can this mean for your home? One place the wonders of the Mediterranean inspires American culture is in design style, especially in the bathroom. A Mediterranean inspired bathroom brings the beauty of the region to your home.
Mediterranean decor blends colorful jewel tones, deep blues, and earthy shades. These are often contrasted with whites or yellows to produce elegant saturation and a bright color scheme. This color style adds natural beauty to a space in an incredible way.
Texture is an important quality in this type of design. Texture on the walls is a way to add drama, depth, and beauty to the space. Stucco and raised plaster, as well as 3-dimensional tiles can add this level of design.
Terracotta and limestone are huge in Mediterranean style. Often featuring striking, hand-painted designs, these tiles add an old world feel, while still bringing together the modern look. Arabesque-shaped or Moroccan-inspired tiles are often a common choice by homeowners looking for this type of design.
Windows are important in the design of a Mediterranean style bathroom. In many cultures of the region, there is a flow between the indoors and outdoors. There should be a continuity between the room and what is outside. As such, many homeowners look towards the use of larger windows, skylights, and an overall increased use of natural lighting in these rooms.
Accenting the room with Mediterranean flair brings it all together. Tapestries, art pieces, and colorful textiles can complement the other decor choices while bringing aspects unique to your very own bathroom. As for the fixtures in the room, many Moroccan and Mediterranean bathrooms feature wrought iron. It is used for light fixtures, pull bars, towel racks, and more. Curves and soft edges are much more common in Mediterranean design than corners are. Look for curvatures in design, especially in the use of the wrought iron fixtures; as well as the tub, shelves, and even the windows.
To discuss bathroom or kitchen remodeling options that would be best for your home please contact us at (718) 273-6233 or visit our showroom at 711 Port Richmond Ave., Staten Island, NY 10302.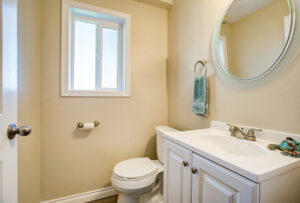 Often in Staten Island, half bathrooms in our homes will feel relatively cramped due to design space when the home was designed. Small bathrooms and powder rooms are a characteristic seen all across most of the island. But what can you do to make these rooms feel less cramped. During your next remodel, consider these upgrades that can make your small bathroom space feel more spacious.
Serene colors make you feel less cramped by creating the illusion of more space. Cool-feeling colors, like pastels and neutral tones can help create this feeling of calm and add a sense of openness to the room. This also applies to the floor and ceiling. Lighter colors will open the space up, while darker colors will tighten the space up. Crown molding around the ceiling can add depth and make the room seem taller. For the best results, the molding should be painted the same color as the rest of the ceiling.
Vanities can be beautiful in any bathroom, but can be bulky in smaller rooms. Pedestal or wall-mounted sinks take up minimal floor space; but at the cost of storage space. If your bathroom can afford losing the additional storage that a vanity would provide, you should consider one of those sink options.
Lighting can really make a space seem bigger. Wall sconces add warmth and accent lighting. If possible, consider adding a window or skylight. Natural lighting from outside adds softer light, which helps widen a space. A bigger mirror over the sink can help the bathroom lighting seem brighter, while also creating the illusion of a larger room in general.
To discuss bathroom or kitchen remodeling options that would be best for your home please contact us at (718) 273-6233 or visit our showroom at 711 Port Richmond Ave., Staten Island, NY 10302.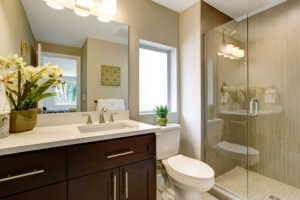 Many homeowners find that when they are unhappy with their bathroom space, part of the reason is that it feels too cramped. Especially on Staten Island, small bathroom spaces can be a problem, but it is important to consider a few different design techniques that can help your bathroom feel bigger.
Monochromatic spaces are a very easy way to enhance the relative size of a space. White or neutral colored spaces that stay within a few shades of each other, for the most part, will make the room feel more open.
Don't let the door swing into the room. Bathroom doors that come into the room take up more space. Rather than utilizing a swinging door, try adding a pocket door or a sliding one. These unique features can make a room seem more spacious, while also adding additional resale value.
Don't cut out the shower space. Glass shower doors extend the room by keeping the room more open. A glass shower door allows you to see all of the room when you walk in, and makes it seem bigger. Curbless showers reduce this level of division as well. If you decide to go with a shower curtain, hang it very close to the ceiling, and let it drape almost to the floor. This makes the curtain act more like a tapestry than a curtain, adding a visual element that draws your eye and adds height to the space.
Get a bigger mirror. Mirrors make a space seem bigger by reflecting light and by creating an optical illusion of having more space. Mirrors also help make a room brighter with less lighting, which can be a big benefit.
Add more natural lighting, if possible. Natural lighting can be an important tool in making any space feel bigger, not just bathrooms. Skylights add natural lighting and ad ceiling depth while not compromising privacy. Frosted windows help add natural light and add a stylistic element, while also maintaining privacy.
To discuss bathroom or kitchen remodeling options that would be best for your home please contact us at (718) 273-6233 or visit our showroom at 711 Port Richmond Ave., Staten Island, NY 10302.
Your old kitchen has gone to the dogs. It's time to rip up the old one and renovate it into a fantastic new space. But this time, be sure to make some space for your furry friends. Many homeowners are taking the time to create special pet areas in their kitchens. This popular new trend trades away some cabinet space in order to accommodate pets.
The most common addition to a kitchen for a pet friendly design is a drawer for your pets bowls. A low drawer at the bottom of the cabinets can be a place to conveniently house your pet's food and water dishes. When it's time to eat, simply pull the drawer out and fill it up.
A kitchen island or exposed cabinet back is the perfect place to create a nook for your pup. A small alcove in the kitchen can be a great place for a bed for your cat or dog. For bigger dogs, you should consider having a built-in crate to your kitchen island or cabinets. You will be giving up more cabinet space, but you free up the area where your crate currently is.
Many homeowners don't like their dogs under their heels while they cook. Others like to keep their dogs penned into a room or two when they leave the house. For either house, built-in gates take up very little cabinet space, and can extend to close off the kitchen.
To discuss bathroom or kitchen remodeling options that would be best for your home please contact us at (718) 273-6233 or visit our showroom at 711 Port Richmond Ave., Staten Island, NY 10302.
Bathroom mirrors can make or break a bathroom space. Mirrors serve a lot of different functions in a bathroom, besides the obvious. Finding the right style and amount of mirrors can change the entire feeling of the room. Most bathrooms are designed with the mirror over the vanity, and for good reason. This is the most practical spot for it. But it also removes the need for them elsewhere. In most bathrooms, vanity is the only area that needs one.
Mirrors can alter the amount of lighting that a room needs. The mirrors can reflect light and spread it out in an effective way. If you plan on using wall mounted lights, do not put them opposite the mirror. Instead, consider having them installed around the mirror. This is better for illuminating the mirror while minimizing glare.
Mirrors create the illusion of a bigger room. The reflection of the room creates the feeling of openness or wide space in the mind. This, however, can also make a room feel cold and empty. That being said, the mirroring should be proportionate to the room itself. Most small bathrooms or water closets should have a single mirror over the sink. A larger bathroom could afford to have more mirrors, but they should not overpower the room. Decide if you would like a frame on the mirror. Frameless designs are sleeker and make the space , but frames can add character or style to the space. Many vanities with built-in mirrors have framed designs.
Mirrors should, in most cases, be placed on one wall of the bathroom only. Mirrors facing each other create a sense of unsteadiness in a room and can be disorienting. The effect is called sometimes called "Mise en abyme," meaning "placed into the abyss." It alters the balance of the room and throws off the lighting schema. It creates the image of an endless tunnel, and can ruin the style of a room if done incorrectly. This mirror placement is rarely seen in homes, no matter what room it is.
To discuss bathroom or kitchen remodeling options that would be best for your home please contact us at (718) 273-6233 or visit our showroom at 711 Port Richmond Ave., Staten Island, NY 10302.

In the past, a common design for full bathrooms would be a tub/shower combination; where you can stand in the tub and send the water to a showerhead instead of the faucet. In more recent years, tubs have separated from showers. A new trend that is becoming prevalent in bathroom design puts the tub inside your shower.
Modern showers in homes are divided from the rest of the room, and usually take up ample space. Some homeowners and interior designers are choosing to place freestanding or built-in tubs within these larger shower spaces.
The combination has a lot of benefits. An in-shower tub can often act in place of a shower bench, depending on the design style of the bathtub. For a child's bathroom, the risk of water all over the floor during bath time becomes a thing of the past. Aesthetically speaking, the design is very stream-lined and has a modern, spa-like feel that many homeowners and potential buyers enjoy today.
Be sure to check with your licensed contractor to see if this design style is right for your bathroom space. The one issue that some homeowners may face with this trend is waterproofing surrounding the tub. It is important to have your contractor make sure that the area is watertight, and that the drainline and brackets for the tub do not compromise the shower membrane.
To discuss bathroom or kitchen remodeling options that would be best for your home please contact us at (718) 273-6233 or visit our showroom at 711 Port Richmond Ave., Staten Island, NY 10302.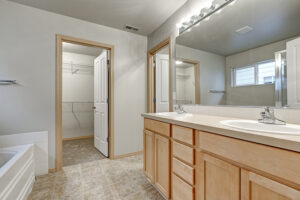 Many homeowners are opting to add some closet space while upgrading their master bathroom. Creating a walk-in closet while at the same time upgrading your bathroom helps you get the most out of one remodel, without having to worry about changing things around later. Whether you take space away from the bathroom, the bedroom, or a bit of both to set up the closet, upgrading your master suite with a walk-in closet is something you won't regret.
When preparing to upgrade your bathroom, you are already in the renovation mindset. You want change, and you are ready for a change in the space. You are already planning for the new bathroom. It is easier to do both in a single renovation; saving you time and money.
Long-term, adding a walk-in closet not only adds to your convenience in the space, but can add to the overall property value of your home. While this increase may only be a few thousand dollars, in the grand scheme of things, it can be a plus if you decide to move.
Dream Kitchens and Baths prides itself on quick and hassle-free renovations. Our team will get your new bathroom and closet together in a few days; a small price to pay for a lifetime of added storage and convenience.
To discuss bathroom or kitchen remodeling options that would be best for your home please contact us at (718) 273-6233 or visit our showroom at 711 Port Richmond Ave., Staten Island, NY 10302.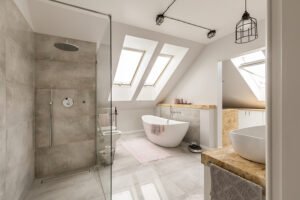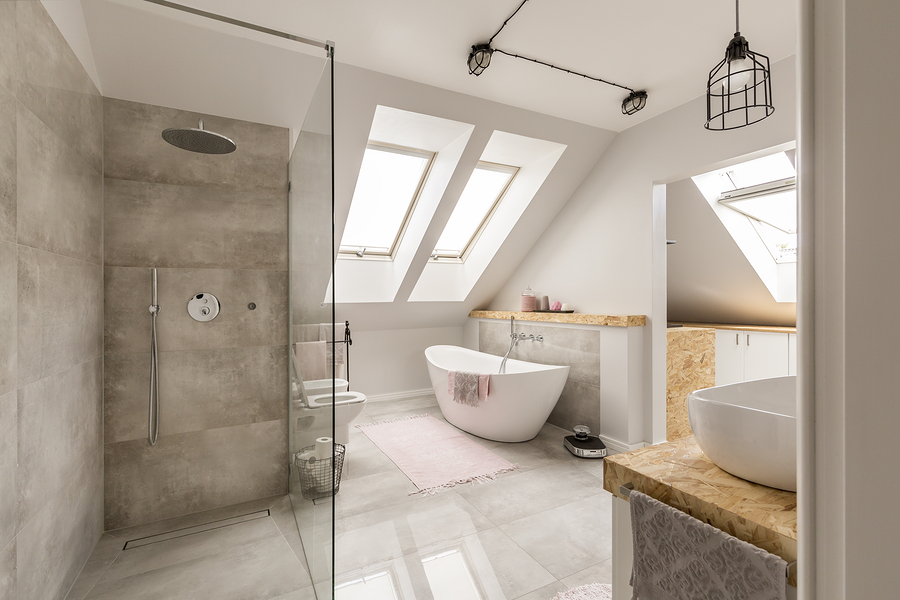 When renovating a bathroom, many homeowners consider adding a no-threshold shower (also called a curbless shower). A no-threshold Shower reduces the risk of tripping when getting in and out of the shower because it doesn't have a lip. For stand alone showers, going curbless can be a good option for any bathroom, but it can also raise the value of the home. The design is great for a home with elderly or the disabled. The universal design function for safety of a curbless shower is very appealing for potential buyers. It is also a great upgrade if you live on staying in the home for a long time. Glass walls and the lack of a curb on this type of shower will help make the bathroom seem larger, because there is a less of a divide in the room separating the shower.
To discuss bathroom or kitchen remodeling options that would be best for your home please contact us at (718) 273-6233 or visit our showroom at 711 Port Richmond Ave., Staten Island, NY 10302.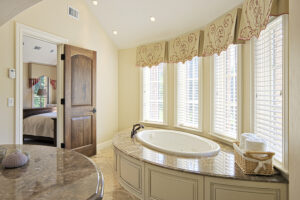 Upgrading your bathroom can be a good way to increase the value of your home for selling it in the future. Upgrading an existing bathroom, or building on an additional one can be a great boost to the total home value. In some cases, adding an additional bathroom to a home could raise the total value more than just upgrading the one(s) you have. If you are thinking about building on an extra bathroom or powder room, be sure that you have the proper space available. When you are planning the redesign for your bathroom, consider these options as they will help in raising the value of your home more than most of the other choices you need to make in the room.
Granite is the name of the game. Nothing says luxury in a bathroom than granite or marble countertops. The appeal for these types of countertops are high, and they will cost less than if you were doing your kitchen counters with them. It is a good way to balance cost with overall value in the end. Marble and granite are available in a variety of colors, cuts, and styles.
When it comes to the sink; they don't have to be huge, but they definitely need to be something that the eye is drawn to. Undermount sinks are very popular now for bathrooms. Drop in sinks are not in high demand. With an undermount sink, the faucet becomes an important visual element of the vanity space, as it breaks from the flat counter. Chrome, pewter, and bronze faucets can be striking against a granite countertop, and are all high demand materials for faucets. Gold finishes are also highly sought after.
Wood panelling on walls is a great way to increase the value of a bathroom space without going to deep into your budget. Water resistant wood-panelling is a fantastic way to create a spa-like feeling in a bathroom. If you decide to go with tiling instead, be sure to decide what type of grout you want. Epoxy grout will stain less and is more water resistant, but can look like a plastic material to some potential buyers. Cement grout, the more classic option, stains more easily and is less durable. It will need more cleaning and maintenance. Inside a shower, stone tiles are very attractive and are much better suited for the direct contact of water than the wood.
Radiant floor heating is a very attractive addition. This upgrade utilizes the hot water going through the pipes to the shower and sink to warm the floor. This is especially helpful for bathrooms with tile flooring.
Overhead lighting isn't as sought after as wall mounts. They add warmth to the look of the room. Be sure to put even lighting around the vanity mirrors. Wall mounts will reduce side shadows, which is great for when you are shaving or doing makeup at the counter.
To discuss bathroom or kitchen remodeling options that would be best for your home please contact us at (718) 273-6233 or visit our showroom at 711 Port Richmond Ave., Staten Island, NY 10302.