We have all heard of walk-in showers, but walk-in tubs? Walk-in bathtubs provide a safer way to enter a bathtub, and offer a built-in seat that allows for easy use and comfort. These special tubs are great for aging in place, or for upgrading your parent's existing bathroom space. Walk-in tubs are also great for handicapped individuals.
Walk-in tubs feature a door similar to a car, with rubber and magnets to be watertight. These doors offer a low-entry point, which reduces the tripping hazards associated with a traditional tub. Most Walk-in tubs are about waist height, offering a sturdy platform for toiletries that is within reach. Many models feature handrails and even hydrotherapy jets.
Walk-in tubs take up less floor space than a traditional tub. The taller nature of this style of tub means that you will be more fully immersed in the water. There are also models that double as showers.
One of the few major downsides of the walk-in tubs is that you have to sit in the tub as it fills or drains. These tubs can take 8 to 15 minutes to fill; as opposed to a traditional tub that can take about 5-10 minutes to fill. Draining the water away will take about the same amount of time for both styles of tubs, but you do have to stay in a walk-in tub until the water drains out.
Traditional tubs can vary in size, but will use about 42-80 gallons of water per bath. Most models of walk-in tubs will fill up at about 50 gallons. This means that you can be using up less water per bath vs a bigger tub.
To discuss bathroom or kitchen remodeling options that would be best for your home please contact us at (718) 273-6233 or visit our showroom at 711 Port Richmond Ave., Staten Island, NY 10302.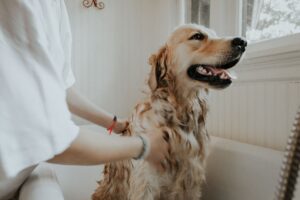 Having a pet around the house can be great; but you should take proper precautions to keep your furry friends safe. When renovating your bathroom, you might want to take your pets into consideration. Many of them will be a benefit to you, as well as your pet.
Pet Friendly Showers
Showers that make it easier to give your pet a wash can be very helpful, and very modern. A curbless shower reduces the risk of tripping; for both you and your pet. This type of shower is safer, because it reduces the risk of falls when you take your everyday shower; while also making it easier when it is bath time for your pet.
Non-slip surfaces in the shower will help you be safer in the shower, while helping your pet feel less nervous at bath time. Pets that don't like baths are often afraid of getting hurt on the sleek floor.
Detachable shower heads help you get all the hard to reach places; but they also make cleaning your cat or dog easier. A detachable shower head gives you greater control when getting the last of the suds, or avoiding water in their ears.
Litter Box Nook
A litter box is a necessary but unsightly part of cat ownership. When renovating your bathroom, consider adding a litter box nook. Transform part of your bathroom cabinetry into a nook for your cat's litter box. This way, the litter box is out of sight but is still accessible.
Tile Floors
Tile floors are the best choice for a pet-friendly bathroom. Tile is durable, easy to clean, and waterproof. It makes it easier for you to clean up after your dog shakes off his wet fur to dry off. Tile is also available in a wide variety of colors, shapes, and designs; so you can find ones that fit your style.
Toilet Lids
Not every homeowner opts for a toilet seat lid. But if you have a pet, it can be helpful in a number of ways. Toilet seat lids can be used to sit more comfortably when washing your pet in the tub. But they can also be used to protect your pet. We all know the common trope of a dog drinking out of the toilet. But this can make them extremely sick, or even poisoned; when you use toilet cleaners. For smaller, more agile pets, like cats, an uncovered toilet can be a potential drowning hazard. Cats can sometimes fall into the toilet, where the cupped edge and funnel-like interior can be difficult to escape from. Toilet seat covers can be helpful in protecting your pet's health and well-being. If your pet continues to access the toilet, consider adding a child-proof cover.
Locking Cabinets
Locking cabinets can keep your children, and your furry friends, out of your beauty products, cleaning chemicals, and medicines that they can otherwise access. If your pet gets into those items, they can easily make a mess of them, or get sick. Protect your children, pets, and your products from each other with locking cabinets.
To discuss bathroom or kitchen remodeling options that would be best for your home please contact us at (718) 273-6233 or visit our showroom at 711 Port Richmond Ave., Staten Island, NY 10302.

Bathtubs can come in all sorts of shapes, sizes, styles, and materials. There are a number of factors that go into the cost of a bathtub and it's installation. We are going to break down all of the features of a tub that can add to the cost of your tub.
Materials
The material of your tub is the number one factor of the tub price. Many tubs in homes are fiberglass. Fiberglass is inexpensive, lightweight, and strong. It also requires the least undermount support, because of how much lighter it is than other material options. Fiberglass does not compromise function for cost. A standard size fiberglass tub can range between $200-$1,000, not including labor and installation.
Enameled Cast Iron is the next step up. Cast iron retains heat well, and is extremely durable. It is also heavier than fiberglass, which means that it will usually need more weight support than the lighter material. A standard size cast iron tub can range between $500-$2,000, not including labor and installation.
Marble is one of the most expensive materials for bathtubs. Marble tubs are luxurious. The retain heat well, and is overall regarded as the best material for a tub. Marble is heavier than fiberglass, but lighter than cast iron. A standard size marble tub can range between $1,000-$2,500, not including labor and installation.
Sizes
A standard, 60 inch tub may not be what you want for your bathroom. The larger you go, the higher the cost of the tub. A fiberglass tub that is double the standard size can exceed $2,000. Walk-in tubs can be great for master bathrooms and are designed for both comfort and flexibility. The larger size tubs that are available can cost $1,500 to $10,000 depending on size and material used.
Styles
Built-in or stand alone tubs can vary in cost. Built-in tubs use walls to help support the weight and hide plumbing. They are often easier to install on a gutted bathroom, but are often harder to replace than a stand alone tub. Built-in tubs are usually less expensive than stand alone models of similar size and material.
Upgrades
Add-ons can add to the cost of a bathtub, but can make all the difference. Whirlpool tubs can cost a pretty penny more, but many homeowners find that it is a worthy investment. Whirlpool tubs will often require electrical hook-ups and changes to the plumbing system; which can add $500-$10,000 to the cost, depending on the upgrades required. Aromatherapy diffusers can be a great upgrade for those who really want to make their bathroom into a spa. They won't add too much to the cost of the bathroom; but the price will depend on the model.
To discuss bathroom or kitchen remodeling options that would be best for your home please contact us at (718)-273-6233 or visit our showroom at 711 Port Richmond Ave., Staten Island, NY 10302.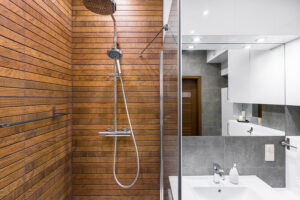 When designing a bathroom for use as a guest bathroom, there are a lot of small upgrades that can make all the difference. Here are a few add-ons to your guest bathroom that you can make to better your guests' stay.
Spa Designs
Spa-style design can go a long way in creating a comforting space for your guests. Bamboo cabinets, natural lighting, and natural stone can help create a zen space.
Decorative Toiletries
You can make it easier for guests to access toiletries by using them as decor. Use decorative baskets or built-in shelves to give them easy access to toilet paper or other necessities without compromising on style.
All-Inclusive Vanities
Vanities in a guest bathroom should have some extra items that a visitor might forget about when staying the night. Having a few extra items, like a magnifying mirror, or some extra beauty products can go a long way in making your guests feel more welcome in your home.
Guest Showers
Showers in a guest bathroom should have some extra safety features. You don't want guests to get hurt. Worse, you don't want to be sued. Add in some handrails, use a curbless shower design, and slip resistant tile to help protect your guest's wellbeing.
Relaxing Scents
Candles, potpourri, or reed diffusers can go a long way in creating a relaxing bathroom space for a guest. It doesn't take much to add more to the room that way.
To discuss bathroom or kitchen remodeling options that would be best for your home please contact us at (718)-273-6233 or visit our showroom at 711 Port Richmond Ave., Staten Island, NY 10302.

Steam showers are often seen as only for spas or gyms. But today, many people are installing them in their homes. A home sauna is a great way to relax and unwind after work. Steam showers can use up a small fraction of the water of a traditional shower, and have many health benefits.
Benefits
Steam has amazing benefits to your body. Steam can clear your sinuses. Steam can moisturize your skin, whereas hot showers can actually dry out your skin. Steam showers use up very little water. While a 20 minute traditional shower can use up about 50 gallons of water, a steam shower may only use 2 within the same time period.
How Do They Work?
Steam showers use a generator that heats up the water separate from your water heater. The generator heats the water to a boiling point, and allows you to control the temperature of the steam as it comes out. Many steam showers also allow you to mix in essential oils or refreshing scents like eucalyptus or mint.
Installing Steam Showers
Steam showers should be installed by professionals. They are supposed to be moisture-sealed. The power required of the steam generator depends on the volume of the steam shower, and the type of tile used. Stone tile rooms require more energy than ceramic tile. Steam showers often replace ordinary shower stalls, but can also be installed in addition to them. Some homeowners will build a traditional shower system into their steam shower. For larger bathrooms, steam showers can be their own section of the room.
To discuss bathroom or kitchen remodeling options that would be best for your home please contact us at (718)-273-6233 or visit our showroom at 711 Port Richmond Ave., Staten Island, NY 10302.

House plants often thrive in or near window sills. Bathrooms are also common spaces for house plants, but they are often very different from plants that grow in the living room or kitchen. Bathrooms have less light and more moisture than most rooms in your house. Adding a plant to your bathroom can add a splash of natural color, help purify the air, and add a peaceful quality to the space. We will be discussing a few of the most popular, low maintenance plants can thrive in a bathroom environment.
The Cast Iron Plant is a favorite for many homeowners looking to add green to their bathroom. This plant thrives in temperatures of the average home, while looking for a bit more moisture than most plants. They don't require much watering; and are great for those who are notorious for letting plants die off. They are a good starter plant for new homeowners, and are often housewarming gifts. They are often used in bigger pots that can be situated on the floor of the bathroom, near the vanity.
Lucky Bamboo is another plant that requires little effort to take care of. It is a much smaller plant, and can easily fit on your vanity or toilet tank. Lucky Bamboo is probably the least expensive option on this list. It grows fast, but a few cuts every now and then can keep the little shoots at the height you like.
Spider plants are among the most highly rated plants by NASA for air filtration. They require very little sunlight, and the high moisture environment of a bathroom suits them well. They are usually available in two styles. One is solid green, and the other has a pale yellow outline to the green leaves.
Orchids are the best flower for a bathroom. They naturally grow in low to medium light, thrive in moist environments, and come in a wide assortment of colors. They prefer indirect or artificial sunlight, so they can adapt well to a bathroom with a small window.
Ferns grow where light is low and soil is moist across most of the world. Ferns have been around since before the dinosaurs, and for good reason, they are sturdy and hearty plants, that can adapt well to their environment.
To discuss bathroom or kitchen remodeling options that would be best for your home please contact us at (718)-273-6233 or visit our showroom at 711 Port Richmond Ave., Staten Island, NY 10302.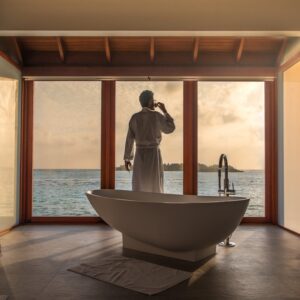 The bathtub is the major focal point of just about any bathroom. As time goes on, the bathtub has become more than just a tool used to clean oneself. We use it as a method of relaxation, to soak, to clean ourselves or our children, or even as a romantic indulgence. The first step in designing your dream bathroom should be choosing the correct bathtub to suit your every need.
Nothing shouts the important elegance of the classic clawfoot tub. This design has been one of the most popular designs for many years. It is a free standing tub with 4 feet at the base resembling claws. Their vintage design is a great way to accent your bathroom if you are going for a classical design.
Jetted tubs bring a more sleek and modern design to your bathroom. These tubs have massaging jets that will bring the relaxation of a trip to the spa right into the comfort of your own home. Most also offer a jacuzzi option which makes these tubs even more enjoyable to almost anyone. Jetted tubs are growing in popularity and are a great accent to a more modern bathroom design.
With a look of elegance a freestanding tub will bring an accent of luxury to your bathroom. A lot like the claw footed tub it is free standing except it is not raised off the ground with legs. They normally have a sleek, curvy, and almost flowing design that will give a very luxurious accent to any bathroom.
Soaking tubs are a very common choice in modern bathroom renovation. With a very basic yet aesthetically pleasing design they are one of the most popular choices in today's day and age. They offer a deep design so you can fully submerge yourself and they have a comfortable interior designed just for you.
Choosing the correct bathtub for your bathroom is a very important factor in bathroom design. The trends in bathroom design are ever changing as people come up with more creative ideas to make your bathroom pop. One way people have been improving their bathrooms is by putting their tubs on an elevated platform. This adds a more modern and classy design to any bathroom and showcases the major focal point of any bathroom, the bathtub.
To discuss bathroom or kitchen remodeling options that would be best for your home please contact us at (718)-273-6233 or visit our showroom at 711 Port Richmond Ave., Staten Island, NY 10302.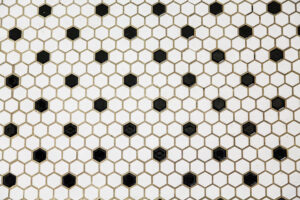 Hexagonal tiles are a classic design often seen in Victorian era home. Whether you decide to use smaller or larger tiles in your bathroom, hex tiles can be used in unique and exciting ways. Hex tiles add unique and trendy style to your bathroom for a timeless design. Classic features don't have to be all the same. Here we will discuss a few different ways to use hex tiles to create stunning bathroom looks.
Black and White
As with subway tiles, you can utilize black and white hex tiles to make visually clean and simple designs that still add depth to the space. This design choice lends itself well to bathroom walls and floors alike. It can also be easy to make visually stunning patterns out of black and white tiles.
Mosaic Designs
Some homeowners are using the unique shape and variety of available colors of hexagonal tiles to create beautiful visuals. You can use hexagonal tiles to transform a bathroom space into a work of art. From stunning floral designs to playful aquatic scenes, using a variety of colored tiles can take your tile work to the next level.
Larger Tiles
While most homeowners use hexagonal tiles in the standard 1-inch size, these tiles often come in larger sizes as well. The use of lager tiles can be a benefit to your bathroom space. With larger tiles, there will be less grout lines. Reducing the amount of grout lines helps reduce the amount of surface area where dirt and grime can build up. Larger tiles allow some patterns to be more distinct and eye-catching, while still lending the unique visual style of the hex-shape.
To discuss bathroom or kitchen remodeling options that would be best for your home please contact us at (718) 273-6233 or visit our showroom at 711 Port Richmond Ave., Staten Island, NY 10302.
Ideally, we like to think of our showers and baths as a place to relax, unwind, and enjoy a calming experience. We want our customers to view their bathrooms as a relaxing retreat, especially after a long day of work. Continue reading to learn how to transform your bathroom into your own personal spa-area.
Soothing Colors- Lavender, pale gray, cool blue, and light pink are just a few of the top rated soothing colors that have proven to be calming. Paint your walls light, cooling tones and accessorize appliances with white and gold. This will allow your bathroom to be a light, calming room.
Natural Granite- Granite in any room can always make the area look more clean and modern. Consider a simple granite shower seat for your next bathroom remodel.
Glass Doors- Glass sliding shower and bath doors have the ability to make any bathroom look more chic and serene. They are also extremely easy to clean and maintain.
Houseplants- Not only do plants look great in a bathroom, but they can actually make your bathroom feel warmer, too. Plants are a natural way to add color and style to the space.
Bamboo Rug- Bamboo flooring is not always suitable for a bathroom, as untreated bamboo retains moisture. A bamboo rug gives your bathroom a spa ambiance with an alternative style.
To discuss bathroom or kitchen remodeling options that would be best for your home please contact us at (718) 273-6233 or visit our showroom at 711 Port Richmond Ave., Staten Island, NY 10302.

Just like everything else, bathroom decor trends come and go. A light decoration revamp might be necessary every now and then. Freshening up your bathroom doesn't have to be an expensive task! We have provided a few of the most highlighted trends to help keep your bathroom trendy, and up to date.
Matte Black- Last year was all about the chrome and brass decor, but now the new fixture trend is matte black. Dark fixtures give off a modern ambiance, and are typically easier to clean.
Busy Wallpaper- Abstract wallpaper is sure to grab attention, while adding a unique quality.
Statement Basins- Designers are making a statement using vessel-styled vanity basins. Basins run in all different shapes and sizes, so you can easily find the perfect one to spice up your bathroom.
Blue Color Schemes- If your bathroom is already designed in a neutral color scheme, you can give it a pop of color by adding vibrant blue decor. Switch out some accessories such as shower curtains, bath mats,towels, and rugs. Blue is a calming color that will add a nice touch to your room.
Choose from any of these luxurious designs to keep your bathroom trendy at Dream Kitchen & Bath. To discuss bathroom or kitchen remodeling options that would be best for your home please contact us at (718) 273-6233 or visit our showroom at 711 Port Richmond Ave., Staten Island, NY 10302.