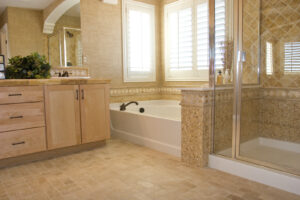 When remodeling your bathroom, the bathtub is an important part of the design. Dream Kitchen and Baths has a list of bathtub types to choose from, installation options, and bathtub materials that will make your tub perfect for your new bathroom.
There are three types of bathtubs to choose from–standard, whirlpool and air, and walk-in. A standard tub is a basic and affordable option that pairs as a tub-shower combo and can be bought at any improvement store. Whirlpool tubs force water through jets that are placed around the tub, and air tubs force a steady stream of air into the water. Walk-in tubs are ideal for those with mobility concerns because climbing out of a standard tub can be slippery and dangerous.
A new tub can complete your new bathroom. If you don't already have a tub in your bathroom, choosing the right installation method is an important part of the remodeling process. For example, platform installation would be best for whirlpool and air tubs because the platform can hide the extra plumbing, pumps, and hardware behind a detachable panel. Different from a platform installation, tubs installed with an undermount have a rim that is enclosed with a deck top and usually stone or tile that coordinates with surrounding materials. It usually gets it support underneath, rather than dangling from the deck as a platform does.
Choosing the right material is an important step in creating the perfect tub for your bathroom. You can choose from material options such as acrylic, fiberglass gelcoat, composite, or cultured marble. Acrylic is a plastic material that has a high-gloss look that is similar to enameled cast iron, but weighs much less. This option offers simple repairs and has an easy-to-form nature, perfect for whirlpool and air tubs. Fiberglass gelcoat tubs have a glossy, easy to clean surface and is cheaper than acrylic. however it is not as durable. Composite tubs are made of an engineered material that is coated with enamel. This option offers the heat retention that a cast iron tub has at a third of the weight, making it perfect for bathrooms on the second floor. Cultured marble tubs are solid-surface bathtubs made from crushed marble that is set in resin and covered with a clear gelcoat. Scratches can be buffed out, but cracks cannot be repaired.
For more information about bathtubs and installation, contact Dream Kitchen and Baths at 718-273-6233 or come visit our showroom and we will gladly help you! 711 Port Richmond Ave, Staten Island, NY 10302.