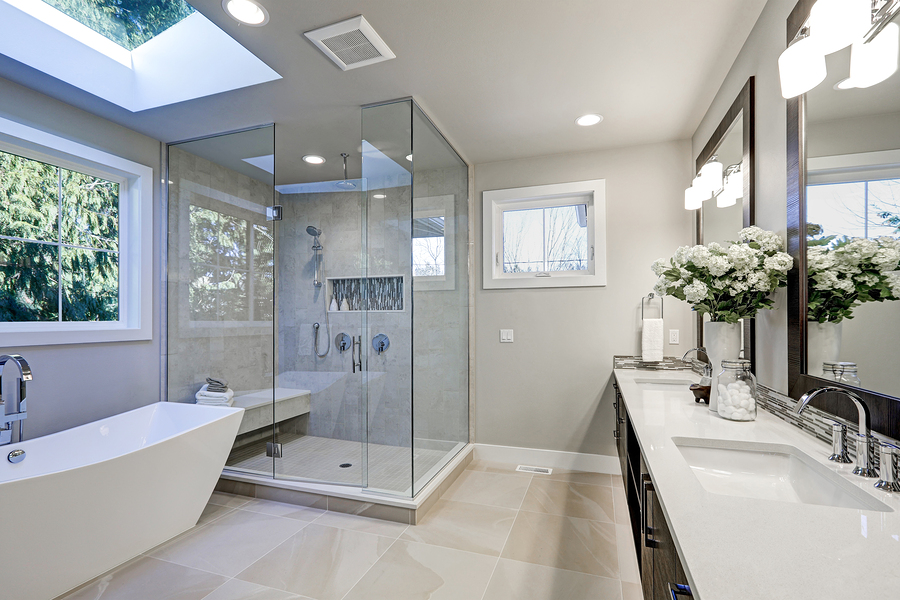 Natural lighting is one of the simplest ways to open up your bathroom space; but it can also take away your privacy. It is important to find a good balance of light and privacy when remodelling your bathroom and adding or changing the windows.
The most classic "fix" for a bathroom window is to go with a glazed or frosted window. While this reduces the amount of light that can come through, frosted windows are almost opaque. Glazed windows allow for more light to come through, but are hard to see in or out of.
Skylights are beautiful additions to any bathrooms that have the open space above for them. They create a beautiful view above, while casting down plenty of light without compromising privacy.
On the other hand, your bathroom may be in the basement. Add some natural light to a basement bathroom with well lights. Well lights are enclosed from the outside, creating a nice, private window space. Unfortunately, well lights do not offer a lot in the way of scenery; but many homeowners create their own by using the space to grow plants. The natural colors and foliage will add something unique and beautiful to your bathroom space.
In many bathrooms, the use of small, higher up windows cast natural light down, while maintaining privacy. A new bathroom trend seeks to do the same, but with small windows at or near floor level. The windows tend to not go above knee height. This contemporary change to a design classic makes the space seem roomier by making the lower half of the room seem brighter, and bigger in general.
To discuss bathroom or kitchen remodeling options that would be best for your home please contact us at (718) 273-6233 or visit our showroom at 711 Port Richmond Ave., Staten Island, NY 10302.