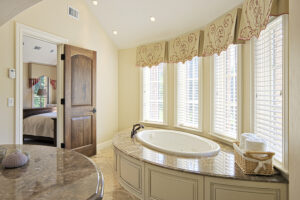 Upgrading your bathroom can be a good way to increase the value of your home for selling it in the future. Upgrading an existing bathroom, or building on an additional one can be a great boost to the total home value. In some cases, adding an additional bathroom to a home could raise the total value more than just upgrading the one(s) you have. If you are thinking about building on an extra bathroom or powder room, be sure that you have the proper space available. When you are planning the redesign for your bathroom, consider these options as they will help in raising the value of your home more than most of the other choices you need to make in the room.
Granite is the name of the game. Nothing says luxury in a bathroom than granite or marble countertops. The appeal for these types of countertops are high, and they will cost less than if you were doing your kitchen counters with them. It is a good way to balance cost with overall value in the end. Marble and granite are available in a variety of colors, cuts, and styles.
When it comes to the sink; they don't have to be huge, but they definitely need to be something that the eye is drawn to. Undermount sinks are very popular now for bathrooms. Drop in sinks are not in high demand. With an undermount sink, the faucet becomes an important visual element of the vanity space, as it breaks from the flat counter. Chrome, pewter, and bronze faucets can be striking against a granite countertop, and are all high demand materials for faucets. Gold finishes are also highly sought after.
Wood panelling on walls is a great way to increase the value of a bathroom space without going to deep into your budget. Water resistant wood-panelling is a fantastic way to create a spa-like feeling in a bathroom. If you decide to go with tiling instead, be sure to decide what type of grout you want. Epoxy grout will stain less and is more water resistant, but can look like a plastic material to some potential buyers. Cement grout, the more classic option, stains more easily and is less durable. It will need more cleaning and maintenance. Inside a shower, stone tiles are very attractive and are much better suited for the direct contact of water than the wood.
Radiant floor heating is a very attractive addition. This upgrade utilizes the hot water going through the pipes to the shower and sink to warm the floor. This is especially helpful for bathrooms with tile flooring.
Overhead lighting isn't as sought after as wall mounts. They add warmth to the look of the room. Be sure to put even lighting around the vanity mirrors. Wall mounts will reduce side shadows, which is great for when you are shaving or doing makeup at the counter.
To discuss bathroom or kitchen remodeling options that would be best for your home please contact us at (718) 273-6233 or visit our showroom at 711 Port Richmond Ave., Staten Island, NY 10302.