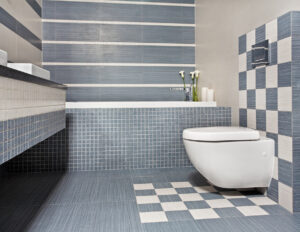 When remodeling a bathroom, it's important that you don't neglect your floors tiling. Tiles can easily make or break a bathroom, so make sure you're choosing the best ones for your space. Here are some ideas that will be sure to liven up your bathroom.
Statement flooring- It is more common to make a bold choice of bathroom flooring than it is for walls, considering flooring is a smaller area to fill, which makes it less expensive. Two types of flooring that have been particularly popular lately are geometric shapes and bold colors.
Diagonal Tiling- This is a common trend for smaller bathrooms, because the diagonal lines create the illusion that the room is larger than it actually is. This a great way to enlarge a smaller bathroom, while still looking great.
Light Colored Tiles- A basic rule to remember when renovating any surface is that lighter colors open up a room, while darker colors are more likely to box it in. White is a high maintenance color, considering how often it must be cleaned. We suggest an off white, light beige, or light gray.
Checkered Tiles- Black and white checkered tiles have been a tile classic for decades. Still a popular bathroom trend, these tiles have been proven timeless.
Choose from any of these luxurious tiles at Dream Kitchen & Bath. To discuss bathroom or kitchen remodeling options that would be best for your home, please contact us at (718) 273-6233 or visit our showroom at 711 Port Richmond Ave., Staten Island, NY 10302