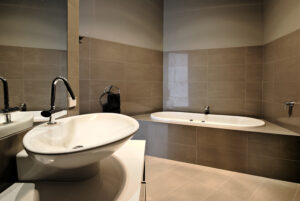 It is important to understand the different styles and shapes of bathroom sinks in order to understand what you want out of your new bathroom. Different sink types go better with different vanity styles and counter space for your vanity.
Drop-in sinks are the most popular style of sink. The drop-in sink is fitted into a counter or vanity and rests on a built-in rim. This style is also good if you are keeping some of your existing counter, as they can be fitted into an older vanity with relative ease.
Wall-mounted sinks add floor space by reducing the area that would otherwise be used up by a counter. Shrouding can be added to hide pipes. Different sink heights are more easily achievable with a wall-mounted unit. It is a great choice for smaller bathrooms or powder rooms.
Vessel sinks are basins that rest on the countertop and add a bold element to the bathroom. The relative height advantage is much better for master bathrooms, but can be a challenge in a child's bathroom. Vessel sinks use a pop-up drain that rises above the counter.
Undermount sinks rest under a solid countertop; giving you more space and makes it less tedious to clean the counter. The sink creates a smooth and sleek design style.
Pedestal sinks is similar to a wall mounted sink in that it is standalone and takes up a small amount of floor space. Rather than a shroud to cover the wall-mounted pipes, a pedestal reaching from the floor conceals them. The pedestal sink has better support than a wall-mount and can use a bigger basin and support a wider rim for holding soap or toiletries.
Console sinks are hung from the wall with 2 or 4 legs, allowing for the sink to be used as both a counter and a sink. This saves space by being compact and can often be set up with open shelving below.
To discuss bathroom or kitchen remodeling options that would be best for your home please contact us at (718) 273-6233 or visit our showroom at 711 Port Richmond Ave., Staten Island, NY 10302.