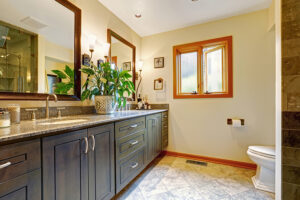 Bathroom remodeling is no small task. Before you start to tear up your bathroom, get the best advice from professionals who specialize in remodeling. Dream Kitchen and Bath has come up with a list of important tips for getting every detail right for your bathroom.
Tile Floors: If you want easy maintenance flooring, try going for porcelain or glazed tiles and avoid porous natural stone tiles like limestone. If the tiles aren't sealed properly, they'll absorb drips and spills and become discolored over time. If you are looking for a non-slip floor, pick tiles with textured surfaces, matte finishes, or sand-containing glazes. Small tiles with grout lines are another non-slip option, which give better "grip" than large tiles.
Top-Tier Toilets: Maximum Performance testing (MaP) gauges a toilet's capability to get the job completed with just one push of the handle. Search for a loo with a MaP score of 500 or higher which includes many WaterSense-rated toilets, high proficiency models that use as small as half of the 1.6-gallon-per-flush legal limit.
Sinks: Every sink style has its benefits. Select the one that best suits your needs and wants. There are three selections to choose from including a pedestal, vanity and vessel sink. The pedestal sink has a slender silhouette and is a favorite in small powder rooms and half baths, but offers no storage and small deck space. The vessel sink bowl is placed above the counter, so you'll have more space for drawers and storage below it. Nevertheless, the work surface has a smaller amount of available space and it's harder to keep clean. A vanity with a sink takes up the most room, but it offers the most value. An average 30-inch vanity has approximately 15 cubic feet of storage and around 10 inches of countertop on each side.
Countertop Choices: Three of the most popular options include natural stone, resin-based, and laminate. Natural stone is best for high-end baths that are cared for by attentive homeowners. There is natural beauty in every block, and polished granite is highly stain and scratch resistant. However, natural stone must be sealed frequently. Absorbent types such as marble and limestone, will stain and become discolored. Resin-based is best for countertops with odd shapes or sizes. These can be molded as a single, seamless piece, and they come in a wide variety of colors. Resin-based countertops do not need sealing. Laminate is the best choice for baths on a strict budget. Laminate is affordable and available in prefab slabs at home centers. It's stain and scratch resistant, and comes in a wide variety of colors, finishes, and textures.
Hot Water: If you're adding a soaker tub or a multi-head shower you might need a larger water heater. Tank-style heaters are labeled with a first hour rating (FHR), an amount of how much hot water it makes in an hour.
Proper Ventilation: A fan is a must for your bathroom. For a master bath purchase a quiet unit that won't wake up your partner during night trips. Be sure it has enough power for back-to-back showers, and place it on timer to let it run for 20 minutes to banish steam after you're done. For a family or guest bath choose a model with medium noise level and power which will save you a few bucks every month.
Dream Kitchen and Baths specializes in bathroom and kitchen remodeling. If you're looking to remodel contact us now at 718-273-6233