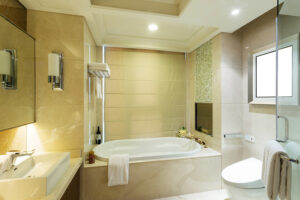 In almost any home, adding a new bathroom will increase home value and decrease the time it takes for everyone to get ready in the morning. Average-sized bathrooms can be added into almost any area of a home, provided that some space is given up. A small half bathroom can take up as little as 15 square feet; and a full bathroom as little as 24 square feet. The perfect spot for your new bathroom may be easier to find than you think. Talk to and hire a licensed contractor for quality and professional service for this project.
Long hallways usually end with a window and/or unnecessary floor space, with as much space as 30 to 40 square feet left over. This is plenty of space for your new full bathroom.
Closet spaces can provide a great place for a bathroom, as long as storage is not an issue. Two back-to-back closets or a walk-in closet can be the right size for a half bathroom. Small walk-in closets are about 16 square feet, as are back-to-back adjoining closets.
Laundry rooms are close to pipes, so you won't have to reconfigure any plumbing. With modern stacking washer/dryer systems, there can be plenty of space for a bathroom.
Staircases can house enough space under them for a half bathroom. Given enough headroom, a hidden bathroom under the stairs can be great for both you and your family to use.
Existing Bathrooms in a home can often be cut into a slightly smaller space to provide the home with another half bathroom. With plumbing all in the same place, repurposing the extra space in the bathroom for a new one can be an easy addition.
A bathroom can be added to a bedroom by taking a small corner from a large bedroom. Bathrooms taken from bedrooms can be used as personal bathrooms or whole-home facilities. Depending on the size taken from the bedroom, a full or half bathroom can be installed.
To discuss bathroom or kitchen remodeling options that would be best for your home please contact us at (718) 273-6233 or visit our showroom at 711 Port Richmond Ave., Staten Island, NY 10302.