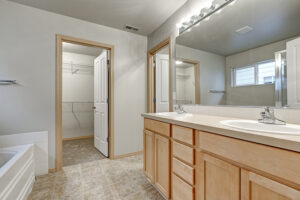 Many homeowners are opting to add some closet space while upgrading their master bathroom. Creating a walk-in closet while at the same time upgrading your bathroom helps you get the most out of one remodel, without having to worry about changing things around later. Whether you take space away from the bathroom, the bedroom, or a bit of both to set up the closet, upgrading your master suite with a walk-in closet is something you won't regret.
When preparing to upgrade your bathroom, you are already in the renovation mindset. You want change, and you are ready for a change in the space. You are already planning for the new bathroom. It is easier to do both in a single renovation; saving you time and money.
Long-term, adding a walk-in closet not only adds to your convenience in the space, but can add to the overall property value of your home. While this increase may only be a few thousand dollars, in the grand scheme of things, it can be a plus if you decide to move.
Dream Kitchens and Baths prides itself on quick and hassle-free renovations. Our team will get your new bathroom and closet together in a few days; a small price to pay for a lifetime of added storage and convenience.
To discuss bathroom or kitchen remodeling options that would be best for your home please contact us at (718) 273-6233 or visit our showroom at 711 Port Richmond Ave., Staten Island, NY 10302.