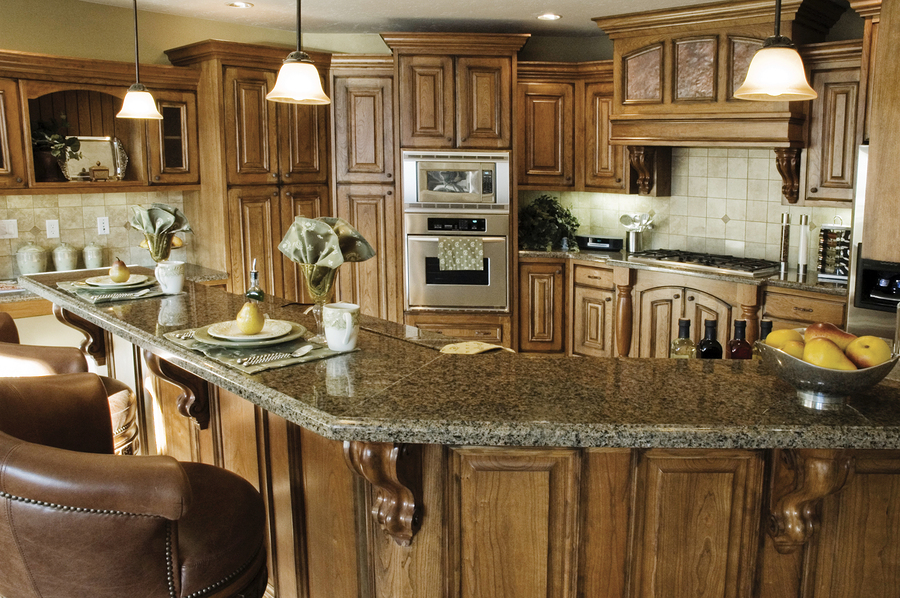 Replacing your old worn out countertops can really upgrade the look of your kitchen. But with so many different options to choose from, selecting the right new countertop can be a challenge. Countertops come in many different materials, each requiring its own type of maintenance to keep it looking clean and smooth. We can help you choose the right countertops for your kitchen, your budget and your lifestyle.
By far, the most popular types of countertops are solid slabs made of natural stone. Polished granite remains the trendiest of these choices, giving your kitchen a refined natural look. Though expensive, granite comes in a variety of colors that can comfortably match a number of styles. Like most natural stone types, it is a beautiful material that is very durable. Frequent cleaning and resealing are required to keep it looking like new. If you plan on selling your home, most buyers will appreciate well-maintained granite countertops.
Other types of natural stone materials include marble and limestone which are really two different forms of the same type of stone. Marble has been naturally altered by heat and pressure and has a timeless look, but it can be more expensive than granite and requires more looking after. Other common choices include soapstone, which is less porous than other types of stone and does not require resealing, though regular applications of mineral oil will enhance their look.
If you are looking for a more regular and uniform material, quartz countertops rival granite in both price and popularity. Like soapstone countertops, they are non-porous and do not require resurfacing. They are also easy to clean and resist wear and tear. In a similar vein, concrete countertops have become a lot more popular in recent years, these countertops are highly customizable and can be molded into almost any shape. They require similar amounts of maintenance as natural stone. For the budget or ecologically-minded consumer, recycled concrete countertops are cheaper and made of post consumer materials.
For those who are on a tight budget, composite countertop materials such as formica are an inexpensive alternative. Although composite laminates are less durable, they are much cheaper to replace if they are damaged or worn. They also come in a great variety of colors so they can match virtually any kitchen.
When it comes to countertops, there are many other choices too, laminated or non-laminated wood, stainless steel and tile are popular alternatives. No matter what you choose for your dream kitchen or bath, we are always one phone call away. Contact us today at 718-273-6233.