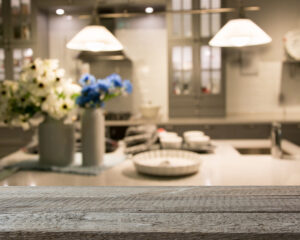 Modern kitchen design in 2017 is leaving behind the sleek and straightforward color schemes. Splashes and pops of color blended into the room help create eye-catching spaces and evoke a more personal feel to the room. But where do you add these personal touches? Many homeowners that want to embrace this new trend often don't know where to start when adding color splashes to their kitchen.
Backsplashes are among the most popular ways to incorporate color into a kitchen space. A mosaic-tile backsplash can be very eye-catching and evocative. Mosaics can be created to add a plethora of color or to bring forward a specific one. If this is not your style, most natural stone backsplashes can have veins and streaks of color that can add to the beauty of the space.
Painting a single wall can tie an entire room together and create a bold pop of color. Take inspiration from the rest of the decor choices in the room, such as the countertop or a painting. A solid, monochromatic wall in the space can break up the bland and direct your eye to a specific part of the room.
Appliances can be a good way to incorporate color into a space in places where you will usually look towards anyway. The stove and fridge, as well as smaller appliances, are usually eye catching in general. By adding color to these items, less is more. There can be a lot less color added to the room when it is produced via appliances.
Open shelving can let your plates add all the color. A colorful plate set can add some additional layers to the space with ease. Add more of a splash by painting the space behind the shelves.
Living color is a great way to add both color and function. Herb plants or a small vegetable plant can provide you with fresh ingredients while also bringing in some color. Basil, parsley, and cilantro are relatively easy to grow indoors.
To discuss bathroom or kitchen remodeling options that would be best for your home please contact us at (718) 273-6233 or visit our showroom at 711 Port Richmond Ave., Staten Island, NY 10302.