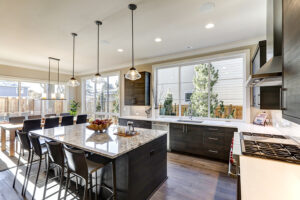 If you entertain guests often, or just have a big family, you will need a kitchen to help you turn out a lot of food. But why should you slave away in the kitchen all day for your party? With these kitchen upgrades, you can cook more food at once, and seriously cut down on your cooking time.
Double ovens are a must-have for any entertainer's kitchen. It can take long to cook up a lot of pick-ons or dishes when your oven can only be set at one temperature at a time. With double ovens you can bake at two different heat levels, or cook two batches at the same time.
Island Cooktops allow you to have plenty of workspace next to and around the stove. It also allows you to cook while engaging in conversations with your guests. Having a stove built right into the island also gives you more freedom to separate the oven from the stove, for stand-alone models or dual ovens.
Having a bar in your kitchen can be a great way to keep your alcoholic beverages and mixing tools all together. A sleek bar combined with a half wall is a great transition between the kitchen and dining room areas, while affording full functionality to the space. Keg taps, wine cabinets, a bar sink, or a refrigerator drawer in the cabinetry surrounding the bar can be convenient added features for the space.
Warming Drawers are important for heating up something a guest brought over, reheating hors d'oeuvres, or warming up dips for the table. Nobody wants to eat cold leftovers towards the end of the party.
A Coffee Bar is a good way to keep all of your hot drink stuff together. A small alcove or corner of the counter space can be set up for a coffee bar. The area should have ample storage for coffees and teas, mugs, and coffee pots. Pick a space with enough outlets for your coffee machines and other accessories.
To discuss bathroom or kitchen remodeling options that would be best for your home please contact us at (718) 273-6233 or visit our showroom at 711 Port Richmond Ave., Staten Island, NY 10302.