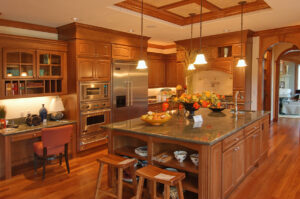 When our specialists help you design your new kitchen, we know what will help you make the most of your space; to give you the right combination of style and functionality. It is important to know what is best for your new kitchen, we are going to discuss 5 things to look for in a new kitchen, whether you are renovating your own, or moving into a new home.
In any kitchen, the 3 main areas of use are the sink, stove, and fridge. Known as the kitchen triangle, there should be about 10 to 25 square feet between these fixtures. Less than 10 square feet makes working in the kitchen feel cramped or too condensed into one space. They are too far away at more than 25 square feet, making food prep a hassle.
Counter space is key. For every kitchen, there should be a good amount of counter space, even after accounting for small appliances like the toaster or blender. Islands can add more surface area than just wrap-around counters can afford. Islands should only be included if your kitchen is about 8 feet by 12 feet or larger.
Area lighting is important for any kitchen. Lights under the cabinets or pendant lights are some examples of simple area lighting. In areas where you will do the bulk of food preparation, such as the counters closest to the stove, good lighting is a must.
Backsplashes save time and effort. We mainly think of backsplashes as a nice way to finish off the look of the kitchen, but the practicality of the backsplash is just as important. It is much easier to clean off grease and other messes off of a tile or metal backsplash than to scrub it out of wallpaper or a painted wall.
Hire a licensed contractor, to get the job done right. A licensed contractor is insured in case of an accident. An unlicensed contractor puts you at risk if there is an injury or accident. Get quality work you can trust from licensed contractors like Dream Kitchens and Baths.
To discuss bathroom or kitchen remodeling options that would be best for your home please contact us at (718) 273-6233 or visit our showroom at 711 Port Richmond Ave., Staten Island, NY 10302.