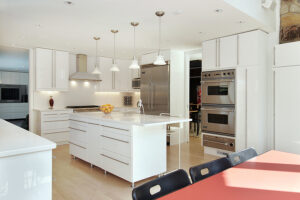 If you're renovating to improve the worth of your home or to update your look, kitchen renovations are a great way to start. There are a wide variety of new trends that the new year has to offer such as customizable tiles, transformative taps, hiding kitchen appliances and cabinetry, modern metals, and new twists on kitchen accessories.
With new online programs for custom tiles, you can create your own backsplash tiles. You can choose your own colors and tile patterns that will be perfect for your new kitchen design. There are several websites in which you can design your own tiles. It's quick and easy, and after your order them, they will be delivered to your home.
If you have some extra money to splurge on a faucet system, you can get state of the art transformative taps. New and improved tap systems can now deliver not just water, but sparkling water, and even coffee! Luxury systems such as these are on the expensive side, however, you will never have to buy sparkling water or coffee machines again.
Hiding cabinetry and kitchen appliances is another new trend of the new year. Modern kitchen companies offer stylish panels that can camouflage part of your kitchen when you're not using it. You can prep food in the area, and close it up when guests arrive for a clean cut look in your kitchen.
Rose gold is huge this year. Other modern metals such as brass and copper are showing up in kitchens everywhere. From appliances, to kitchen gadgets, these metals are making a comeback. They pair well with almost any cabinet color and are as clean looking as stainless steel. These metals are also putting a new twist on kitchen accessories. You can now find small appliances, pots and pans, etc in your favorite modern metals.
To discuss kitchen remodeling options that would be best for your home please contact us at (718) 273-6233 or visit our showroom at 711 Port Richmond Ave., Staten Island, NY 10302.