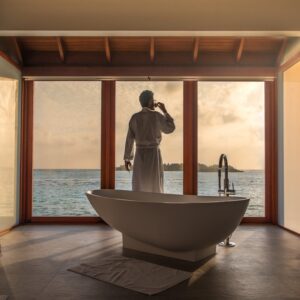 The bathtub is the major focal point of just about any bathroom. As time goes on, the bathtub has become more than just a tool used to clean oneself. We use it as a method of relaxation, to soak, to clean ourselves or our children, or even as a romantic indulgence. The first step in designing your dream bathroom should be choosing the correct bathtub to suit your every need.
Nothing shouts the important elegance of the classic clawfoot tub. This design has been one of the most popular designs for many years. It is a free standing tub with 4 feet at the base resembling claws. Their vintage design is a great way to accent your bathroom if you are going for a classical design.
Jetted tubs bring a more sleek and modern design to your bathroom. These tubs have massaging jets that will bring the relaxation of a trip to the spa right into the comfort of your own home. Most also offer a jacuzzi option which makes these tubs even more enjoyable to almost anyone. Jetted tubs are growing in popularity and are a great accent to a more modern bathroom design.
With a look of elegance a freestanding tub will bring an accent of luxury to your bathroom. A lot like the claw footed tub it is free standing except it is not raised off the ground with legs. They normally have a sleek, curvy, and almost flowing design that will give a very luxurious accent to any bathroom.
Soaking tubs are a very common choice in modern bathroom renovation. With a very basic yet aesthetically pleasing design they are one of the most popular choices in today's day and age. They offer a deep design so you can fully submerge yourself and they have a comfortable interior designed just for you.
Choosing the correct bathtub for your bathroom is a very important factor in bathroom design. The trends in bathroom design are ever changing as people come up with more creative ideas to make your bathroom pop. One way people have been improving their bathrooms is by putting their tubs on an elevated platform. This adds a more modern and classy design to any bathroom and showcases the major focal point of any bathroom, the bathtub.
To discuss bathroom or kitchen remodeling options that would be best for your home please contact us at (718)-273-6233 or visit our showroom at 711 Port Richmond Ave., Staten Island, NY 10302.