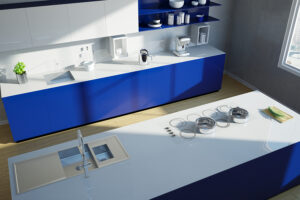 White cabinets have been a staple of modern kitchen design for a long while, but that time seems to be coming to a close. White cabinets are going out of trend, and are being replaced with bold new color choices and designs.
Why Not White?
White cabinets have been trendy for a long time, but it seems they are falling out of favor with interior designers and homeowners alike. Ultimately, while white cabinets add brightness to the kitchen, designers are abandoning them for more innovative splashes of color. From the homeowner perspective, white cabinets require more frequent cleaning before they look dirty. A move towards colored cabinets can bring a rich vibrance or a new mood to the kitchen that white cabinets can't always bring.
Alternate Color Options
So what are homeowners choosing over white for their cabinets? Most designs are swinging toward bold colored cabinetry instead of the expected white; to add personality to the space. Vibrant reds or blues can create an energizing space. Mint is also gaining a lot of popularity in cabinetry color. The soft and light green shade is making a big splash for cabinets. Deeper blue hues can make a kitchen feel cooler, which can help when you are cooking.
Still Like White Cabinets?
If you like the look of white cabinets for your kitchen, consider moving towards a shade of grey or off-white. Light grey cabinets can be a good compromise; as it keeps the space lighter and more toned-down, without having to worry as much about the frequent cleaning that white cabinets require. White cabinets will still be fairly commonplace in kitchens, but many homeowners are moving towards more evocative colors, and shades that require less cleaning to maintain their vibrancy.
To discuss bathroom or kitchen remodeling options that would be best for your home please contact us at (718) 273-6233 or visit our showroom at 711 Port Richmond Ave., Staten Island, NY 10302.
Marble and concrete are often seen more in a kitchen than most other rooms; but both are becoming increasingly popular in bathrooms this year. With marble, the transition comes from creating a seamless and elegant bathroom space. Designers are moving towards concrete in ways that break the mold from the traditionally utilitarian uses of this material.
Marble
If marble is seen in a bathroom, it usually doesn't go beyond the vanity or the tub. But lately, interior designers are looking to use marble in more ways than just this. Marble can be used across a whole wall or floor in a single piece. It can also be used as the entire walk-in shower. Marble can create beautiful and inspired bathroom spaces that flows together well. Marble is good for resale, and is a great upgrade for if you eventually want to sell the house. Marble, along with quartz, is a durable and strong material that can take a lot of wear and tear when treated right.
Concrete
Concrete is a material that is often associated with very strong sturdy buildings, and not elegant spaces. However, some interior designers are working to reinvent the use of concrete. Concrete, with its neutral grey color can often be a good way to incorporate earth elements and create a more natural space. By mixing this seemingly brutalist material with more organic elements, you can create a space that is unique, strong, and comforting. Applications of concrete are being used widely in bathroom spaces, such as in sink basins, countertops, floors and walls.
To discuss bathroom or kitchen remodeling options that would be best for your home please contact us at (718) 273-6233 or visit our showroom at 711 Port Richmond Ave., Staten Island, NY 10302.
Rustic kitchen design is the perfect way to create a warm, cozy kitchen space. But rustic design does not mean outdated. In this article, we will be exploring the 2019 rustic kitchen trends that are sure to make your kitchen space feel new and proved while still bringing that rustic flair.
Dark Countertops With Dark Cabinets
Modern kitchen spaces that utilize dark countertops often pair them with white cabinetry to create a contrasting space. More contemporary rustic designs are pairing dark, matte-finished granite countertops with dark cabinets. This creates a seamless transition between them. This style makes use of rustic blending while making use of darker color schemes more often found in modern kitchens; bridging the gap between traditional and contemporary design in a beautiful way.
Linear Lighting
For a while, pendant lighting has been a major component of kitchen design. But linear lighting styles are a great way to get the lighting quality of pendants, while making a beautiful statement with the fixture. Linear lighting uses a bar to house multiple light fixtures in a line horizontally.There are many modern Linear fixtures, but there are plenty out there that can fit well into a rustic kitchen.
Cutout Handles
Rustic design likes to keep things simple and elegant. One of the best ways to do this is to have inset or cutout handles in your cabinetry. By choosing cabinets with cutouts, you can save money that would normally go to handles or knobs. This style choice can be helpful to your budget, and can be a unique aspect of your kitchen design.
Mirrors
Mirrors are a great way to make use of natural light and make a room seem bigger. Mirrors with simple wooden frames can help drive home the rustic feel.
Footed Islands
Not every island needs to be built into the floor. A very new trend in rustic kitchens is the implementation of freestanding, footed islands. Much like having a large desk in place of an island, these pieces can be a beautiful and eye-catching aspect of a kitchen space. Some homeowners choose to use antique or custom made pieces to use as their islands.
To discuss bathroom or kitchen remodeling options that would be best for your home please contact us at (718) 273-6233 or visit our showroom at 711 Port Richmond Ave., Staten Island, NY 10302.
Many modern kitchens feature nothing but sleek and smooth features. This can look visually pleasing, but leaves the room feeling two-dimensional.Texture affects the space by providing both physical and visual breaks to the room, which help define the room more fully. By adding a bit of texture to the space, you can develop a kitchen space with defined depth and style. What are some ways you can add texture to your kitchen?
Different Elements
In a kitchen, a variety of elements can interplay with each other. Blend the usage of stone, wood, glass, or metal together. A brick backsplash can tie in well with hardwood floors. By using different materials, with different textures in the room; you can give the space surface lift.
Patterns
Patterns can add a visually stimulating and engaging aspect to the room. But patterns are also a great way to add texture to the space. Patterns in the tiles for the backsplash can add texture from both the tiles themselves, as well as the grout in between. Wallpaper can be another way to add both texture and patterns to a kitchen. Wood paneling can add depth and patterns through lines.
Textured Finishes
Wood and glass finishes can provide a lot of textural elements to a kitchen. When picking out your cabinetry, consider choosing cabinets with distressed or glazed finishes, which can highlight the uniqueness of the wood. Glass can add texture via finishes as well. Glass in the cabinet doors or in the window can be an inspired source of texture. Glass finishes can invigorate a space by transforming how the glass looks. Designs, opacity levels, and patterns can all come from glass finishes.
Minor Details
You can add elements of texture in a number of minor places. These little pops of texture can catch the eye or add elements to a kitchen that are often taken for granted. Cabinet knobs, sink fixtures, and moulding are great places to add a bit of detail that can go a long way.
To discuss bathroom or kitchen remodeling options that would be best for your home please contact us at (718) 273-6233 or visit our showroom at 711 Port Richmond Ave., Staten Island, NY 10302.
While popular in Japan and parts of Europe, bidets haven't been mainstream in America for a while. Bidets are a cleaner and more environmentally friendly alternative to toilet paper. In the past, bidets are often seen as frivolous or expensive add-on to a bathroom space. Over 80% of Japanese households use bidets. So what is causing bidets to make a big splash all of a sudden?
Bidets use small jets of water to help you stay clean after using the bathroom. Most modern bidets also have blow dryers built in. Some models allow you to add essential oils or fragrances to the fixture.
Traditional bidets are separate bathroom fixtures, requiring extra space and plumbing in the bathroom. More modern implementations of the bidet are built into toilets, or toilet seats. Some companies are actually starting to sell bidets that attach to the rim of the toilet as an add-on. These new add-ons make bidets more accessible to those who do not want to take the extra step to add on more plumbing to their existing bathroom space. With bidets becoming more easy to install and maintain, some homeowners are making the switch to go paperless.
To discuss bathroom or kitchen remodeling options that would be best for your home please contact us at (718) 273-6233 or visit our showroom at 711 Port Richmond Ave., Staten Island, NY 10302.
2019 is a year in which we see natural elements reclaiming kitchen remodeling trends. This year, there is a big trend towards more natural and raw materials used in the kitchen space. The use of clean, natural materials and colors creates a more calming and neutral space which evokes simple living and the spacious outdoors. Through Natural Design, you can create a space of calming natural elements without breaking the bank or losing functionality.
Wood and Stone
Going back to the basics of material design starts with the two most naturally evocative materials in the kitchen space; wood and stone. Natural wood brings a warmth and rustic quality to a space. Stone brings sturdiness and strength, while complimenting the warmth of wood with its own coolness. Blending the two materials together in a space brings together a sense of balance and harmony. Consider adding stone elements to the kitchen via the countertops or backsplash. Elements of wood can be added in a plethora of ways, but are most commonly seen in the flooring or cabinets.
Natural Lighting
Natural lighting is essential to crafting a space that feels natural and more open. The softer light captured through windows help brighten up the room, and can compliment the more neutral colors found in a natural kitchen design. Skylights or big windows can help fill the room with natural light and warmth. If you do not have large windows in your kitchen space, consider adding a mirror to help reflect light from your existing window and make greater use of the space. In addition to making the lighting in the room softer, the focus on natural lighting means that you can actually save money on electricity.
Neutral Colors
Shades of green, grays, off-whites, and soft browns help to create a softer, more neutral space. Lighter shades of greens and browns help emulate more natural elements. The lighter tones will also make better use of natural lighting.
Pewter Fixtures
Not only are pewter faucets very trendy right now, they are very natural looking. They lack the eye catching sheen of metal fixtures, allowing other elements of the room to become focal points. The natural grey of pewter allows for seamless integration into a naturally designed kitchen space.
Natural Drawer Pulls
More natural kitchens shy away from more traditionally metal accents, like drawer pulls and handles for cabinets. Alternatives include wood and even leather. Wooden knobs or handles are common place. Leather strappings can be a very unique touch to a kitchen space. Both wood and leather allow for a move towards a more organic feel.
To discuss bathroom or kitchen remodeling options that would be best for your home please contact us at (718) 273-6233 or visit our showroom at 711 Port Richmond Ave., Staten Island, NY 10302.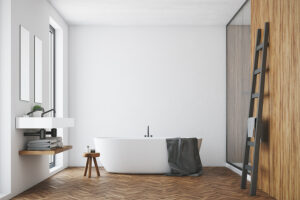 Scandinavian design style combines simplicity and utility with comfort and function. Homes and rooms that follow this trend make use of clean lines, natural materials, and the use of whites and neutral colors. They are often highlighted with lots of natural light. For bathrooms, Scandi-style takes the simple and natural aspects of spa-like decor to an even more minimalist level.
Beautiful Wood Design
Scandinavian style makes great use of natural materials like wood and stone. Wooden vanities, floors, walls, and more add natural warmth and comfort. Woods like white pine, ash, and beech are often used in this design style. These are all lighter colored woods that blend well with the white hues and darker neutral tones used in Scandi design.
Natural Lighting
In traditional Scandinavian design, natural lighting is a key aspect. While this may not always be an option when upgrading an existing space, making use of whatever natural light can be helpful. Consider using mirrors to enhance natural light in bathrooms with small windows. For more heavy duty projects, you may want to consider making the window space bigger, or adding a skylight.
Neutral Colors
Scandinavian style color schemes follow a soft blending of whites with cool darks and neutral tones. Colors such as charcoal or blue-grey are commonplace. Beige, soft browns, and light greys can often help blend the divide between the darker colors and the white hues. Pops of color can often come in the form of houseplants or accents such as a vase or an area rug.
Simple Lines
Scandinavian design makes use of simple lines and basic geometric shapes. Rectangles and squares are common in the design space. In more modernized or American versions of the style, bathrooms can often make use of subway tiles on the wall, which make use of these basic shapes while keeping the motif of white color in the space. The use of wood in these spaces also adds to these lines, as the lines made by planks can add another depth of these simple shapes.
To discuss bathroom or kitchen remodeling options that would be best for your home please contact us at (718) 273-6233 or visit our showroom at 711 Port Richmond Ave., Staten Island, NY 10302.
Replacing or upgrading the dishwasher is one of the most common aspects of a kitchen remodel. Dishwashers can slowly become worse over time, and it is important to replace your dishwasher when your old one is starting to give you issues. Here are the top 5 reasons you should replace your dishwasher.
Dishes Coming Out Dirty
When your plates, bowls, and utensils are coming out dirty; it can be hard to trust that the dishwasher is doing a great job. Of course, there are many reasons why a dishwasher may not be cleaning properly, such as overloading it or using the wrong type of detergent. If you are seeing a lot of food spots, and you are loading the dishwasher properly, it may just be that your dishwasher isn't performing as well as it should be.
The Dishes Aren't Hot
If you are opening the dishwasher to lukewarm or even cold plates right after the load is done, you have a big problem on your hands. Hot water is crucial to a well functioning dishwasher. It not only helps get rid of food particles, but the hot water helps sanitize and kill harmful bacteria. If your dishwasher isn't heating up water properly, then your dishes aren't being properly cleaned.
Poor Drainage
There should never be a pool of water still in the dishwasher when the cycle is over. If there is a pool of water in the dishwasher, your drainage system might be clogged or damaged. While a clog might be cleared; it could be a sign of larger issues. If the issue persists, you may need to replace your dishwasher.
Poorly Closing Doors
The door on your dishwasher is vital to how the dishwasher operates. If there is poor sealing, water will leak all over the place. If the door can not close properly, the dishwasher may not be able to start up at all. A repair may be able to fix these issues; but leakage can warp the dishwasher and eventually require a replacement.
It's 10 Years Old
Dishwashers companies are constantly making upgrades to their models. A dishwasher made 10 years ago is most likely not as efficient as one made today. Older models often use up more energy, waste more water, and take much longer to clean dishes. Not to mention all the wear and tear over the years. If your dishwasher is getting up there in age, there might not be much a repairman can do.
To discuss bathroom or kitchen remodeling options that would be best for your home please contact us at (718) 273-6233 or visit our showroom at 711 Port Richmond Ave., Staten Island, NY 10302.
When adding a bathroom to the basement, or upgrading a pre-existing bathroom, there are a few important considerations to make. There is a lot of unique and interesting choices that you can add to a basement bathroom to make it feel more comfortable.
Lighting
Bathrooms in basements often have to work with limited or no natural light to create a beautiful space. If your basement bathroom has a window, it is likely a small one near the ceiling, close to the ground outside. In the event that you have a window, do not put the mirror on the same wall as it. You will want the mirror to reflect more of the natural light in the room, and brighten up the space. If you do not have a window, consider adding lights to the vanity in addition to the ceiling fixture. If you want the room to feature darker colors, consider using lighting fixtures with yellow bulbs, which can make the space feel more homey and natural.
Full or Half Bath
When designing a bathroom for the basement; you need to consider both the space available, and the plumbing. If you have the available space and fixtures to add a tub or shower; then you may want to consider these options. Standing showers require the least amount of space. They can often be implemented into bathrooms that otherwise wouldn't be able to fit a bathtub. Creating a full bath in the basement can be a good way to boost the value of the home. For those looking to live in the home or a long time, adding an extra shower can be a great way to avoid showering conflicts on busy mornings.
Flooring
Proper flooring in a basement bathroom is vital to a successful renovation. It is a good idea to avoid concrete or tile flooring if you do not have radiant floor heat in the bathroom. These flooring options can be very cold in the morning, and especially when used in the basement. Vinyl and linoleum are sturdy and relatively water resistant. They are not as cold or as hard to walk on. Vinyl or linoleum sheets are better than tiles of the same materials in a bathroom space, because there is less space for water to seep through.
To discuss bathroom or kitchen remodeling options that would be best for your home please contact us at (718) 273-6233 or visit our showroom at 711 Port Richmond Ave., Staten Island, NY 10302.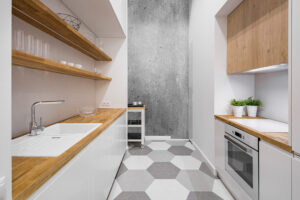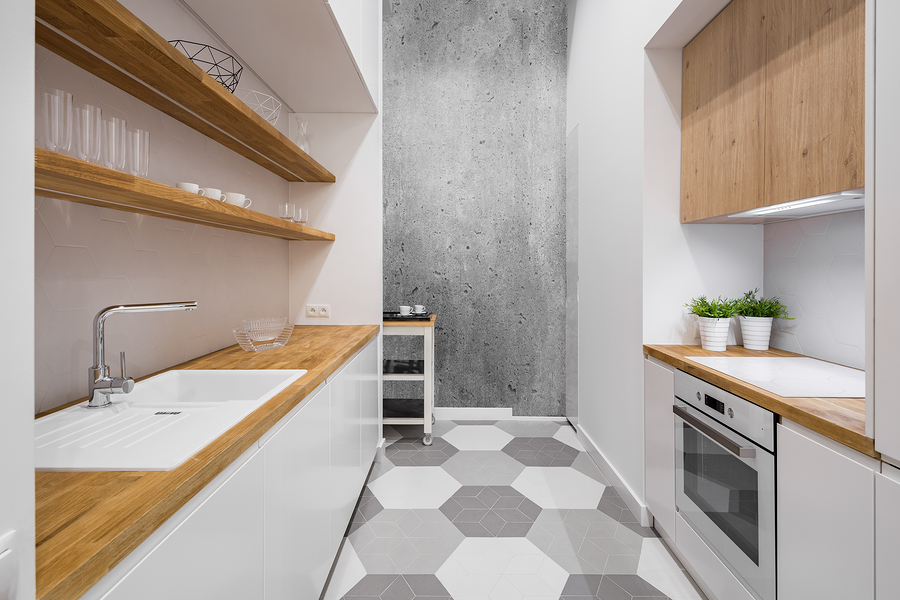 While wooden cabinetry has been a staple of kitchen design for decades, wood is quickly growing in popularity as a countertop option. Traditionally the countertop of choice for bars and butcher shops; this design choice is growing in popularity for homes. Wood is lighter than most other countertop options, and often costs less to repair.
Adding Warmth to the Kitchen
Many homeowners are moving away from stainless steel appliances because they make the kitchen seem colder. One way to incorporate warmth into a kitchen is by using wooden countertops. The natural colors of butcher block style countertops elevates the space by giving it a warmer, more natural look.
Plenty of Design Options
Wood comes in a variety of different grains and colors; based on the type of tree the wood was taken from. This means that there are plenty of exciting options for your counterspace. Some options include classic oak, deep maple wood, strong cherry wood, or rich walnut. There are also a number of more exotic woods for a kitchen space, such as zebrawood, rosewood, or iroko. Less expensive wood, like birch or beech can cost as low as $12 per square foot. More exotic or expensive woods can cost about $200 per square foot.
Maintenance and Repair
Wood can be maintained well with care. There are a number of oils or polishes made for woods, depending on if it is finished or not. Many of these products you may already use if you have wooden furniture in your home. More exotic woods may require more sensitive care. Any damage, such as scratches or nicks in the wood, can be sanded out or refinished.
Even butcher block style countertops are rarely used directly in meal prep today. Using a wooden countertop like any other, with cutting boards, is important to maintaining an undamaged counter space.
Strong Yet Soft
Wood can be a very strong countertop material, and yet its soft nature can provide a lot of benefits too. Unlike stone or quartz, it is less likely to chip or break dishes dropped on it. Wooden countertops are also great for noise reduction, limiting clatter when plates or glasses are placed on them. Even smaller appliances; such as blenders or food processors are quieter on top of wood than most other options.
To discuss bathroom or kitchen remodeling options that would be best for your home please contact us at (718) 273-6233 or visit our showroom at 711 Port Richmond Ave., Staten Island, NY 10302.