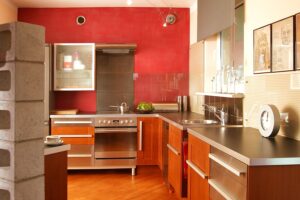 In large kitchens, commercial cooking appliances can offer a lot of help. If you have the space, upgrading to professional kitchen gear can make preparing large meals or storing lots of food a breeze. There are pros and cons to increasing the size of your appliances, so be sure to consider all of the aspects carefully.
In homes that see a lot of family gatherings, or just have a large number of people living within, commercial appliances could be a huge benefit. The extra-large stovetop or refrigerator can see a lot of use throughout it's years of service. Having cold storage or a lot of cook space can be a life saver if you host parties often. However, commercial level appliances can take up a lot of power, and can take a toll on the electric or gas bill. Some commercial ranges come with all sorts of cookspace, such as extra burners, a built-in griddle, 2 ovens, larger warming trays, and more powerful fans. This gives you more variety for how to cook, as well as giving you the space to cook multiple meals or dishes simultaneously. To deal with the massive heat coming off of a commercial range, an exhaust hood may be needed. This will take up more space in the kitchen, and building the proper ventilation can lead to extra costs. While commercial appliances are bigger than standard models, this can actually increase your counter space. While they take away counter width, the bigger appliance can add length. The longer counters with less width can add depth to the kitchen, especially with an earthy backdrop against the wall.
To discuss kitchen remodeling options that would be best for your home please contact us at (718) 273-6233 or visit our showroom at 711 Port Richmond Ave., Staten Island, NY 10302.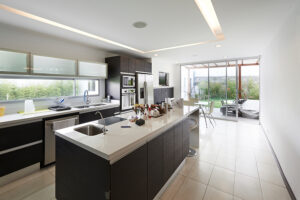 Do you only have one sink in your kitchen? Sinks are an essential part of any kitchen, but having only one sink can be an issue. When dishes stack up, produce needs to be cleaned, or pots need to be filled, a single sink can be overused. Adding these innovations to your kitchen can reduce your reliance on your single kitchen sink.
Four additions to your kitchen you may want to consider are double sinks, bar sinks, High-style faucets, and pot fillers. They can make cooking and cleaning in your home easier. Double sinks are two separate sink basins, for one faucet. They can be different sizes, or the same. Having a double sink can increase the amount of sink space in your home, while keeping dirty dishes and food prep separate. Bar sinks are tiny, built-in sinks, mostly used for drinking water, washing vegetables, or small cleaning jobs. Putting one into an island can make prep work more efficient. They are also very helpful in large kitchens, so you don't have to walk all the way around for a sink. High-style faucets let you fill up the sink, and still have room to fill a glass or wash dishes. Pot fillers are cold water faucets that are separate from the sink. This can make it easier to fill a pot for cooking.
To discuss kitchen remodeling options that would be best for your home please contact us at (718) 273-6233 or visit our showroom at 711 Port Richmond Ave., Staten Island, NY 10302.
Bathroom remodeling is no small task. Before you start to tear up your bathroom, get the best advice from professionals who specialize in remodeling. Dream Kitchen and Baths has come up with a list of important tips for getting every detail right for your bathroom.
Tile Floors: If you want an easy care-free floor try going for porcelain or glazed tiles and avoid porous natural stone tiles like limestone. If the tiles are sealed carefully, they'll absorb drips and spills and become discolored over time. If you are looking for a nonslip floor pick tiles with textured surfaces, matte finishes, or sand-containing glazes. A different option is small tiles with grout lines, which give better "grip" than large tiles.
Top-Tier Toilets: Maximum Performance testing (MaP) gauges a toilet's capability to get the job completed with just one push of the handle. Search for a loo with a MaP score of 500 or higher which includes many WaterSense-rated toilets, high proficiency models that use as small as half of the 1.6-gallon-per-flush legal limit.
Sinks: Every sink style has its benefits. Select the one that best suits your needs and wants. There are three selections to choose from including a Pedestal, Vanity and Vessel sink. The pedestal sink is a slender silhouette and is a favorite in little powder rooms and small-scale baths, but offers no storage and small deck space. The vessel sink bowl is placed above the counter, so you'll have more space for drawers and storage below it. Nevertheless the work surface has a smaller amount of available space and it's harder to keep clean. A vanity with sink takes up the most room, but it offers the most value. An average 30-inch vanity has approximately 15 cubic feet of storage and around 10 inches of countertop on each side.
Countertop Choices: 3 Choices to choose from: Natural stone, Resin-Based, Laminate.
Natural stone: is best for high-end baths cared by attentive homeowners. There is natural beauty in every block and polished granite is highly stain and scratch resistant. Conversely natural stone must be sealed frequently, absorbent types such as marble and limestone, will stain and scrape if dropped toiletries and cleaners aren't cleaned up fast, enhanced surfaces can show water and oil marks.
Resin-Based: Best for countertops with rare shapes or sizes. Whether a straight resin or one finished with marble dust, these can be molded as a single, seamless piece, regularly including the sink, comes in a wide variety of colors, needs no sealing.
Laminate: Best choice for baths on a strict budget. Laminate is affordable and available in prefab slabs at home centers, stain and scratch resistant and a huge variety of colors, finishes and textures.
Don't run out of hot water: If you're adding a soaker tub or a multi-head shower you might need a larger water heater. Tank-style heaters are labeled with a first hour rating (FHR), an amount of how much hot water it makes in an hour.
Get replacement parts for free: When you have trouble with any part of a brand-name plumbing fixture-no matter what may have caused it, call the manufacturers toll free number and explain the problem. Most will rush you replacement parts at no charge.
Pick a proper vent: A fan is a must for your bathroom. For a master bath purchase a quiet unit that won't wake up your partner during night trips. Be sure it has enough power for back-to-back showers, and place it on timer to let it run for 20 minutes to banish steam after you're done. For a family or guest bath choose a model with medium noise level and power which will save you a few bucks every month.
Dream Kitchen and Baths specializes in bathroom and kitchen remodeling. If you're looking to remodel contact us now at 718-273-6233
If you're thinking of renovating your bathroom, a new sink can change the look and feel of your bathroom while adding beauty. Today's sink manufacturers are offering stunning looks and fun options to enhance your home. Dream Kitchen and Baths has come up with some great choices for you to choose from.
· Wall-Mounted Bathroom Sink: To create this look, make sure to use large slate tiles to provide the backdrop for a shapely wall-mount sink. For a sleeker modern look, add rectangular mirrors in your bathroom. Wall-mount sinks can be placed to accommodate people of any height.
· Raised Square Sink: A square above-counter sink lifts the vanity physically and stylistically. Moreover, a raised sink also means not as much bending and better comfort.
· Floating Vanity with Sink Topper: Today sinks have branched out from the typical oval and rounded basins. Some of today's models have both square and circular pieces. But the trendiness of these modern bathroom sinks can be gone if they aren't paired with the correct vanities.
· Vessel Sink: Curving lines on a sink can capture an organic feel in in a bathroom creating a tranquil and calming environment. The curves of the vessel sink make a fun shape below a round mirror and pendant lights give it extra flair. Putting the sink above a counter generates a structural interest and maximizes the volume of open storage.
· Glass Vessel Sink: A glass vessel sink gives a sculptural appeal to a small vanity. A wide bowl looks elegant and beautiful when paired with a shiny stainless-steel faucet and marble countertop.
For more information about bathroom sinks and installation, contact us at 718-273-6233
If you're thinking of renovating your kitchen, new kitchen cabinets can change the look and feel of your kitchen while adding convenience. Today's cabinet manufacturers are offering gorgeous looks and fun options to take the drudgery out of everyday cooking.
New cabinetry offers a wide selection of rich wood like white or red oak, hard maple, hickory, cherry, birch, ash, and pine. Laminates and thermofoil are a less expensive alternative. Laminate is made with particleboard, medium-density fiberboard, or plywood, and is used over other materials to give a different look. It can look like it's more expensive wood counterparts.
New knobs and handles can give a nice finish to your cabinets, from antique to contemporary to modern. These finishing touches can highlight your cabinets.
The inside of your cabinets and drawers offer great organizational features like a lazy susan which makes storage more accessible and efficient. Pull out shelving can also help you store things more efficiently such as spices and groceries. You can accessorize a slide-out cabinet to hold garbage and recyclables. Appliance drawers behind a cabinet door offer easy access to heavy or large equipment. You can add window panes to certain cabinets to show of crystal and china. Just about anything you can think of can be customized for your kitchen. Contact us to find out more.
When remodeling a bathroom, many people think of tile, tubs and sinks but most overlook the shower head. The right shower head can create a spa-like experience for you. From single function shower heads to multifunction which gives you a variation for sprays and coverage there are many options to consider. There are rain heads that include overhead showering panels and simulate a summer rain. These water distribution systems can also include mood enhancing colored light to set the tone for the day.. There are many types of hand showers that have a hose extension and offer a wide array of massage-like water streams. If to feature green energy saving standards you can install a shower head that helps conserve water while looking great too. If you put a little thought into your shower head selection you can enjoy the benefits for years to come.
First set a budget. Shower heads start at about $10 for the most basic to over $1,000 for some very elaborate models with all kinds of features. The average good quality shower head goes for about $150.00. Find a range that suits you. Consider the cost of installation in your budget.
You should decide on the finish of the shower head next. Brass, pewter, stainless steel, bronze, chrome, gold, platinum, and nickel finishes are all widely used and available. It really just depends on the tastes you have, as well as the design of the room. If you are getting a shower-tub combo, you will want to match the finish on both the shower head and the tub faucet. There are also combination shower head/faucets already made for this reason.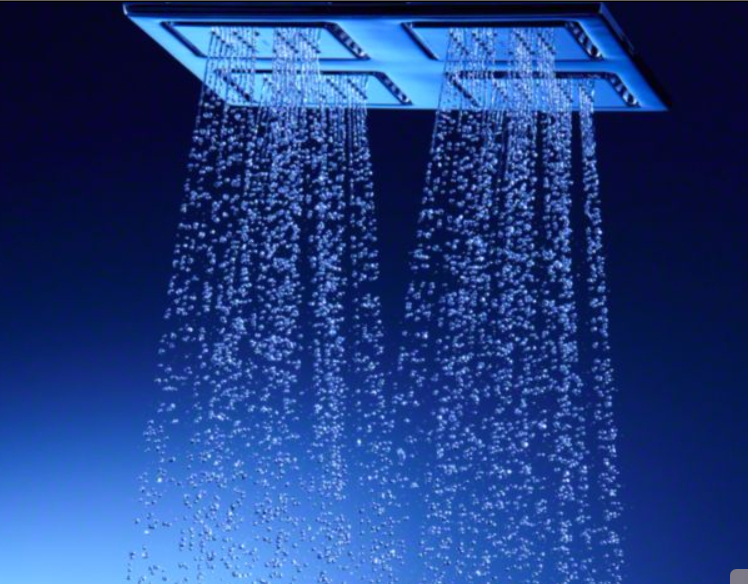 Next, choose whether or not you want to have a handheld shower head. You could have a mounted head, but a handheld model is a great convenience. They are especially good for bath time if you have young children or pets. They are also convenient for the elderly or the disabled, for easy access and control.
Features some shower heads include are full spray, massage, rain, mist, and jet sprays. Some of them have more than one of these, allowing you to change between them. There are also environmentally friendly models that use less water.
Whatever bathroom remodeling needs you have, Dream Kitchen and Bath is here to help. Contact us for your next remodel at 718-273-6233 or visit our showroom at 711 Port Richmond Ave., Staten Island, NY 10302.
All pictures here were provided by Kohler which we will be happy to install.
Many people are renovating their kitchens this spring. An important, but sometimes overlooked, item is the kitchen sink. Picking the right sink for your kitchen can be difficult if you don't know what you want. The choice of a new sink can be boiled down to three options: material, type, and faucet.
The type of sink that you get can be determined by many factors. The first choice is whether you want an undermount sink, or a solid-surface one. Undermount sinks have a joint between the sink and counter, where a solid-surface sink is laid into the counter, and sealed. It is easier to clean a solid-surface sink. Next, decide if you want a double or a single sink. Double sinks were made for washing dishes. Single sinks are good for cooking, such as filling pots or cleaning cookware. Figure out what size your sink (or sinks) you want. If space is an issue, a small sink should be considered. For doubles, an oversized and a small sink can be a good option if you have enough space. The depth of the sink can greatly impact its usage, as it determines how much it can hold, as well as it's additional usages. You may also want extras such as a garbage disposal or hot water dispenser.
Kitchen sinks generally come in materials such as stainless steel or enamel-coated cast-iron. Stainless steel is the strongest style of sink available, and the option that is the least prone to dents and scratches. Enamel-coated cast iron sinks are less durable than stainless steel, but look nicer than their stainless steel counterparts. However, the enamel can scratch or wear over time. Composite sinks are also an option. A newer style, composite sinks are made of synthetics, they come in a multitude of colors and materials. They are much lower in price than metal sinks, but are a lot less durable.
There are tons of faucets on the market, with hundreds of features to choose from. First, determine which type of valve system you want. The valve types are ball, disk, cartridge, and compression. Each one brings hot and cold water together differently, but the main difference is in which design you like. You should figure out if you want one or two handles to control the water. You may also want a spray-arm hose, whether from the side of the sink, or straight from the faucet. The final decision is the finish of the faucet. The finish you choose can go with the style of your kitchen, and can tie the sink with the rest of the room. Finishes such as bronze, chrome, nickel, or pewter are common. Brass is the most durable, but is best for low-use areas.
To discuss the island design plan that best suits your kitchen stop by our showroom at 711 Port Richmond Ave or contact us at 718-273-6233.
One of the most important decisions when remodeling a bathroom is choosing the right porcelain throne for your new kingdom. The first choice is the width of the bowl you want. Standard size is 12 inches, so most models are available like this. If you have a large or small bathroom, your oval office can be anywhere from 10-14 inches, depending on the space you have. The next option is whether or not you want a round or oval shaped bowl. The more common choice, oval shaped, can be easier to get. It may be better to get a round toilet if you have a smaller bathroom, as it can save space. Round bowls also cost less, so you can save a little bit of money. Height is the next variable in picking your look. The standard height of a toilet is 14 inches. For taller people, a higher toilet should be considered.
Taller toilets are better for a handicapped restroom because it allows for easier mobility when getting up and down. The style of your commode can be a big decision. The typical (and cheapest) choice is a two-piece toilet, where the tank is bolted to the top of it. The next option is a one-piece toilet, which has no seam between the tank and the bowl. This costs a bit more, but it is easier to clean because there is no seam. The final style available is a wall-mounted toilet. This type houses the tank in the wall, and is the easiest to clean, with less surface area. It is the most sought-after option because it is sleek, clean, and space-saving. This is the most expensive option, and for maintenance, you may need to reopen the wall.
Flushers on toilets have improved in the last 10 years. Older models flushed away 3.5 gallons of water per flush. Newer models only use 1.6 gallons, in an effort to conserve water. Some models now offer a dual flushing system. This feature comes with 2 buttons on the toilet. When one is pressed, only 0.8 gallons of water is used, and a full 1.6 gallons are used when both are used. This can save a family of four (on average) $2,100 during the time the toilet is in use. Color, of course, should be taken into account for the design of your bathroom. Add-ons, such as a heated toilet seat, bidet, and a soft-closing seat may be available. These little comforts cost a little more, but can also raise the resale value of your home. To discuss the bathroom design plan that best suits you, stop by our Dream Kitchen & Bath showroom at 711 Port Richmond Ave, Staten Island, New York, or contact us.
Small bathrooms are commonplace among the 5 boroughs of NY. Over the past 30 years, bathrooms in newer homes have nearly doubled in size. However, color, style, and scaling down can alter the look and feel of how much space you actually have.
Dark colors and earth tones can make a room appear more spacious. The walls, floor, and even ceiling of the bathroom could be tiled, painted, etc in these colors to give the illusion of the walls receding, giving a more spacious atmosphere. Unfortunately, houses of the 60's, 70's, and 80's had more vibrant and pastel colorations, leaving the space feeling small. Horizontal lines in the wall design adds to the mirage of an expanded room. Wall patterns can make the room look spread out.
Adding both task and ambient lighting can alter the look of the room by adding depth and the feeling that the room is larger. Frameless mirrors add to the illusion of having more space. If the bathroom has a shower that is not also a bath, having a curbless entry at the base can make it seem as if there is more room to move around in both the shower, and the rest of the room. Shelves are a great, especially when cut into the wall. This keeps everything organized, and out of the way. Curved vanity spaces can maximize the amount of storage available, and yet space is saved in the corners. It is much easier to move around in a cramped room if the corners of the counter spaces are curved. Glass shower doors removes the visual barrier created by curtains. Wall-hung toilets keep the functionality of it while reducing the space of the back tank. Dark wooden counters add warmth from the earth tones.
To discuss the bathroom design plan that best suits you, stop by our showroom at 711 Port Richmond Ave or contact us.

Countertops come in a wide variety of materials, each with its benefits and drawbacks. Materials that countertops are made of include quartz, marble, granite, limestone, soapstone, formica, wood, laminate, recycled glass, metal, concrete, tile, and even recycled paper composite. Each one has unique looks, pros, cons, and costs. Which ever countertop suits you, Dream Kitchen and Baths can help.
Natural stone countertops are very durable and come in an assortment of stone types, as well as colors. These stones include granite, marble, soapstone, and limestone. Natural stone has a classic look that will never go out of style. Natural stone countertops don't come in solid colors or repeating patterns due to the It is heat-resistant and durable. This material will last you a very long time. When installed the naturally porous material will need to be sealed. It will need to be resealed from time to time. Natural stone can be easily damaged by acids in common household items such as hairspray. Marble and limestone countertops my chip or crack. It is a very expensive material.
Quartz countertops have the look and feel of natural stone. It is a blend of quartz and small amounts of pigment to provide various colors, textures, and graining. Quartz can come in patterns that match each other, as well as solid colors. It is heat, stain and scratch-resistant, as it is the hardest of all countertop surfaces. Unlike natural stone, it is resistant to acids. Quartz countertops are very easy to clean and requires no maintenance. Quartz has a different look than natural stone, but costs nearly the same. Many people are choosing this new alternative to granite. It is generally less expensive than natural stone.
Solid-surfacing countertops, such as formica, mimic the look of natural stone, but are less expensive and also less durable. They do not require the maintenance that natural stone requires. Solid-surfacing countertops can come in a variety of designs and colors. They can even be made to resemble glass or concrete counters. They are heat and water resistant. It is easy to change at a low cost for less money. Solid-surface counters are easy to clean and won't fade or age over time. It can be scorched as easier than natural stone or quartz countertops. It is very easy to scratch but is stronger than some other laminates.
Laminate countertops are covered with a thin plastic resin covering plywood or particleboard. It allows for a cheap alternative to wood, stone, or metal countertops. It is heat, stain and scratch-resistant, but not as strong as the natural countertops. However, it can be easily damaged by knives, and hot pans. It can be scorched and cracked, and damages are irreversible. Less and less people choose laminates today for their kitchens.
Recycled glass countertops are eco-friendly, as well as beautiful. It can come in a wide variety of colors and patterns. This countertop material may be hard to find, but it is durable and easy to clean. It is heat and stain resistant. However, it can chip, scratch, or break from hard hits and smashes.
Paper composite countertops consist of recycled paper, resin, and pigments. Although hard to come by, it is easy to clean and durable. However, it can be easily stained or scratched.
Wooden counters are very common. They are strong and durable, and can be great for cooking prep areas. It is good for cutting and chopping, and does not dull the knives in the process. Wood counters also last a long time. Wood is vulnerable to moisture, heat, corrosive chemicals, acids, and stains. Sealing and maintenance is required.
Metal countertops, while expensive, are very strong. Stainless steel may match many of the appliances in your kitchen. Other metals used in countertops include pewter, copper, and zinc. Metal countertops are anti-bacterial. The metals used in counters are heat and stain resistant. These counters may be susceptible to dents and slight scratches. The other metals are also weaker than stainless steel.
Concrete countertops are strong and adaptable to the look of the room. It can be colored and sculpted to look any way needed. It is heat and stain resistant, but requires extra work and care. This includes periodic sealing. Like natural stone, it is very vulnerable to acids. It is also extremely heavy and should be supported more than other styles of countertops.
Durable and colorful; tiles are a great way to customize your countertop space. It is a very inexpensive option. They come in a plethora of different sizes, colors, shapes and textures to give you the countertop you want. They are heat, moisture, stain, and scratch resistant. However, the tiles may chip or crack. The tiles may be resistant to resistant to mildew and stains, but the grout is not, and requires cleaning from time to time.
Whether for your kitchen or bathroom, we will help you pick out and put in whatever countertop you choose. Contact us to set up an appointment