While popular in Japan and parts of Europe, bidets haven't been mainstream in America for a while. Bidets are a cleaner and more environmentally friendly alternative to toilet paper. In the past, bidets are often seen as frivolous or expensive add-on to a bathroom space. Over 80% of Japanese households use bidets. So what is causing bidets to make a big splash all of a sudden?
Bidets use small jets of water to help you stay clean after using the bathroom. Most modern bidets also have blow dryers built in. Some models allow you to add essential oils or fragrances to the fixture.
Traditional bidets are separate bathroom fixtures, requiring extra space and plumbing in the bathroom. More modern implementations of the bidet are built into toilets, or toilet seats. Some companies are actually starting to sell bidets that attach to the rim of the toilet as an add-on. These new add-ons make bidets more accessible to those who do not want to take the extra step to add on more plumbing to their existing bathroom space. With bidets becoming more easy to install and maintain, some homeowners are making the switch to go paperless.
To discuss bathroom or kitchen remodeling options that would be best for your home please contact us at (718) 273-6233 or visit our showroom at 711 Port Richmond Ave., Staten Island, NY 10302.
2019 is a year in which we see natural elements reclaiming kitchen remodeling trends. This year, there is a big trend towards more natural and raw materials used in the kitchen space. The use of clean, natural materials and colors creates a more calming and neutral space which evokes simple living and the spacious outdoors. Through Natural Design, you can create a space of calming natural elements without breaking the bank or losing functionality.
Wood and Stone
Going back to the basics of material design starts with the two most naturally evocative materials in the kitchen space; wood and stone. Natural wood brings a warmth and rustic quality to a space. Stone brings sturdiness and strength, while complimenting the warmth of wood with its own coolness. Blending the two materials together in a space brings together a sense of balance and harmony. Consider adding stone elements to the kitchen via the countertops or backsplash. Elements of wood can be added in a plethora of ways, but are most commonly seen in the flooring or cabinets.
Natural Lighting
Natural lighting is essential to crafting a space that feels natural and more open. The softer light captured through windows help brighten up the room, and can compliment the more neutral colors found in a natural kitchen design. Skylights or big windows can help fill the room with natural light and warmth. If you do not have large windows in your kitchen space, consider adding a mirror to help reflect light from your existing window and make greater use of the space. In addition to making the lighting in the room softer, the focus on natural lighting means that you can actually save money on electricity.
Neutral Colors
Shades of green, grays, off-whites, and soft browns help to create a softer, more neutral space. Lighter shades of greens and browns help emulate more natural elements. The lighter tones will also make better use of natural lighting.
Pewter Fixtures
Not only are pewter faucets very trendy right now, they are very natural looking. They lack the eye catching sheen of metal fixtures, allowing other elements of the room to become focal points. The natural grey of pewter allows for seamless integration into a naturally designed kitchen space.
Natural Drawer Pulls
More natural kitchens shy away from more traditionally metal accents, like drawer pulls and handles for cabinets. Alternatives include wood and even leather. Wooden knobs or handles are common place. Leather strappings can be a very unique touch to a kitchen space. Both wood and leather allow for a move towards a more organic feel.
To discuss bathroom or kitchen remodeling options that would be best for your home please contact us at (718) 273-6233 or visit our showroom at 711 Port Richmond Ave., Staten Island, NY 10302.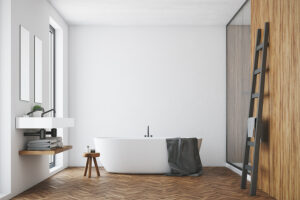 Scandinavian design style combines simplicity and utility with comfort and function. Homes and rooms that follow this trend make use of clean lines, natural materials, and the use of whites and neutral colors. They are often highlighted with lots of natural light. For bathrooms, Scandi-style takes the simple and natural aspects of spa-like decor to an even more minimalist level.
Beautiful Wood Design
Scandinavian style makes great use of natural materials like wood and stone. Wooden vanities, floors, walls, and more add natural warmth and comfort. Woods like white pine, ash, and beech are often used in this design style. These are all lighter colored woods that blend well with the white hues and darker neutral tones used in Scandi design.
Natural Lighting
In traditional Scandinavian design, natural lighting is a key aspect. While this may not always be an option when upgrading an existing space, making use of whatever natural light can be helpful. Consider using mirrors to enhance natural light in bathrooms with small windows. For more heavy duty projects, you may want to consider making the window space bigger, or adding a skylight.
Neutral Colors
Scandinavian style color schemes follow a soft blending of whites with cool darks and neutral tones. Colors such as charcoal or blue-grey are commonplace. Beige, soft browns, and light greys can often help blend the divide between the darker colors and the white hues. Pops of color can often come in the form of houseplants or accents such as a vase or an area rug.
Simple Lines
Scandinavian design makes use of simple lines and basic geometric shapes. Rectangles and squares are common in the design space. In more modernized or American versions of the style, bathrooms can often make use of subway tiles on the wall, which make use of these basic shapes while keeping the motif of white color in the space. The use of wood in these spaces also adds to these lines, as the lines made by planks can add another depth of these simple shapes.
To discuss bathroom or kitchen remodeling options that would be best for your home please contact us at (718) 273-6233 or visit our showroom at 711 Port Richmond Ave., Staten Island, NY 10302.
When adding a bathroom to the basement, or upgrading a pre-existing bathroom, there are a few important considerations to make. There is a lot of unique and interesting choices that you can add to a basement bathroom to make it feel more comfortable.
Lighting
Bathrooms in basements often have to work with limited or no natural light to create a beautiful space. If your basement bathroom has a window, it is likely a small one near the ceiling, close to the ground outside. In the event that you have a window, do not put the mirror on the same wall as it. You will want the mirror to reflect more of the natural light in the room, and brighten up the space. If you do not have a window, consider adding lights to the vanity in addition to the ceiling fixture. If you want the room to feature darker colors, consider using lighting fixtures with yellow bulbs, which can make the space feel more homey and natural.
Full or Half Bath
When designing a bathroom for the basement; you need to consider both the space available, and the plumbing. If you have the available space and fixtures to add a tub or shower; then you may want to consider these options. Standing showers require the least amount of space. They can often be implemented into bathrooms that otherwise wouldn't be able to fit a bathtub. Creating a full bath in the basement can be a good way to boost the value of the home. For those looking to live in the home or a long time, adding an extra shower can be a great way to avoid showering conflicts on busy mornings.
Flooring
Proper flooring in a basement bathroom is vital to a successful renovation. It is a good idea to avoid concrete or tile flooring if you do not have radiant floor heat in the bathroom. These flooring options can be very cold in the morning, and especially when used in the basement. Vinyl and linoleum are sturdy and relatively water resistant. They are not as cold or as hard to walk on. Vinyl or linoleum sheets are better than tiles of the same materials in a bathroom space, because there is less space for water to seep through.
To discuss bathroom or kitchen remodeling options that would be best for your home please contact us at (718) 273-6233 or visit our showroom at 711 Port Richmond Ave., Staten Island, NY 10302.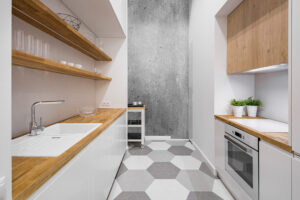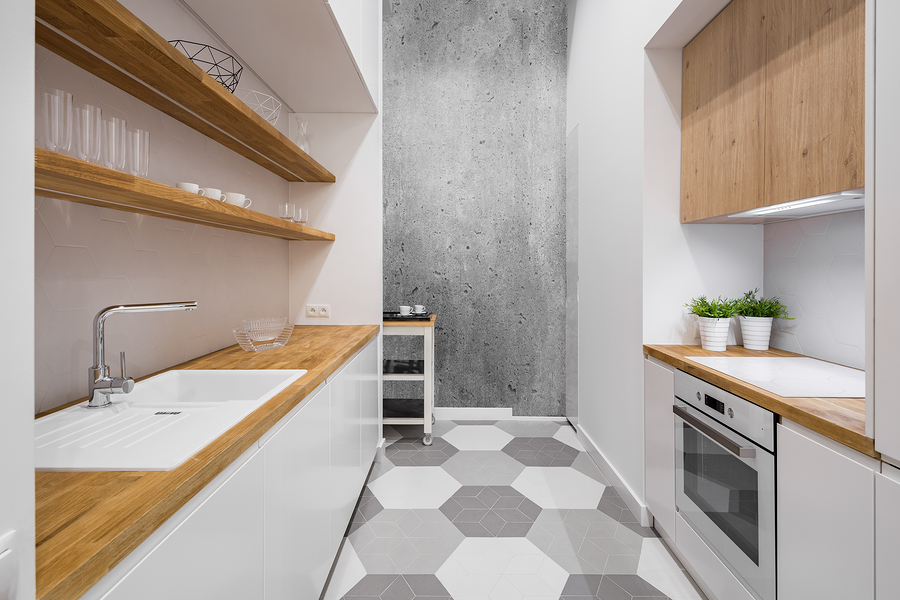 While wooden cabinetry has been a staple of kitchen design for decades, wood is quickly growing in popularity as a countertop option. Traditionally the countertop of choice for bars and butcher shops; this design choice is growing in popularity for homes. Wood is lighter than most other countertop options, and often costs less to repair.
Adding Warmth to the Kitchen
Many homeowners are moving away from stainless steel appliances because they make the kitchen seem colder. One way to incorporate warmth into a kitchen is by using wooden countertops. The natural colors of butcher block style countertops elevates the space by giving it a warmer, more natural look.
Plenty of Design Options
Wood comes in a variety of different grains and colors; based on the type of tree the wood was taken from. This means that there are plenty of exciting options for your counterspace. Some options include classic oak, deep maple wood, strong cherry wood, or rich walnut. There are also a number of more exotic woods for a kitchen space, such as zebrawood, rosewood, or iroko. Less expensive wood, like birch or beech can cost as low as $12 per square foot. More exotic or expensive woods can cost about $200 per square foot.
Maintenance and Repair
Wood can be maintained well with care. There are a number of oils or polishes made for woods, depending on if it is finished or not. Many of these products you may already use if you have wooden furniture in your home. More exotic woods may require more sensitive care. Any damage, such as scratches or nicks in the wood, can be sanded out or refinished.
Even butcher block style countertops are rarely used directly in meal prep today. Using a wooden countertop like any other, with cutting boards, is important to maintaining an undamaged counter space.
Strong Yet Soft
Wood can be a very strong countertop material, and yet its soft nature can provide a lot of benefits too. Unlike stone or quartz, it is less likely to chip or break dishes dropped on it. Wooden countertops are also great for noise reduction, limiting clatter when plates or glasses are placed on them. Even smaller appliances; such as blenders or food processors are quieter on top of wood than most other options.
To discuss bathroom or kitchen remodeling options that would be best for your home please contact us at (718) 273-6233 or visit our showroom at 711 Port Richmond Ave., Staten Island, NY 10302.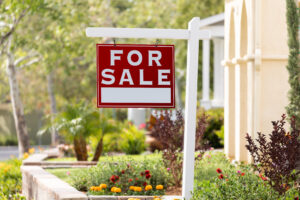 There are a lot of different ways to design your kitchen space; to fit whatever style you like. But when selling your home, it is best to avoid funky options, or changes that can reduce the value of the space. This article will look at some common kitchen mistakes homeowners make that can actually ruin a home sale. Most potential buyers want a kitchen space that doesn't require renovation as soon as they move in.
Mixing Metals
There are many different types of metal fixtures for a kitchen space; from stainless steel or brass, to copper or pewter. When upgrading your kitchen space, avoid mixing the metals used in the space. Mixed metals are often too eclectic for potential buyers.
Fake Open Shelving
Some homeowners will try to imitate open shelving by removing their cabinet doors. This is not a good idea. Cabinets with doors are not designed in the same way as open shelves. This often makes the space look cheaper. Additionally, If proper care is not put into the removal of the doors, the cabinets themselves can look damaged or shoddy.
Fake Wood Cabinets
Vinyl that looks like wood can be a fine choice for flooring in a kitchen, but wood vinyl should not be used for cabinetry. They often look cheap and can detract from the overall value of your kitchen. These "fake wood" materials can sometimes come with more maintenance and repairs than a sturdy wood cabinet. Vinyl can not support as much weight as wood. When it comes to your kitchen cabinets, invest in the best materials possible.
Multiple Colors with Appliances
Appliance companies have been diversifying the colors they make models in for years. Now your kitchen can have a red oven, a blue dishwasher, and a yellow toaster. But it really shouldn't. Much like mixing metals, it can be easy to go overboard with these color choices. It is often best to pick simple colors, like black, white, or stainless steel for these appliances. If you do want to add a pop of color in this way, do it with only one or two appliances; and make sure they are the same color. A lot of colors in the kitchen can seem random or chaotic; and can be a turn-off for buyers.
To discuss bathroom or kitchen remodeling options that would be best for your home please contact us at (718) 273-6233 or visit our showroom at 711 Port Richmond Ave., Staten Island, NY 10302.

With a new year comes new and innovative design trends. These new trends set the tone for the rest of the year. Here are some of the most interesting kitchen design trends of the new year.
Scandinavian-Style Kitchen
Modern clean lines, organic shapes, and light, muted colors blend with natural materials to form a Scandinavian-style kitchen. This interior design style became popular a few years ago, and has been steadily on the rise. Scandinavian interior design is a style celebrated for its simple color schemes and focus on function over form. Scandi-style kitchens are often minimalistic yet beautifully one-dimensional; with a predominantly all-white color palette combined with natural neutral colors.
Copper and Brass Fixtures
Copper fixtures are on top of the trending lists.Designers are even expanding its uses beyond faucets. Many designers are implementing copper for drawer handles, cabinet knobs, and even as part of ovens and other appliances; as one would see stainless steel. Coming in a close second is brass. Brass is brighter, and can blend well in spaces with a variety of colors.
Fluted Glass
Fluted glass adds dimension and texture to a kitchen space. Fluted glass allows you to achieve the usual room opening effect with cabinetry without making your plates take center stage. Fluted glass can also be a great aesthetic choice for any kitchen window. Fluted glass allows plenty of light to filter in while providing some privacy screening.
Concrete Countertops
Concrete is a strong, sturdy countertop material that is quickly rising in popularity. It is strong like granite or marble, for a much lower cost. While it's biggest downside is it's cost, there are a number of countertop manufacturers that have released a treated form of concrete that removes the coarseness of the material Treated concrete is more costly than the standard, but it is usually less expensive than quartz.
To discuss bathroom or kitchen remodeling options that would be best for your home please contact us at (718) 273-6233 or visit our showroom at 711 Port Richmond Ave., Staten Island, NY 10302.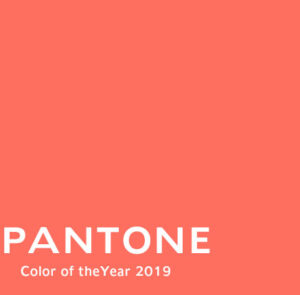 Many paint brands choose a "Color of the Year" during the winter for the upcoming year. The colors chosen are often a large part of interior design, fashion, industry, graphic design, and more for the year to come. But Pantone has continuously chosen the color that makes the biggest splash. This year, the Pantone Color Institute chose the color "Living Coral." This color is described by Pantone as "an animating and life-affirming coral hue with a golden undertone that energizes and enlivens with a softer edge." The Pantone Color Institute figures out the next big color through seasonal trend forecasts, color psychology, color consulting, and design strategy.
Living Coral is a vibrant and beautiful color that can be perfect for kitchen backsplashes or bathroom walls. The eye-catching color highlights a space while the golden undertones provide a mellow feel to the space. In nature, coral is vivid, and a reef may have a plethora of colors and hues. Living Coral seems to capture the natural blends and can mesh well with a variety of colors. The color is an interesting way to add vibrance to a space. You may want to consider it during your next remodel.
To discuss bathroom or kitchen remodeling options that would be best for your home please contact us at (718) 273-6233 or visit our showroom at 711 Port Richmond Ave., Staten Island, NY 10302.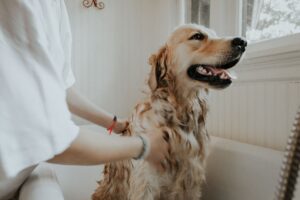 Having a pet around the house can be great; but you should take proper precautions to keep your furry friends safe. When renovating your bathroom, you might want to take your pets into consideration. Many of them will be a benefit to you, as well as your pet.
Pet Friendly Showers
Showers that make it easier to give your pet a wash can be very helpful, and very modern. A curbless shower reduces the risk of tripping; for both you and your pet. This type of shower is safer, because it reduces the risk of falls when you take your everyday shower; while also making it easier when it is bath time for your pet.
Non-slip surfaces in the shower will help you be safer in the shower, while helping your pet feel less nervous at bath time. Pets that don't like baths are often afraid of getting hurt on the sleek floor.
Detachable shower heads help you get all the hard to reach places; but they also make cleaning your cat or dog easier. A detachable shower head gives you greater control when getting the last of the suds, or avoiding water in their ears.
Litter Box Nook
A litter box is a necessary but unsightly part of cat ownership. When renovating your bathroom, consider adding a litter box nook. Transform part of your bathroom cabinetry into a nook for your cat's litter box. This way, the litter box is out of sight but is still accessible.
Tile Floors
Tile floors are the best choice for a pet-friendly bathroom. Tile is durable, easy to clean, and waterproof. It makes it easier for you to clean up after your dog shakes off his wet fur to dry off. Tile is also available in a wide variety of colors, shapes, and designs; so you can find ones that fit your style.
Toilet Lids
Not every homeowner opts for a toilet seat lid. But if you have a pet, it can be helpful in a number of ways. Toilet seat lids can be used to sit more comfortably when washing your pet in the tub. But they can also be used to protect your pet. We all know the common trope of a dog drinking out of the toilet. But this can make them extremely sick, or even poisoned; when you use toilet cleaners. For smaller, more agile pets, like cats, an uncovered toilet can be a potential drowning hazard. Cats can sometimes fall into the toilet, where the cupped edge and funnel-like interior can be difficult to escape from. Toilet seat covers can be helpful in protecting your pet's health and well-being. If your pet continues to access the toilet, consider adding a child-proof cover.
Locking Cabinets
Locking cabinets can keep your children, and your furry friends, out of your beauty products, cleaning chemicals, and medicines that they can otherwise access. If your pet gets into those items, they can easily make a mess of them, or get sick. Protect your children, pets, and your products from each other with locking cabinets.
To discuss bathroom or kitchen remodeling options that would be best for your home please contact us at (718) 273-6233 or visit our showroom at 711 Port Richmond Ave., Staten Island, NY 10302.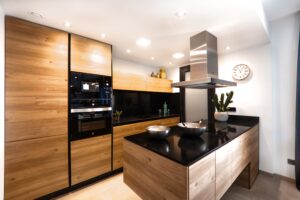 Many kitchen upgrades are done because the homeowner wants to change the design for aesthetic purposes; while others might do it to raise the value of the home. But for some people, especially those planning to stay in their home for the long haul; the kitchen remodel is done with ease of access in mind. Preparing your kitchen to "age in place" is a good idea for homeowners who plan on living there well into their elderly years. An elder-friendly kitchen is created to make your life easier now, as well as when you are much older. Elder-friendly kitchens can help support your independence in your later years, while making your life easier now. Upgrades will focus on safety features, ease of access, and better organization.
Non-Slip Floors
Slip and falls can be a dangerous hazard for elderly people. When choosing flooring, you should choose one that is slip resistant as well as soft for landing. While some tiles can be considered "slip resistant," falling on a tile floor can cause a lot of damage to your body. Safer flooring options can include laminate, bamboo, and vinyl. Avoid using area rugs or floor mats in the kitchen, as they can offer potential tripping hazards.
Reduce Edges
Along with non-slip floors, a kitchen that ages well will have less sharp edges. Countertops should be designed with rounded or bevelled edges; which will help mitic\gate injury during a fall.
Easy Access Cabinets
From reaching up high, to trying to find what you're looking for, cabinets can be a problem for some elderly people. Windowed cabinet doors can allow you to better determine where an item is before you start checking the cabinets. Cabinet organizers, lazy susans, and pull-out drawers can help reduce bending and reaching. D-style pull drawers and lever handles can be a lot easier for elderly people to use.
Lots of Lighting
Light up your kitchen. As you age, your vision can become more impaired. Area lights, lights inside cabinets, and undermount lights can help illuminate important areas of the kitchen to make your life easier.
Leave Space for a Wheelchair
You may never need a wheelchair, but it can be a good idea to prepare for it. Creating a space where you can pull up a wheelchair to work in the kitchen can be a good idea. If you don't use a wheelchair, the space can still be used with a chair. Breakfast nooks can easily double as a seated prep space.
Easy Use Appliances
Appliances for a kitchen meant to age with you should have easy to reach controls and easy to read displays. Drawer style dishwashers can reduce bending and strain. Keep microwaves on the countertop. Wall-mounted ovens can allow for baking without bending.
To discuss bathroom or kitchen remodeling options that would be best for your home please contact us at (718)-273-6233 or visit our showroom at 711 Port Richmond Ave., Staten Island, NY 10302.