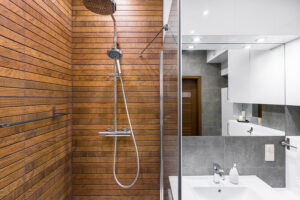 While more traditional bathroom design tries to stay away from wood; modern design can make excellent use of it. Innovations in wood treatment give homeowners a lot of options in designing with water-resistant wood for bathrooms. Now more than ever, using wood elements in your bathroom design can be simple and create a spa-like feeling in the room. There are a number of uses for wood in the design that will bring a more natural quality to the room.
For the walls of your bathroom, wood panelling can be utilized in many different design styles. Darker wood creates a warmer and classier feel; while lighter wood can evoke that of a spa. Natural looking wood, with knots and creases, will make the bathroom look rustic. Wood panels put in horizontally make the room feel bigger, and more natural. Vertical panels create a more uplifting feeling, and make the ceiling seem higher. Diagonal or zigzag lines can create an energetic feel, but can be overbearing at times if overused.
Wooden floors don't get as cold as tiles, and can make a great floor for a bathroom, especially with radiant floor heating. Wood also makes a great material for your vanity, adding textural elements and a sturdy design.
For the shower and bath area, using wood can provide excellent spa-like elements and a natural, earthy feel. Duckboards in the shower are a non-slip surface that allow for water to drain through. They are generally more hygienic than shower mats. Duckboards hide away the drain, making a more seamless and aesthetically pleasing shower floor. For bathtubs, drop-in models set in wood can be beautiful. A natural wood element for the tub skirt brings the spa to your home.
To discuss bathroom or kitchen remodeling options that would be best for your home please contact us at (718) 273-6233 or visit our showroom at 711 Port Richmond Ave., Staten Island, NY 10302.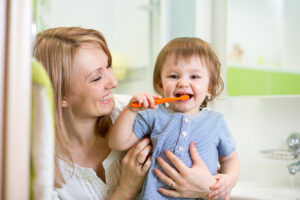 If your children have a bathroom to call their own, you might as well design it with them in mind. Kids will need more out of their bathroom space as they grow up, so it is important to not only design for now, but to plan for the future.
Younger children need little more than a place to store their toothbrush and comb when it comes to the vanity, but that changes as they age. Shaving kits, deodorants, makeup, acne scrubs and more can litter the countertop of a teen's bathroom. Plan ahead with ample storage space in the vanity. A medicine cabinet mirror, or a counter with a good number of drawers is a good start. If the bathroom is shared, consider using a double sink vanity. It is great for mornings before school.
Younger children prefer more basic and in most cases lighter colors. As they age, color preferences usually stay close to the same colors, but advance into deeper hues and more specific shades. Decor is easy to change, but changing the overall color of the room could be a full renovation. Semi-gloss paint is better for areas like the bathroom, where water and humidity may be commonplace.
For a young child's decor, simple is better. There are plenty of animal-based bathroom decor for kids that offer a cute design style in their younger years. In the teens, a more adult and formal style is favored. Plants brighten up a room and can add contrast to rooms that need earthy tones to make the space more relaxing. Plants like Bamboo and Aloe Vera are great for a your teen's bathroom. Aloe Vera is almost impossible to kill, and the humidity from a daily shower in some cases can be all the water it needs. In addition, it's gel is useful for a number of basic first aid needs as a topical salve. Bamboo can need to be watered on occasion, and might need to be pruned every so often; but it can last well in a bathroom, even with limited care.
To discuss bathroom or kitchen remodeling options that would be best for your home please contact us at (718) 273-6233 or visit our showroom at 711 Port Richmond Ave., Staten Island, NY 10302.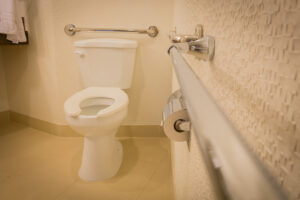 Bathroom design for the elderly or disabled is all about ease of access and safety. Often called "Universal Design," the trend of redoing your bathroom or other parts of the house with safety features for the elderly or disabled can be a major benefit. Other than the safety it provides you, universal design bathrooms can raise the value of your home.
Grab bars and rails are a great asset to any bathroom. Available in a variety of colors, styles, and materials; these bars are a fantastic safety plus that help you get in and out of the shower with ease. The shower can be slippery. A bar gives you extra insurance against a slip and fall. Grab bars are helpful for standing in the tub, getting off the toilet, and safely getting in and out of the shower. Adding a few bars to your bathroom can go a long way in terms of safety.
Ease of access in the shower can be important. Shower seats can be great for reducing falls. Adjustable or hand-held showerheads provide functionality to the space. Curbless showers are a great step towards safety and smooth design. Curbless showers reduce the chance of tripping while getting in or out of them. But from a design perspective, a curbless shower can make the room seem bigger and more spacious. With a curb, that bump in the tile can visually separate the shower from the rest of the room; making the room seem more cramped.
For sinks, counters, and vanities, these minor details can make a bathroom a lot safer. Avoid sharp edges. Curved or rounded corners can reduce the risk of bruises or injury. Hanging sinks with panels covering the pipes can make it easier to bring a wheelchair under it.
To discuss bathroom or kitchen remodeling options that would be best for your home please contact us at (718) 273-6233 or visit our showroom at 711 Port Richmond Ave., Staten Island, NY 10302.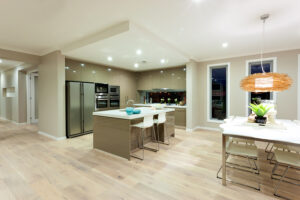 Going green in the kitchen is more that eating more salad. Eco-friendly design trends are a great way to improve your kitchen, in more ways than one. There are more options than ever when it comes to color and style for "green" kitchen renovation. From low-energy using appliances, to cleaner paints; you can make the most of your kitchen space and improve the value of your home. According to the EPA (Environmental Protection Agency), for the average American home, indoor pollutants can be 10 or more times the levels outside. Stoves that use a lot of gas, or paints with Volatile Organic Compounds (VOCs) can add to those levels.
After your heating and air conditioning, the biggest energy guzzler in a home is the refrigerator. EPA Energy Star approved appliances are certified to use 10 to 50% less energy/water than what a standard model would. This can lower utility bills and lower your environmental footprint. Most energy-efficient models will cost more, but will save you money in the long run.
Many paints and wood-treatments are full of Volatile Organic Compounds. Long-term exposure to these can lead to a variety of health issues, from asthma or irritation, to certain cancers. Switching to paints, stains, and treatments that are VOC-free can improve the air quality in your home.
Wood always looks nice in a kitchen, but it can take an average of 60 years to regrow a tree for the lumber. An option to keep the same hardwood style, while making less of an environmental impact, is bamboo. Bamboo looks beautiful and can be a more sustainable alternative to standard wood options. While technically a grass, bamboo can be regrown in about 6 years. An alternative for countertops, cabinets, or even flooring; bamboo is a great material that is available in a variety of shades and colors. Compared to traditional hardwood, bamboo is more water resistant and requires less maintenance.
To discuss bathroom or kitchen remodeling options that would be best for your home please contact us at (718) 273-6233 or visit our showroom at 711 Port Richmond Ave., Staten Island, NY 10302.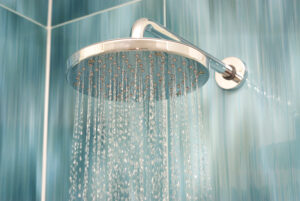 Your shower should be a place to escape. Whether you are washing away the troubles from the day, or getting ready to go out; you need a shower that does the job right. These upgrades to your standard shower set up will make your shower more enjoyable, morning or night.
Rain shower heads are wide and provide a downpour effect. This is supposed to be calming and create a more spa-like feel. They are usually mounted on the ceiling. More water is used with most rain showers, because the heads are wider and have more spouts.
Shower panels are powerful and jacuzzi-like set up. Multiple shower heads that can be opened or closed provide multiple centers of water pressure for a good clean feel. While there are pre-built panels available; custom ones can be made with multiple heads. As long as your pipes and water heater can handle the multiple heads; the water pressure on these styles can be incredible.
Aerating shower heads provide great pressure with less water. By mixing air with water, this shower head pushes out water with more pressure and less water. They generally cost more in installation, but you save more over time by saving water.
Many people have smart TVs, but smart shower heads? Bluetooth and Wi-Fi connected shower heads can connect to your cell phone. Play music, track water usage, and control LED lights to light up your shower. Smart shower heads can be a great upgrade. Some of these smart shower heads actually power the lights and speakers with turbines as the water shoots through.
To discuss bathroom or kitchen remodeling options that would be best for your home please contact us at (718) 273-6233 or visit our showroom at 711 Port Richmond Ave., Staten Island, NY 10302.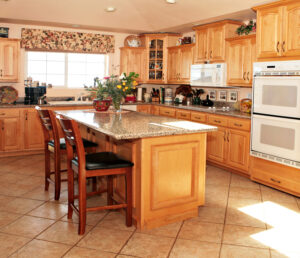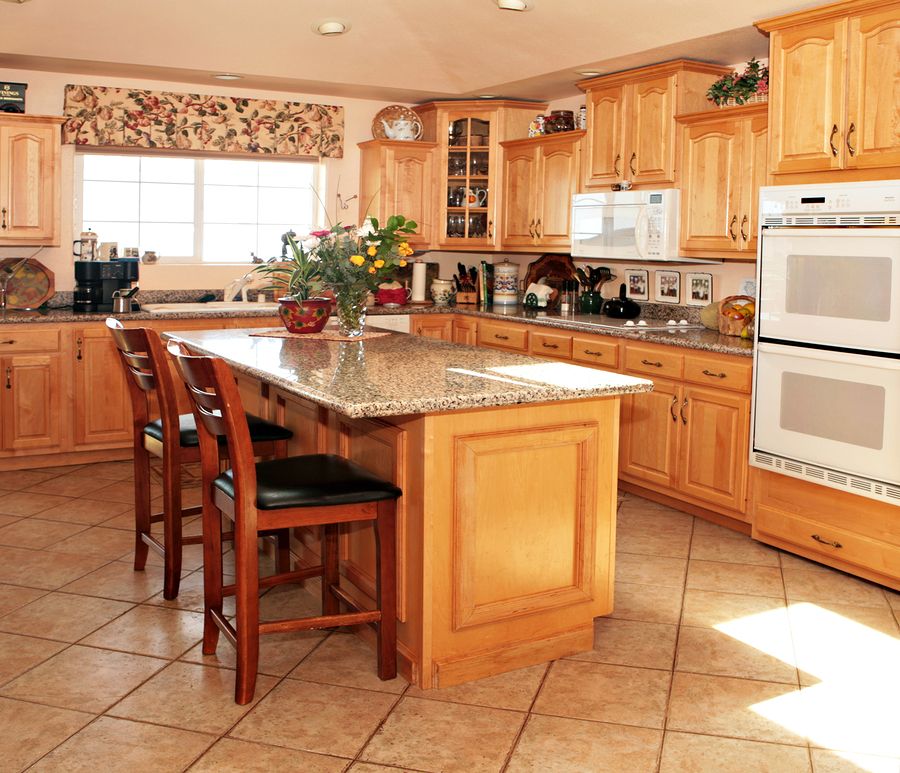 With a little less than 2 months until 2017, it's time to see what the new year has in store for kitchen trends. These new trends for 2017 include classy style and ditching the cold look of stainless steel.
Stainless Steel appliances are on a downtrend. Many homeowners are opting for the style hiding fixtures like the dishwasher within the lower cabinets, while more prominent appliances such as the stove and refrigerator are getting a makeover. Homeowners are often choosing dual-colored appliances with a main, neutral color and an accent that pops; like chrome, gold, or copper. This trend adds a high-end feel to the room while removing the industrial feel of stainless steel models.
Wood panelling is coming back to the kitchen. These panels evoke a more rustic, yet family-oriented feel to the kitchen. Many designers feel that this trend harkens back to how a grandmother's kitchen feels. Using white wooden panels keeps that warm home feel while bringing the design into the modern color trends.
Speaking of wood in the kitchen, dark wood cabinetry is on the decline. Darker colors, other than black, in general are seen less and less in new kitchens. Most designs are going to brighter and cleaner designs with lighter colors. Darker browns are being overtaken by lighter tans and smoother beiges.
To discuss bathroom or kitchen remodeling options that would be best for your home please contact us at (718) 273-6233 or visit our showroom at 711 Port Richmond Ave., Staten Island, NY 10302.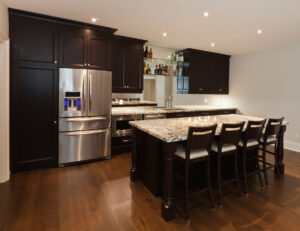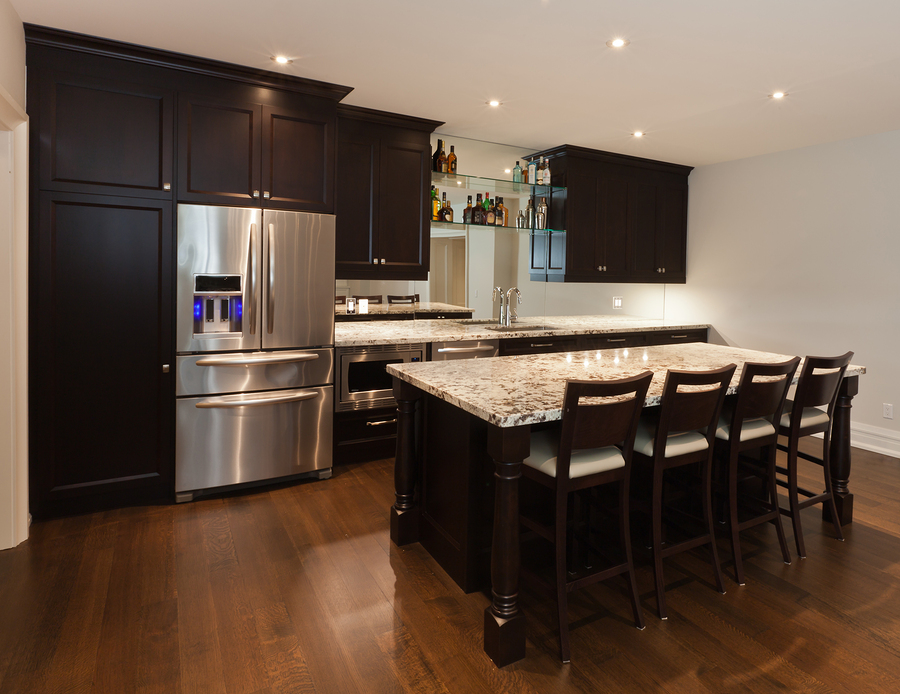 A finished basement can be an incredible benefit to a homeowner; and an important step in creating a great basement space is a kitchenette. A basement kitchenette prepares your home for a variety of options, from having a better entertainment space, to potentially turning that basement into an apartment for rent. Overall, a kitchenette in the basement will increase the value of your home.
A kitchenette is meant to take up a small space. Typically taking up a wall or a corner of the basement, a basic kitchenette needs very little in terms of space. A bare-bones kitchenette needs only: a refrigerator or mini-fridge with a freezer, stove, sink, and at least 8 to 10 square feet of countertops. Cabinetry is key as well. A microwave can go a long way. Depending on how much you plan on using the space, or if you are planning to rent out the space, an oven can be important. If you don't need the oven, you can save space and money with an electric cooktop. Of course, a fire alarm is needed as well. Windows are important in any basement space, but especially in a space where open flames are a possibility.
Being in the basement, tile flooring is not the best option unless you have radiant floor heating. Laminate flooring is good as it doesn't get as cold as tile, and has a softer feel to bare feet. The kitchenette should enhance the look of the room, while being separate. A dramatic backsplash can add color and depth to the space.
Enhancing the space to be more convenient while taking up less space can be important. Mounting the microwave over the stove can save on counter space and can add a good place for an overhead fan for the cooktop. A wine cooler is a great add on for entertaining and it helps out if you also have a home bar. If you have the space, an island can help you make the most out of your space.
To discuss bathroom or kitchen remodeling options that would be best for your home please contact us at (718) 273-6233 or visit our showroom at 711 Port Richmond Ave., Staten Island, NY 10302.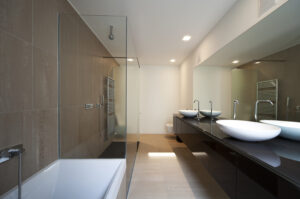 A modern bathroom is more than just style. Openness, safety, efficiency, and geometric shapes define the new style of modern bathroom fixtures and design. Open design makes the space feel bigger and more spacious. Safety features, especially near the the shower, are becoming more popular. Energy and water efficient fixtures in the bathroom is becoming more prominent as going green is becoming more important. Geometric shapes provide a more contemporary feel and help define spaces.
Openness:
Homeowners are embracing open styles in bathrooms more and more. This open design comes in a few different ways. The simplest and easiest way to implement this into your bathroom is the use of open shelving. This adds color easily via the various items on the shelves; while the lack of cabinetry reduces the space taken up on the walls. Even vanities are moving towards a more open design with shelving.
Glass doors on showers create more depth in a bathroom. Curtains close off an entire section of the room. Freestanding tubs are becoming more prominent. A freestanding tub offers a variety of options for installment, whether in the center of the room, near a wall, or angular. Many homeowners are looking to add natural light to a bathroom with skylights. Between the natural light and the view out of the window, a skylight offers a great open feeling, which helps even a smaller bathroom feel more spacious.
A foggy mirror often makes a bathroom feel smaller after a hot shower. Anti-fog mirrors are a convenient way to remedy this. They make getting ready to go out simpler.
Safety:
Safety in a bathroom is not only good for you, but it is stylish as well. Added safety fixtures in a bathroom make life easier for you and your family while adding more to the look of the room and raising the value of the home. Universal design styles, meant to make life easier for the elderly and disabled, are becoming more prominent in homes. They benefit everyone living there, while raising the overall value of the home.
The main area of focus for bathroom safety is the shower. A curbless shower reduces the risk of tripping when entering or exiting the shower. This also takes away a look of division between the shower and the rest of the room. Shower seats are a great way of making a shower more enjoyable, and safer. A built in shower seat works as shelving in the shower, while giving you a place to sit and relax. It makes cleaning your feet, shaving, and other tasks much easier. Grab bars for the shower are helpful for reducing slips in the shower, and can provide an adequate spot for hanging your washcloth to dry. Lights in the shower are becoming trendier. Shower lights have been out of main bathroom design for a few years, but have been on the rise lately.
Efficiency and Smart Technology:
In a bathroom, efficiency can save you a lot of money in the long run. While there are simple things, like low-flush toilets, there are plenty of other options that not only save money, but to make your bathroom space more enjoyable.
Smart showerheads are a great innovation for more than just simply saving water. Bluetooth-enabled showerheads can keep track of how much water you are using, or even play music straight from your phone or tablet.
Bathroom floors are often cold, especially during the mornings. By running the water pipes under the tiles, you can reduce the amount of energy needed to heat the floors by using the hot water going to your showers.
Efficient bathroom faucets reduce the use of water at the sink. The two main types of these faucets are no-touch and metered. No-touch faucets are the motion-sensored fixtures that go on when your hands are under the water, and off as you pull away. A metered faucet is pressed for the water flow, and pours as the faucet slowly retracts to its original position. A metered faucet is a good installation for children's bathrooms, as it reduces the length of time that the water is running.
Geometric Shapes:
A design for a modern bathroom in the last few years has been all about curved edges and square tiles. As we continue onward, the square tiles are still prominent among bathrooms for powerful backsplashes and wall coverings. But the curved edges of your tub or vanity are being replaced with more angular fixtures. Angular design is showing up more and more not just in home decor, but in car design, the fashion industry, and more.
Square and rectangular shapes in bathroom design often come from the tub. Freestanding or even built in tubs are often ovular; but lately, more rectangular models have been in newer remodels. Square showerheads are also becoming popular. Faucets with angular shapes are a popular nw trend for modern bathroom design. Square decor items in bathrooms are also being bought more frequently, from soap dishes to towel racks.

To discuss bathroom or kitchen remodeling options that would be best for your home please contact us at (718) 273-6233 or visit our showroom at 711 Port Richmond Ave., Staten Island, NY 10302.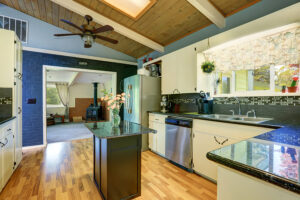 Designing your kitchen can evolve into something inspiring when you incorporate the Chinese style of Feng Shui. The kitchen is part of the Feng Shui Trinity; the three rooms in the home that should be the focal points of energy flow in your home. A well-organized, harmonious kitchen can help you feel more energized when cooking and eating. A Feng Shui design makes a room feel cleaner, balanced, and more natural.
A Feng Shui kitchen should start off with lighting. Accent and area lights make a room bright and welcoming; while providing functionality. Extra lighting is always important in a kitchen.
Keep the look clean and simple. Keep clutter out of the kitchen. Create cabinet spaces to store smaller appliances such as the toaster or blender out of sight. Organization in the cabinets helps reduce clutter and is extremely helpful for everyday kitchen work.
Fresh is an important aspect of a Feng Shui kitchen. Potted plants by the window, fresh fruit bowls, and the like can add color and vibrancy to the room. A potted plant or vase in the center of the island or the table also looks nice.
Colors play a big role in the Feng Shui. Earth tones on the flooring evoke a natural and grounded feeling to the room. It helps tie the space together. White flooring is calming and is less likely to draw the eyes downward. Light will bounce off of a white floor, making the room brighter. As for the rest of the room, there are a number of design choices. Figuring out which one suits your needs best can be important.
There are many color options for this type of design. A buttery yellow color promotes digestion and happiness in the kitchen. Soft grey shades are warm and soft; nurturing. It creates a smooth and welcoming space when paired with natural wood. Sky blue works great in a kitchen while it is matched with a soft, neutral, brown. The two colors balance each other out and create a calm and cool space. Red and white go well together, creating bright and energetic pops of color. White makes the room seem fresh and clean, while the red is the color of passion and excitement.
To discuss bathroom or kitchen remodeling options that would be best for your home please contact us at (718) 273-6233 or visit our showroom at 711 Port Richmond Ave., Staten Island, NY 10302.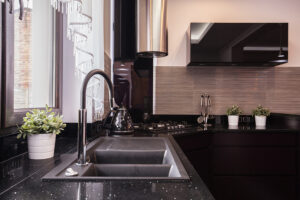 The kitchen sink not only houses a key function in the cooking process, but it also serves as a way to tie the style of the room together. The mounting options define the look and flow of the space in the kitchen. The mounting options are sink-mounted, deck-mounted, wall-mounted; each one has it's own set of pros and cons. Choosing a new sink might seem like a daunting task, but the experts at Dream Kitchens and Baths can help.
A sink-mounted faucet is one that is built into your sink. The faucet must fit the holes in the sink. Otherwise you will need to cut the sink, which could weaken it. This is great if you want to update the kitchen without tearing out the sink in the future. however, your sink may limit the options you have in the design.
Deck-mounted faucets are built directly into the countertop. This creates a seamless look and is especially good if you choose an undermount sink design. A deck-mounted faucet is perfect for a contemporary-style kitchen. The biggest issue homeowners have with a deck-mounted model is the buildup of dust and grime behind the faucet, where it is harder to reach and clean.
A wall-mounted faucet is a more elegant design for a kitchen, with the faucet and handles connected to the backsplash or wall. Pipes for this type of sink need to be insulated more if installed on an outer wall of the home, because of cold winters. Wall studs may inhibit installation.
To discuss bathroom or kitchen remodeling options that would be best for your home please contact us at (718) 273-6233 or visit our showroom at 711 Port Richmond Ave., Staten Island, NY 10302.