Galley kitchens are a staple of apartments and homes alike in New York. Galley kitchens often allow for a full kitchen space to be compact and space-saving across 2 walls. Below, we will discuss 5 ways to upgrade and reinvent your galley kitchen.
Mirrored Backsplash
Adding a mirrored backsplash to one side of your galley kitchen will make the space feel bigger, and make better use of natural light in the space. Be sure to only mirror one side. Doing both will create a disorienting mise en abyme effect that can be actually make the space feel recursive. Instead, try to follow up with a light colored backsplash on the other side, which will further help reflect light.
Pendant Lights
Pendant lights along the length of the galley can add area light and spacing, while the style of the fixtures can add character and elevate the space. Making good use of pendant lights in a galley kitchen can ensure that the whole place is well-lit. Mix with undermount lights for even more illumination.
Specialty Drawers
We have discussed drawers that function as refrigerators, freezers, trash compartments, warming trays and more; in a number of other articles on this website. Drawers such as these can allow you to (with enough storage space) forgo large and bulky refrigerators that can overwhelm a smaller galley kitchen space. Making effective use of these inventive storage options can allow you to save space by cutting back on traditional appliances.
Spread Out the Kitchen Triangle
The "Kitchen Triangle" refers to the paths you walk between the 3 most vital parts of the kitchen; the stove, fridge, and sink. Keeping some reasonable distance between the 3 will make the kitchen feel larger and allow for more than one person to operate in the kitchen effectively. Appliances should be evenly distributed throughout the length of the galley kitchen. It is also important to make it a triangle. Do not put all 3 on one side of the galley. A galley often works best with the stove and fridge on the same side; with the sink, and possibly a dishwasher, on the opposite side.
Invest in a Range Hood
Galley kitchens, especially those in more cramped living spaces can get very hot, very fast. Adding a range hood to your kitchen can help you minimize that heat buildup. Range hoods come in all sorts of sizes. Pick one that can effectively fit in the space while providing the proper ventilation.
To discuss bathroom or kitchen remodeling options that would be best for your home please contact us at (718) 273-6233 or visit our showroom at 711 Port Richmond Ave., Staten Island, NY 10302.
We have all heard of walk-in showers, but walk-in tubs? Walk-in bathtubs provide a safer way to enter a bathtub, and offer a built-in seat that allows for easy use and comfort. These special tubs are great for aging in place, or for upgrading your parent's existing bathroom space. Walk-in tubs are also great for handicapped individuals.
Walk-in tubs feature a door similar to a car, with rubber and magnets to be watertight. These doors offer a low-entry point, which reduces the tripping hazards associated with a traditional tub. Most Walk-in tubs are about waist height, offering a sturdy platform for toiletries that is within reach. Many models feature handrails and even hydrotherapy jets.
Walk-in tubs take up less floor space than a traditional tub. The taller nature of this style of tub means that you will be more fully immersed in the water. There are also models that double as showers.
One of the few major downsides of the walk-in tubs is that you have to sit in the tub as it fills or drains. These tubs can take 8 to 15 minutes to fill; as opposed to a traditional tub that can take about 5-10 minutes to fill. Draining the water away will take about the same amount of time for both styles of tubs, but you do have to stay in a walk-in tub until the water drains out.
Traditional tubs can vary in size, but will use about 42-80 gallons of water per bath. Most models of walk-in tubs will fill up at about 50 gallons. This means that you can be using up less water per bath vs a bigger tub.
To discuss bathroom or kitchen remodeling options that would be best for your home please contact us at (718) 273-6233 or visit our showroom at 711 Port Richmond Ave., Staten Island, NY 10302.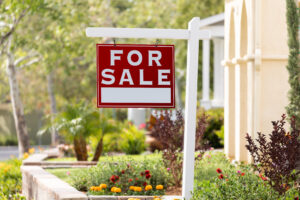 There are a lot of different ways to design your kitchen space; to fit whatever style you like. But when selling your home, it is best to avoid funky options, or changes that can reduce the value of the space. This article will look at some common kitchen mistakes homeowners make that can actually ruin a home sale. Most potential buyers want a kitchen space that doesn't require renovation as soon as they move in.
Mixing Metals
There are many different types of metal fixtures for a kitchen space; from stainless steel or brass, to copper or pewter. When upgrading your kitchen space, avoid mixing the metals used in the space. Mixed metals are often too eclectic for potential buyers.
Fake Open Shelving
Some homeowners will try to imitate open shelving by removing their cabinet doors. This is not a good idea. Cabinets with doors are not designed in the same way as open shelves. This often makes the space look cheaper. Additionally, If proper care is not put into the removal of the doors, the cabinets themselves can look damaged or shoddy.
Fake Wood Cabinets
Vinyl that looks like wood can be a fine choice for flooring in a kitchen, but wood vinyl should not be used for cabinetry. They often look cheap and can detract from the overall value of your kitchen. These "fake wood" materials can sometimes come with more maintenance and repairs than a sturdy wood cabinet. Vinyl can not support as much weight as wood. When it comes to your kitchen cabinets, invest in the best materials possible.
Multiple Colors with Appliances
Appliance companies have been diversifying the colors they make models in for years. Now your kitchen can have a red oven, a blue dishwasher, and a yellow toaster. But it really shouldn't. Much like mixing metals, it can be easy to go overboard with these color choices. It is often best to pick simple colors, like black, white, or stainless steel for these appliances. If you do want to add a pop of color in this way, do it with only one or two appliances; and make sure they are the same color. A lot of colors in the kitchen can seem random or chaotic; and can be a turn-off for buyers.
To discuss bathroom or kitchen remodeling options that would be best for your home please contact us at (718) 273-6233 or visit our showroom at 711 Port Richmond Ave., Staten Island, NY 10302.

With a new year comes new and innovative design trends. These new trends set the tone for the rest of the year. Here are some of the most interesting kitchen design trends of the new year.
Scandinavian-Style Kitchen
Modern clean lines, organic shapes, and light, muted colors blend with natural materials to form a Scandinavian-style kitchen. This interior design style became popular a few years ago, and has been steadily on the rise. Scandinavian interior design is a style celebrated for its simple color schemes and focus on function over form. Scandi-style kitchens are often minimalistic yet beautifully one-dimensional; with a predominantly all-white color palette combined with natural neutral colors.
Copper and Brass Fixtures
Copper fixtures are on top of the trending lists.Designers are even expanding its uses beyond faucets. Many designers are implementing copper for drawer handles, cabinet knobs, and even as part of ovens and other appliances; as one would see stainless steel. Coming in a close second is brass. Brass is brighter, and can blend well in spaces with a variety of colors.
Fluted Glass
Fluted glass adds dimension and texture to a kitchen space. Fluted glass allows you to achieve the usual room opening effect with cabinetry without making your plates take center stage. Fluted glass can also be a great aesthetic choice for any kitchen window. Fluted glass allows plenty of light to filter in while providing some privacy screening.
Concrete Countertops
Concrete is a strong, sturdy countertop material that is quickly rising in popularity. It is strong like granite or marble, for a much lower cost. While it's biggest downside is it's cost, there are a number of countertop manufacturers that have released a treated form of concrete that removes the coarseness of the material Treated concrete is more costly than the standard, but it is usually less expensive than quartz.
To discuss bathroom or kitchen remodeling options that would be best for your home please contact us at (718) 273-6233 or visit our showroom at 711 Port Richmond Ave., Staten Island, NY 10302.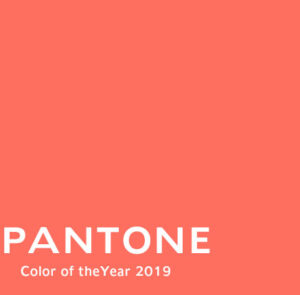 Many paint brands choose a "Color of the Year" during the winter for the upcoming year. The colors chosen are often a large part of interior design, fashion, industry, graphic design, and more for the year to come. But Pantone has continuously chosen the color that makes the biggest splash. This year, the Pantone Color Institute chose the color "Living Coral." This color is described by Pantone as "an animating and life-affirming coral hue with a golden undertone that energizes and enlivens with a softer edge." The Pantone Color Institute figures out the next big color through seasonal trend forecasts, color psychology, color consulting, and design strategy.
Living Coral is a vibrant and beautiful color that can be perfect for kitchen backsplashes or bathroom walls. The eye-catching color highlights a space while the golden undertones provide a mellow feel to the space. In nature, coral is vivid, and a reef may have a plethora of colors and hues. Living Coral seems to capture the natural blends and can mesh well with a variety of colors. The color is an interesting way to add vibrance to a space. You may want to consider it during your next remodel.
To discuss bathroom or kitchen remodeling options that would be best for your home please contact us at (718) 273-6233 or visit our showroom at 711 Port Richmond Ave., Staten Island, NY 10302.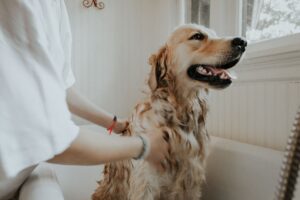 Having a pet around the house can be great; but you should take proper precautions to keep your furry friends safe. When renovating your bathroom, you might want to take your pets into consideration. Many of them will be a benefit to you, as well as your pet.
Pet Friendly Showers
Showers that make it easier to give your pet a wash can be very helpful, and very modern. A curbless shower reduces the risk of tripping; for both you and your pet. This type of shower is safer, because it reduces the risk of falls when you take your everyday shower; while also making it easier when it is bath time for your pet.
Non-slip surfaces in the shower will help you be safer in the shower, while helping your pet feel less nervous at bath time. Pets that don't like baths are often afraid of getting hurt on the sleek floor.
Detachable shower heads help you get all the hard to reach places; but they also make cleaning your cat or dog easier. A detachable shower head gives you greater control when getting the last of the suds, or avoiding water in their ears.
Litter Box Nook
A litter box is a necessary but unsightly part of cat ownership. When renovating your bathroom, consider adding a litter box nook. Transform part of your bathroom cabinetry into a nook for your cat's litter box. This way, the litter box is out of sight but is still accessible.
Tile Floors
Tile floors are the best choice for a pet-friendly bathroom. Tile is durable, easy to clean, and waterproof. It makes it easier for you to clean up after your dog shakes off his wet fur to dry off. Tile is also available in a wide variety of colors, shapes, and designs; so you can find ones that fit your style.
Toilet Lids
Not every homeowner opts for a toilet seat lid. But if you have a pet, it can be helpful in a number of ways. Toilet seat lids can be used to sit more comfortably when washing your pet in the tub. But they can also be used to protect your pet. We all know the common trope of a dog drinking out of the toilet. But this can make them extremely sick, or even poisoned; when you use toilet cleaners. For smaller, more agile pets, like cats, an uncovered toilet can be a potential drowning hazard. Cats can sometimes fall into the toilet, where the cupped edge and funnel-like interior can be difficult to escape from. Toilet seat covers can be helpful in protecting your pet's health and well-being. If your pet continues to access the toilet, consider adding a child-proof cover.
Locking Cabinets
Locking cabinets can keep your children, and your furry friends, out of your beauty products, cleaning chemicals, and medicines that they can otherwise access. If your pet gets into those items, they can easily make a mess of them, or get sick. Protect your children, pets, and your products from each other with locking cabinets.
To discuss bathroom or kitchen remodeling options that would be best for your home please contact us at (718) 273-6233 or visit our showroom at 711 Port Richmond Ave., Staten Island, NY 10302.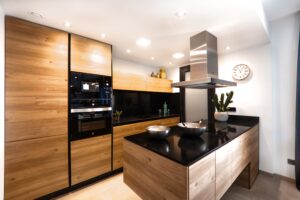 Many kitchen upgrades are done because the homeowner wants to change the design for aesthetic purposes; while others might do it to raise the value of the home. But for some people, especially those planning to stay in their home for the long haul; the kitchen remodel is done with ease of access in mind. Preparing your kitchen to "age in place" is a good idea for homeowners who plan on living there well into their elderly years. An elder-friendly kitchen is created to make your life easier now, as well as when you are much older. Elder-friendly kitchens can help support your independence in your later years, while making your life easier now. Upgrades will focus on safety features, ease of access, and better organization.
Non-Slip Floors
Slip and falls can be a dangerous hazard for elderly people. When choosing flooring, you should choose one that is slip resistant as well as soft for landing. While some tiles can be considered "slip resistant," falling on a tile floor can cause a lot of damage to your body. Safer flooring options can include laminate, bamboo, and vinyl. Avoid using area rugs or floor mats in the kitchen, as they can offer potential tripping hazards.
Reduce Edges
Along with non-slip floors, a kitchen that ages well will have less sharp edges. Countertops should be designed with rounded or bevelled edges; which will help mitic\gate injury during a fall.
Easy Access Cabinets
From reaching up high, to trying to find what you're looking for, cabinets can be a problem for some elderly people. Windowed cabinet doors can allow you to better determine where an item is before you start checking the cabinets. Cabinet organizers, lazy susans, and pull-out drawers can help reduce bending and reaching. D-style pull drawers and lever handles can be a lot easier for elderly people to use.
Lots of Lighting
Light up your kitchen. As you age, your vision can become more impaired. Area lights, lights inside cabinets, and undermount lights can help illuminate important areas of the kitchen to make your life easier.
Leave Space for a Wheelchair
You may never need a wheelchair, but it can be a good idea to prepare for it. Creating a space where you can pull up a wheelchair to work in the kitchen can be a good idea. If you don't use a wheelchair, the space can still be used with a chair. Breakfast nooks can easily double as a seated prep space.
Easy Use Appliances
Appliances for a kitchen meant to age with you should have easy to reach controls and easy to read displays. Drawer style dishwashers can reduce bending and strain. Keep microwaves on the countertop. Wall-mounted ovens can allow for baking without bending.
To discuss bathroom or kitchen remodeling options that would be best for your home please contact us at (718)-273-6233 or visit our showroom at 711 Port Richmond Ave., Staten Island, NY 10302.
Bathtubs can come in all sorts of shapes, sizes, styles, and materials. There are a number of factors that go into the cost of a bathtub and it's installation. We are going to break down all of the features of a tub that can add to the cost of your tub.
Materials
The material of your tub is the number one factor of the tub price. Many tubs in homes are fiberglass. Fiberglass is inexpensive, lightweight, and strong. It also requires the least undermount support, because of how much lighter it is than other material options. Fiberglass does not compromise function for cost. A standard size fiberglass tub can range between $200-$1,000, not including labor and installation.
Enameled Cast Iron is the next step up. Cast iron retains heat well, and is extremely durable. It is also heavier than fiberglass, which means that it will usually need more weight support than the lighter material. A standard size cast iron tub can range between $500-$2,000, not including labor and installation.
Marble is one of the most expensive materials for bathtubs. Marble tubs are luxurious. The retain heat well, and is overall regarded as the best material for a tub. Marble is heavier than fiberglass, but lighter than cast iron. A standard size marble tub can range between $1,000-$2,500, not including labor and installation.
Sizes
A standard, 60 inch tub may not be what you want for your bathroom. The larger you go, the higher the cost of the tub. A fiberglass tub that is double the standard size can exceed $2,000. Walk-in tubs can be great for master bathrooms and are designed for both comfort and flexibility. The larger size tubs that are available can cost $1,500 to $10,000 depending on size and material used.
Styles
Built-in or stand alone tubs can vary in cost. Built-in tubs use walls to help support the weight and hide plumbing. They are often easier to install on a gutted bathroom, but are often harder to replace than a stand alone tub. Built-in tubs are usually less expensive than stand alone models of similar size and material.
Upgrades
Add-ons can add to the cost of a bathtub, but can make all the difference. Whirlpool tubs can cost a pretty penny more, but many homeowners find that it is a worthy investment. Whirlpool tubs will often require electrical hook-ups and changes to the plumbing system; which can add $500-$10,000 to the cost, depending on the upgrades required. Aromatherapy diffusers can be a great upgrade for those who really want to make their bathroom into a spa. They won't add too much to the cost of the bathroom; but the price will depend on the model.
To discuss bathroom or kitchen remodeling options that would be best for your home please contact us at (718)-273-6233 or visit our showroom at 711 Port Richmond Ave., Staten Island, NY 10302.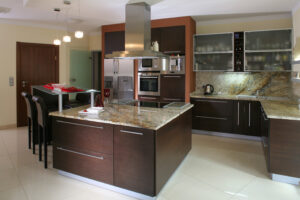 When renovating your kitchen, you may want to add in a range hood over your stovetop. A range hood is a ventilation system that sucks up smoke, odors, and moisture from the stove and pushes it out of the home through a built-in duct system. The other option many homeowners use instead of a range hood is a range fan, which disperses the smoke and odors. Which is right for your kitchen?
Installing a range hood usually requires more of a dip into the budget than a fan. The hood must be installed above your range, and a duct must be added to your home, The hood will channel cooking smoke and particulates out of your home and out of the roof via the duct.
Range fans disperse moisture and smoke from the cooktop. Rather than allowing smoke to build up in the kitchen, the fan helps to circulate the smoke and moisture around the room or to other parts of your home. The fan may filter the air, or simply disperse it. Range fans are usually more cost effective as they usually do not require ductwork. They also take up much less space in the kitchen.
Many microwaves that are meant to be suspended over a stove will have a range fan built into them on the bottom. This can help you cut don on costs and the number of add-ons to your kitchen.
Overall, a range hood is better at removing smoke and other particulates from cooking than a range fan. But the hood and it's duct can be an additional cost to your renovation. When planning out your renovation, decide if a range hood would be a good choice for your kitchen.
While most residential spaces are not required by law to include a range hood, some form of ventilation should be encouraged. Both range hoods and range fans help mitigate smoke inhalation and Carbon Monoxide build up in a home while cooking. For kitchens with stovetops built into the island, the range hood would have to hang down in the middle of the room, whereas a vent fan can be installed above.
To discuss bathroom or kitchen remodeling options that would be best for your home please contact us at (718)-273-6233 or visit our showroom at 711 Port Richmond Ave., Staten Island, NY 10302.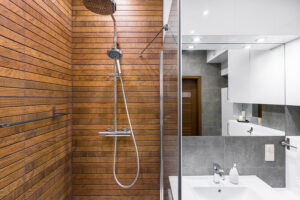 When designing a bathroom for use as a guest bathroom, there are a lot of small upgrades that can make all the difference. Here are a few add-ons to your guest bathroom that you can make to better your guests' stay.
Spa Designs
Spa-style design can go a long way in creating a comforting space for your guests. Bamboo cabinets, natural lighting, and natural stone can help create a zen space.
Decorative Toiletries
You can make it easier for guests to access toiletries by using them as decor. Use decorative baskets or built-in shelves to give them easy access to toilet paper or other necessities without compromising on style.
All-Inclusive Vanities
Vanities in a guest bathroom should have some extra items that a visitor might forget about when staying the night. Having a few extra items, like a magnifying mirror, or some extra beauty products can go a long way in making your guests feel more welcome in your home.
Guest Showers
Showers in a guest bathroom should have some extra safety features. You don't want guests to get hurt. Worse, you don't want to be sued. Add in some handrails, use a curbless shower design, and slip resistant tile to help protect your guest's wellbeing.
Relaxing Scents
Candles, potpourri, or reed diffusers can go a long way in creating a relaxing bathroom space for a guest. It doesn't take much to add more to the room that way.
To discuss bathroom or kitchen remodeling options that would be best for your home please contact us at (718)-273-6233 or visit our showroom at 711 Port Richmond Ave., Staten Island, NY 10302.