When adding a bathroom to the basement, or upgrading a pre-existing bathroom, there are a few important considerations to make. There is a lot of unique and interesting choices that you can add to a basement bathroom to make it feel more comfortable.
Lighting
Bathrooms in basements often have to work with limited or no natural light to create a beautiful space. If your basement bathroom has a window, it is likely a small one near the ceiling, close to the ground outside. In the event that you have a window, do not put the mirror on the same wall as it. You will want the mirror to reflect more of the natural light in the room, and brighten up the space. If you do not have a window, consider adding lights to the vanity in addition to the ceiling fixture. If you want the room to feature darker colors, consider using lighting fixtures with yellow bulbs, which can make the space feel more homey and natural.
Full or Half Bath
When designing a bathroom for the basement; you need to consider both the space available, and the plumbing. If you have the available space and fixtures to add a tub or shower; then you may want to consider these options. Standing showers require the least amount of space. They can often be implemented into bathrooms that otherwise wouldn't be able to fit a bathtub. Creating a full bath in the basement can be a good way to boost the value of the home. For those looking to live in the home or a long time, adding an extra shower can be a great way to avoid showering conflicts on busy mornings.
Flooring
Proper flooring in a basement bathroom is vital to a successful renovation. It is a good idea to avoid concrete or tile flooring if you do not have radiant floor heat in the bathroom. These flooring options can be very cold in the morning, and especially when used in the basement. Vinyl and linoleum are sturdy and relatively water resistant. They are not as cold or as hard to walk on. Vinyl or linoleum sheets are better than tiles of the same materials in a bathroom space, because there is less space for water to seep through.
To discuss bathroom or kitchen remodeling options that would be best for your home please contact us at (718) 273-6233 or visit our showroom at 711 Port Richmond Ave., Staten Island, NY 10302.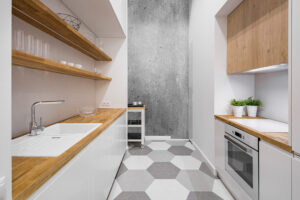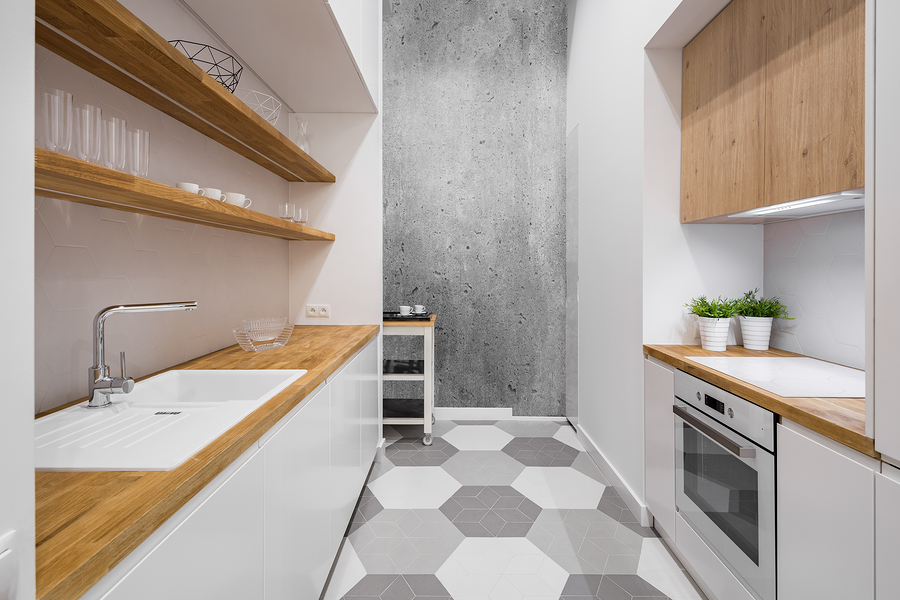 While wooden cabinetry has been a staple of kitchen design for decades, wood is quickly growing in popularity as a countertop option. Traditionally the countertop of choice for bars and butcher shops; this design choice is growing in popularity for homes. Wood is lighter than most other countertop options, and often costs less to repair.
Adding Warmth to the Kitchen
Many homeowners are moving away from stainless steel appliances because they make the kitchen seem colder. One way to incorporate warmth into a kitchen is by using wooden countertops. The natural colors of butcher block style countertops elevates the space by giving it a warmer, more natural look.
Plenty of Design Options
Wood comes in a variety of different grains and colors; based on the type of tree the wood was taken from. This means that there are plenty of exciting options for your counterspace. Some options include classic oak, deep maple wood, strong cherry wood, or rich walnut. There are also a number of more exotic woods for a kitchen space, such as zebrawood, rosewood, or iroko. Less expensive wood, like birch or beech can cost as low as $12 per square foot. More exotic or expensive woods can cost about $200 per square foot.
Maintenance and Repair
Wood can be maintained well with care. There are a number of oils or polishes made for woods, depending on if it is finished or not. Many of these products you may already use if you have wooden furniture in your home. More exotic woods may require more sensitive care. Any damage, such as scratches or nicks in the wood, can be sanded out or refinished.
Even butcher block style countertops are rarely used directly in meal prep today. Using a wooden countertop like any other, with cutting boards, is important to maintaining an undamaged counter space.
Strong Yet Soft
Wood can be a very strong countertop material, and yet its soft nature can provide a lot of benefits too. Unlike stone or quartz, it is less likely to chip or break dishes dropped on it. Wooden countertops are also great for noise reduction, limiting clatter when plates or glasses are placed on them. Even smaller appliances; such as blenders or food processors are quieter on top of wood than most other options.
To discuss bathroom or kitchen remodeling options that would be best for your home please contact us at (718) 273-6233 or visit our showroom at 711 Port Richmond Ave., Staten Island, NY 10302.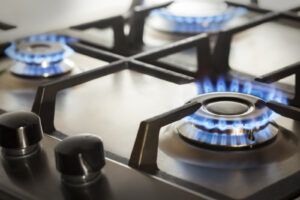 Ever wonder the difference between a gas stove and an electric stove? The decision between the two can make or break your kitchen. Lucky for you the professionals at Dream Kitchens and Baths SI are here to help you through the process.
Gas Stoves
Many people love traditional gas stoves due to the effectiveness and visual fulfillment of a flame. One pro of using a gas stove is the effectiveness of a flame cooking your food. The spreading of the flame around the bottom of a pot or pan leads to a more even and efficient cooking experience. The overall cost of having a gas stove is also much lower if your home already has a gas line through your kitchen, however if you do not, the installation of one may be a little pricey.
Electric Stoves
One of the biggest pros of owning an electric stove is the sleek and modern design. Most will have a smooth top to make it look modern and hip for a new era kitchen. They also are extremely easy to clean due to the fact that it is not several parts like a gas stove, instead it is just one easy wipe-down surface.
Even though an electric stove may look a little nicer, sometimes they are not as efficient. They are known to cook food much slower and sometimes less evenly if you stray from the hot spot, which is easy to lose due to the lack of a visual heat source such as a flame. They take longer to heat up and do not get quite as hot as a gas stove. Another con of owning an electric stove is the ability to lose use of it in a power outage.
An electric stove is much more convenient for beginners who want easy cleaning and low cost. However, for those who enjoy cooking; the effectiveness and visual appeal of a gas stove may be the right choice for your home.
To discuss bathroom or kitchen remodeling options that would be best for your home please contact us at (718) 273-6233 or visit our showroom at 711 Port Richmond Ave., Staten Island, NY 10302.
New York is one of the most cramped cities in the United states. Whether is small houses or small apartments, chances are you have a small bathroom. Your bathroom isn't not a lost cause just because it lacks the surface area and possibilities of a larger bathroom. Even for the smallest of bathrooms or washrooms the possibilities are endless.
How to Make Smaller Seem Bigger
The first thing most people think when it comes to remodeling a small space is "How can I make it seem larger?" Well there's quite a few answers. Something to make the room seem larger is the installation of a window or skylight. Adding one of these will help bring in natural light seeming to expand the room beyond your cramped walls.
Under sink storage could also work wonders for saving space. Using a wall mounted floating countertop with empty space underneath will leave you room to use fashionable under counter storage without the bulky look of a bathroom cabinet. This makes the room seem open and less cramped.
Small Decorations Big Difference
A trendy bathroom wouldn't be complete without subtle decorations and accents. The addition of towel bars can help bring color throughout your bathroom in an organized fashion. You also may want to use woven baskets for storage as they give your bathroom a natural pop and go great with the natural lighting created by the skylight. Lastly the addition of small picture frames and maybe a small end table can make your small bathroom feel more like home
To discuss bathroom or kitchen remodeling options that would be best for your home please contact us at (718) 273-6233 or visit our showroom at 711 Port Richmond Ave., Staten Island, NY 10302.
Galley kitchens are a staple of apartments and homes alike in New York. Galley kitchens often allow for a full kitchen space to be compact and space-saving across 2 walls. Below, we will discuss 5 ways to upgrade and reinvent your galley kitchen.
Mirrored Backsplash
Adding a mirrored backsplash to one side of your galley kitchen will make the space feel bigger, and make better use of natural light in the space. Be sure to only mirror one side. Doing both will create a disorienting mise en abyme effect that can be actually make the space feel recursive. Instead, try to follow up with a light colored backsplash on the other side, which will further help reflect light.
Pendant Lights
Pendant lights along the length of the galley can add area light and spacing, while the style of the fixtures can add character and elevate the space. Making good use of pendant lights in a galley kitchen can ensure that the whole place is well-lit. Mix with undermount lights for even more illumination.
Specialty Drawers
We have discussed drawers that function as refrigerators, freezers, trash compartments, warming trays and more; in a number of other articles on this website. Drawers such as these can allow you to (with enough storage space) forgo large and bulky refrigerators that can overwhelm a smaller galley kitchen space. Making effective use of these inventive storage options can allow you to save space by cutting back on traditional appliances.
Spread Out the Kitchen Triangle
The "Kitchen Triangle" refers to the paths you walk between the 3 most vital parts of the kitchen; the stove, fridge, and sink. Keeping some reasonable distance between the 3 will make the kitchen feel larger and allow for more than one person to operate in the kitchen effectively. Appliances should be evenly distributed throughout the length of the galley kitchen. It is also important to make it a triangle. Do not put all 3 on one side of the galley. A galley often works best with the stove and fridge on the same side; with the sink, and possibly a dishwasher, on the opposite side.
Invest in a Range Hood
Galley kitchens, especially those in more cramped living spaces can get very hot, very fast. Adding a range hood to your kitchen can help you minimize that heat buildup. Range hoods come in all sorts of sizes. Pick one that can effectively fit in the space while providing the proper ventilation.
To discuss bathroom or kitchen remodeling options that would be best for your home please contact us at (718) 273-6233 or visit our showroom at 711 Port Richmond Ave., Staten Island, NY 10302.
We have all heard of walk-in showers, but walk-in tubs? Walk-in bathtubs provide a safer way to enter a bathtub, and offer a built-in seat that allows for easy use and comfort. These special tubs are great for aging in place, or for upgrading your parent's existing bathroom space. Walk-in tubs are also great for handicapped individuals.
Walk-in tubs feature a door similar to a car, with rubber and magnets to be watertight. These doors offer a low-entry point, which reduces the tripping hazards associated with a traditional tub. Most Walk-in tubs are about waist height, offering a sturdy platform for toiletries that is within reach. Many models feature handrails and even hydrotherapy jets.
Walk-in tubs take up less floor space than a traditional tub. The taller nature of this style of tub means that you will be more fully immersed in the water. There are also models that double as showers.
One of the few major downsides of the walk-in tubs is that you have to sit in the tub as it fills or drains. These tubs can take 8 to 15 minutes to fill; as opposed to a traditional tub that can take about 5-10 minutes to fill. Draining the water away will take about the same amount of time for both styles of tubs, but you do have to stay in a walk-in tub until the water drains out.
Traditional tubs can vary in size, but will use about 42-80 gallons of water per bath. Most models of walk-in tubs will fill up at about 50 gallons. This means that you can be using up less water per bath vs a bigger tub.
To discuss bathroom or kitchen remodeling options that would be best for your home please contact us at (718) 273-6233 or visit our showroom at 711 Port Richmond Ave., Staten Island, NY 10302.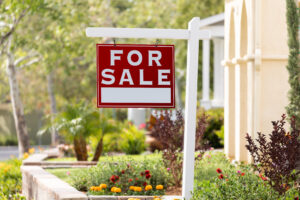 There are a lot of different ways to design your kitchen space; to fit whatever style you like. But when selling your home, it is best to avoid funky options, or changes that can reduce the value of the space. This article will look at some common kitchen mistakes homeowners make that can actually ruin a home sale. Most potential buyers want a kitchen space that doesn't require renovation as soon as they move in.
Mixing Metals
There are many different types of metal fixtures for a kitchen space; from stainless steel or brass, to copper or pewter. When upgrading your kitchen space, avoid mixing the metals used in the space. Mixed metals are often too eclectic for potential buyers.
Fake Open Shelving
Some homeowners will try to imitate open shelving by removing their cabinet doors. This is not a good idea. Cabinets with doors are not designed in the same way as open shelves. This often makes the space look cheaper. Additionally, If proper care is not put into the removal of the doors, the cabinets themselves can look damaged or shoddy.
Fake Wood Cabinets
Vinyl that looks like wood can be a fine choice for flooring in a kitchen, but wood vinyl should not be used for cabinetry. They often look cheap and can detract from the overall value of your kitchen. These "fake wood" materials can sometimes come with more maintenance and repairs than a sturdy wood cabinet. Vinyl can not support as much weight as wood. When it comes to your kitchen cabinets, invest in the best materials possible.
Multiple Colors with Appliances
Appliance companies have been diversifying the colors they make models in for years. Now your kitchen can have a red oven, a blue dishwasher, and a yellow toaster. But it really shouldn't. Much like mixing metals, it can be easy to go overboard with these color choices. It is often best to pick simple colors, like black, white, or stainless steel for these appliances. If you do want to add a pop of color in this way, do it with only one or two appliances; and make sure they are the same color. A lot of colors in the kitchen can seem random or chaotic; and can be a turn-off for buyers.
To discuss bathroom or kitchen remodeling options that would be best for your home please contact us at (718) 273-6233 or visit our showroom at 711 Port Richmond Ave., Staten Island, NY 10302.

With a new year comes new and innovative design trends. These new trends set the tone for the rest of the year. Here are some of the most interesting kitchen design trends of the new year.
Scandinavian-Style Kitchen
Modern clean lines, organic shapes, and light, muted colors blend with natural materials to form a Scandinavian-style kitchen. This interior design style became popular a few years ago, and has been steadily on the rise. Scandinavian interior design is a style celebrated for its simple color schemes and focus on function over form. Scandi-style kitchens are often minimalistic yet beautifully one-dimensional; with a predominantly all-white color palette combined with natural neutral colors.
Copper and Brass Fixtures
Copper fixtures are on top of the trending lists.Designers are even expanding its uses beyond faucets. Many designers are implementing copper for drawer handles, cabinet knobs, and even as part of ovens and other appliances; as one would see stainless steel. Coming in a close second is brass. Brass is brighter, and can blend well in spaces with a variety of colors.
Fluted Glass
Fluted glass adds dimension and texture to a kitchen space. Fluted glass allows you to achieve the usual room opening effect with cabinetry without making your plates take center stage. Fluted glass can also be a great aesthetic choice for any kitchen window. Fluted glass allows plenty of light to filter in while providing some privacy screening.
Concrete Countertops
Concrete is a strong, sturdy countertop material that is quickly rising in popularity. It is strong like granite or marble, for a much lower cost. While it's biggest downside is it's cost, there are a number of countertop manufacturers that have released a treated form of concrete that removes the coarseness of the material Treated concrete is more costly than the standard, but it is usually less expensive than quartz.
To discuss bathroom or kitchen remodeling options that would be best for your home please contact us at (718) 273-6233 or visit our showroom at 711 Port Richmond Ave., Staten Island, NY 10302.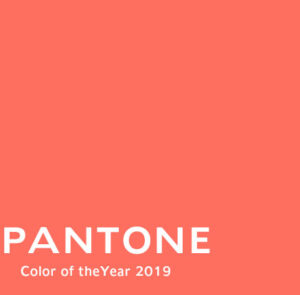 Many paint brands choose a "Color of the Year" during the winter for the upcoming year. The colors chosen are often a large part of interior design, fashion, industry, graphic design, and more for the year to come. But Pantone has continuously chosen the color that makes the biggest splash. This year, the Pantone Color Institute chose the color "Living Coral." This color is described by Pantone as "an animating and life-affirming coral hue with a golden undertone that energizes and enlivens with a softer edge." The Pantone Color Institute figures out the next big color through seasonal trend forecasts, color psychology, color consulting, and design strategy.
Living Coral is a vibrant and beautiful color that can be perfect for kitchen backsplashes or bathroom walls. The eye-catching color highlights a space while the golden undertones provide a mellow feel to the space. In nature, coral is vivid, and a reef may have a plethora of colors and hues. Living Coral seems to capture the natural blends and can mesh well with a variety of colors. The color is an interesting way to add vibrance to a space. You may want to consider it during your next remodel.
To discuss bathroom or kitchen remodeling options that would be best for your home please contact us at (718) 273-6233 or visit our showroom at 711 Port Richmond Ave., Staten Island, NY 10302.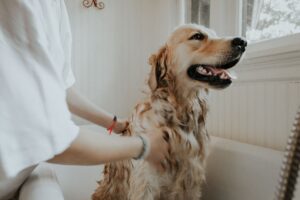 Having a pet around the house can be great; but you should take proper precautions to keep your furry friends safe. When renovating your bathroom, you might want to take your pets into consideration. Many of them will be a benefit to you, as well as your pet.
Pet Friendly Showers
Showers that make it easier to give your pet a wash can be very helpful, and very modern. A curbless shower reduces the risk of tripping; for both you and your pet. This type of shower is safer, because it reduces the risk of falls when you take your everyday shower; while also making it easier when it is bath time for your pet.
Non-slip surfaces in the shower will help you be safer in the shower, while helping your pet feel less nervous at bath time. Pets that don't like baths are often afraid of getting hurt on the sleek floor.
Detachable shower heads help you get all the hard to reach places; but they also make cleaning your cat or dog easier. A detachable shower head gives you greater control when getting the last of the suds, or avoiding water in their ears.
Litter Box Nook
A litter box is a necessary but unsightly part of cat ownership. When renovating your bathroom, consider adding a litter box nook. Transform part of your bathroom cabinetry into a nook for your cat's litter box. This way, the litter box is out of sight but is still accessible.
Tile Floors
Tile floors are the best choice for a pet-friendly bathroom. Tile is durable, easy to clean, and waterproof. It makes it easier for you to clean up after your dog shakes off his wet fur to dry off. Tile is also available in a wide variety of colors, shapes, and designs; so you can find ones that fit your style.
Toilet Lids
Not every homeowner opts for a toilet seat lid. But if you have a pet, it can be helpful in a number of ways. Toilet seat lids can be used to sit more comfortably when washing your pet in the tub. But they can also be used to protect your pet. We all know the common trope of a dog drinking out of the toilet. But this can make them extremely sick, or even poisoned; when you use toilet cleaners. For smaller, more agile pets, like cats, an uncovered toilet can be a potential drowning hazard. Cats can sometimes fall into the toilet, where the cupped edge and funnel-like interior can be difficult to escape from. Toilet seat covers can be helpful in protecting your pet's health and well-being. If your pet continues to access the toilet, consider adding a child-proof cover.
Locking Cabinets
Locking cabinets can keep your children, and your furry friends, out of your beauty products, cleaning chemicals, and medicines that they can otherwise access. If your pet gets into those items, they can easily make a mess of them, or get sick. Protect your children, pets, and your products from each other with locking cabinets.
To discuss bathroom or kitchen remodeling options that would be best for your home please contact us at (718) 273-6233 or visit our showroom at 711 Port Richmond Ave., Staten Island, NY 10302.